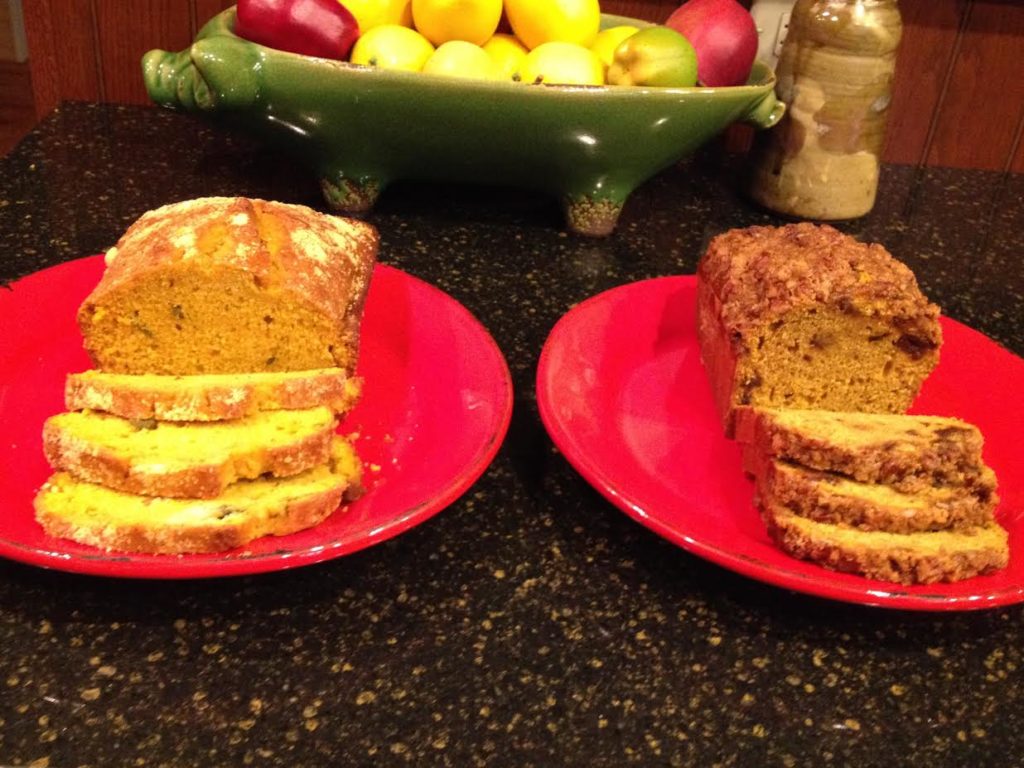 We spent last weekend with good friends in Richlands, Virginia.  The occasion was an Apple Butter Festival to raise money for service dogs for wounded warriors.  Our friends Barbara and Jim are totally committed to their community and serving others.  Barbara's insurance company hosts a fundraiser every year to make a difference.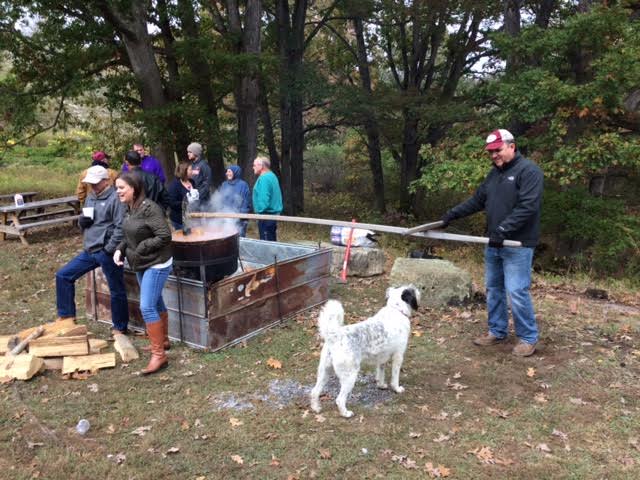 Apple butter is a highly concentrated  form of apple sauce. Making apple butter requires a whole day of stirring huge pots of bubbling apples over a wood fire.  All of the people attending the festival take their turns at stirring.  It was a cold blustery day but everyone had a good time.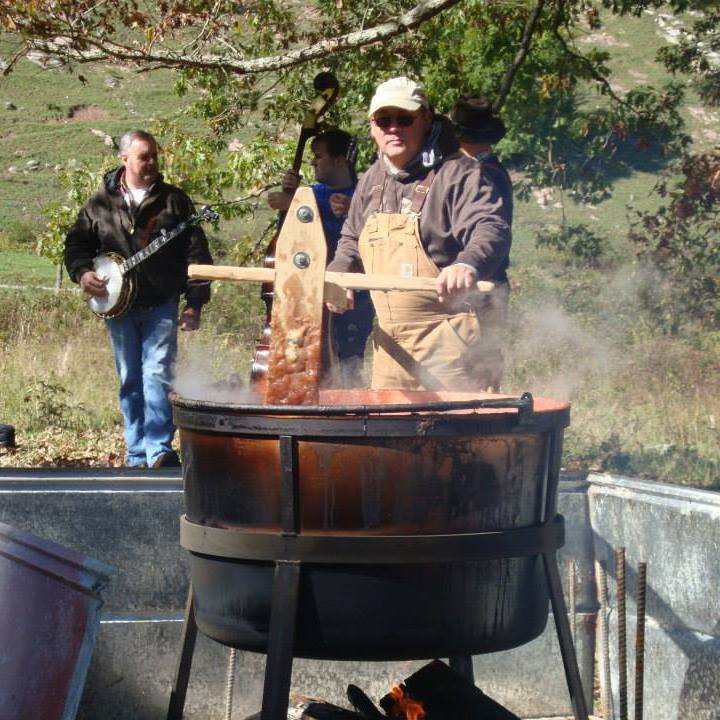 This is John Marco, Barbara's son and one of the officers of the company.  It is also his land and his brainchild.  Great job John Marco!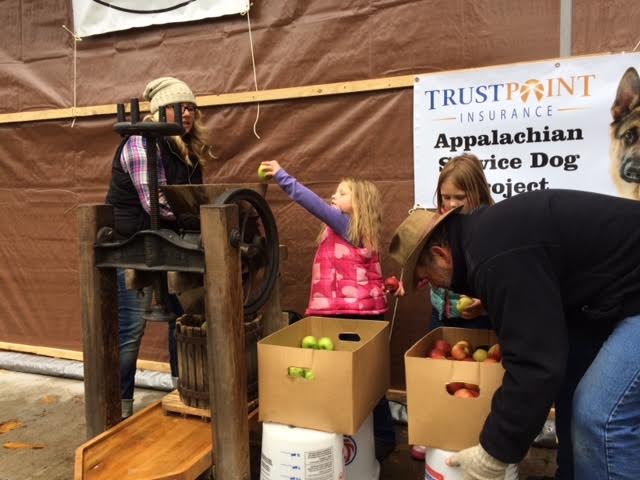 Not only did this caring community make apple butter, but they also made apple cider.  When heated,we all grabbed cups of this warming brew.  Our lunch was pork barbecue and sides.  The pork was started the night before the event over glowing coals while the volunteers were still peeling apples for the cider and apple butter.  A community coming together for a worthy cause is a beautiful thing.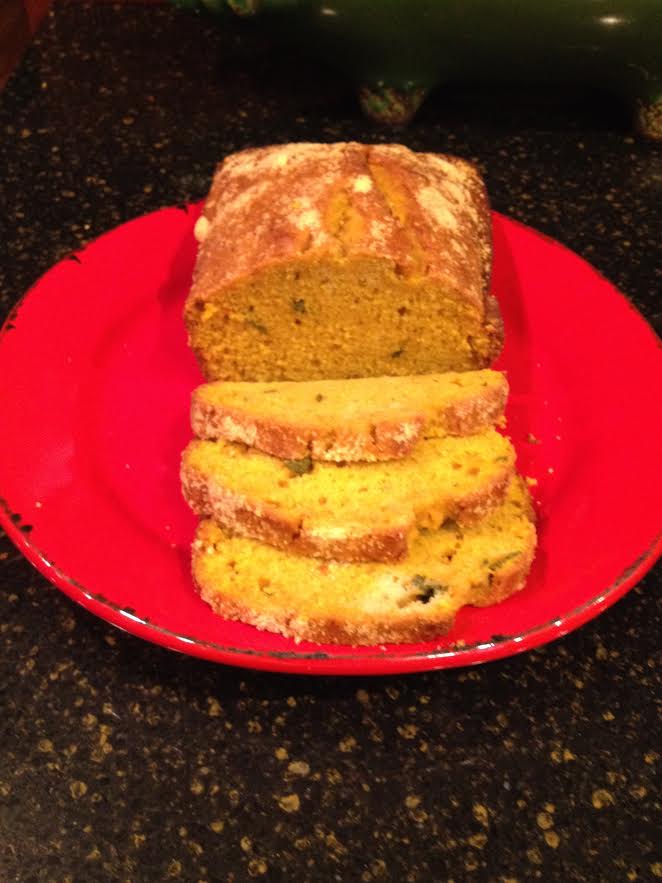 My pictures are not the best because I only had my phone.  But Barbara made this beautiful savory pumpkin bread as a side for our dinner after the festival.  It was slightly sweet but had a savory taste of Parmesan and sage.  It is something I would make again.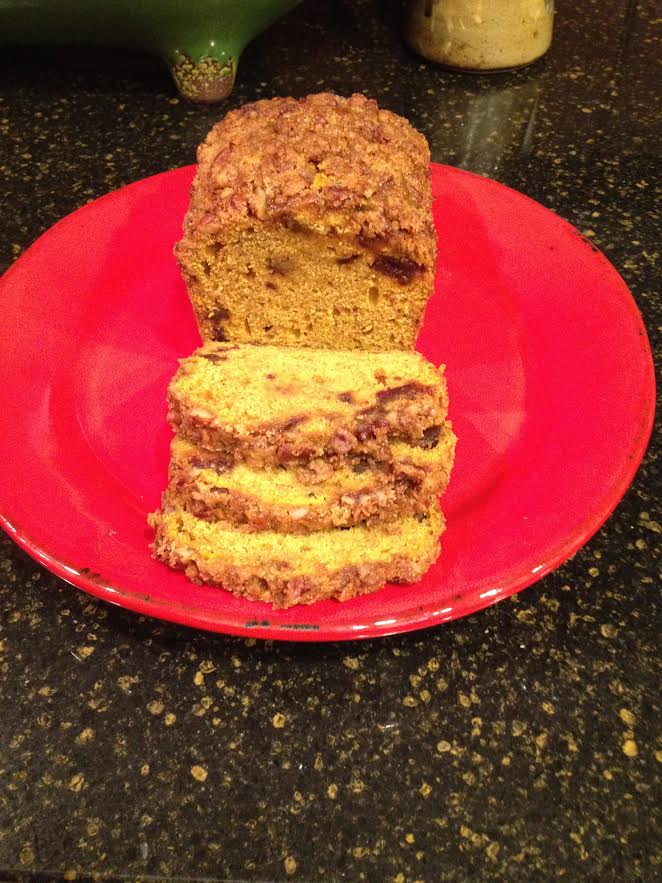 Our friend Jackie made this sweet Streusel Pumpkin Bread.  We served it the next morning for breakfast. It is another winner as far as I am concerned.  Friends coming together with food and outreach makes everyone feel good.
PUMPKIN-PARMESAN BREAD
3 1/2 cups all-purpose flour
1 1/3 cups sugar
1 1/2 teaspoons kosher salt
1 teaspoon baking soda
1 teaspoon baking powder
1 teaspoon ginger
1/2 teaspoon pepper
5 large eggs, lightly beaten
1 1/4 cup canola oil
1 (15 oz.) can pumpkin
1 cup grated Parmesan cheese, divided
1/2 cup chopped sage (Barbara used less)
Preheat oven to 350 degrees F.  Spray 2 (8″x4″) loaf pans with baking spray with flour.
In a large bowl, stir together flour, sugar, salt, baking soda, baking powder, ginger and pepper.  Add eggs and oil, beating well.  Stir in pumpkin, 3/4 cup Parmesan and sage.  Divide batter between prepared pans; Sprinkle tops with remaining 1/4 cup Parmesan.
Bake until a wooden pick inserted in center comes out clean, 1 hour to 1 hour and 15 minutes.  Barbara's took 55 minutes.
PRALINE PUMPKIN DATE BREAD
1 2/3 cups sugar
2/3 cup vegetable oil
2 teaspoons vanilla
4 eggs
1 can (15 oz.) pumpkin puree
3 cups all-purpose flour
2 teaspoons baking soda
1 teaspoon ground cinnamon
3/4 teaspoon salt
1/2 teaspoon baking powder
1/2 teaspoon ground cloves
1 cup chopped dates
Move oven rack to low position so that tops of pans will be in center of oven.  Heat oven to 350 degrees F.  Grease bottoms only of 2 loaf pans, 8 1/2″x4 1/2″x2 1/2″ or 1 loaf pan, 9″x 5″x 3″, with shortening.  Make Praline Topping; set aside.
Mix sugar, oil, vanilla, eggs and pumpkin in large bowl.  Stir in remaining ingredients except dates until well blended.  Stir in dates.  Pour batter into pans.  Sprinkle with topping.
Bake 8-inch loaves 50 to 60 minutes, 9-inch 1 hour 10 minutes to 1 hour 20 minutes, or until toothpick inserted in center comes out clean.  Cool 10 minutes.  Loosen sides of loaves from pans; remove from pans to wire rack.  Cool completely, about 1 hour, before slicing.
PRALINE TOPPING
1/3 cup packed brown sugar
1/3 cup chopped pecans
1 tablespoon butter, softened
Mix all ingredients until crumbly.
Printable Recipe Pumpkin-Parmesan Bread