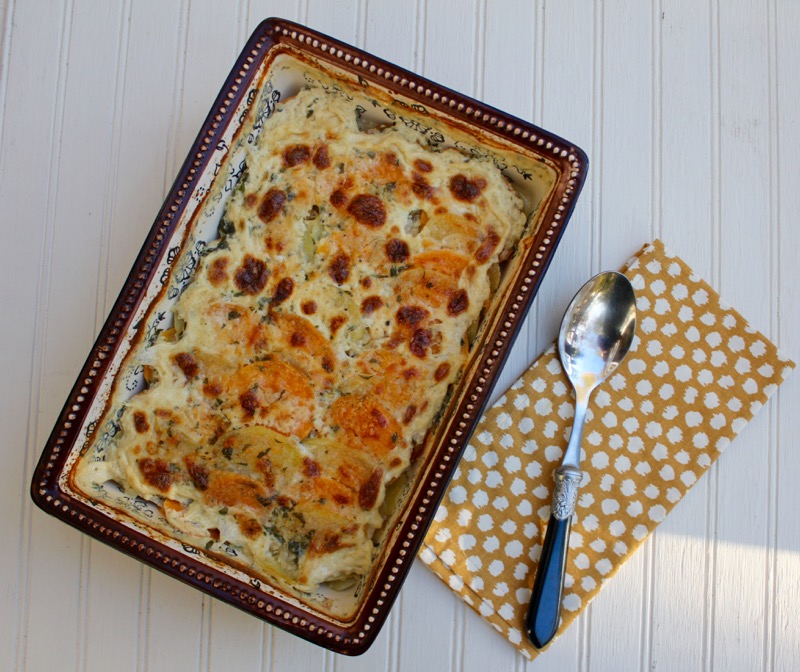 There are many things to love about Thanksgiving.  One of my favorite things is the delicious side dishes.  No matter what you do to the turkey, it is still boring in my book.  But the sides can shine and make your table sparkle with vivid colors of orange in the sweet potatoes, red in the cranberry relish, and glistening green in beans or salads.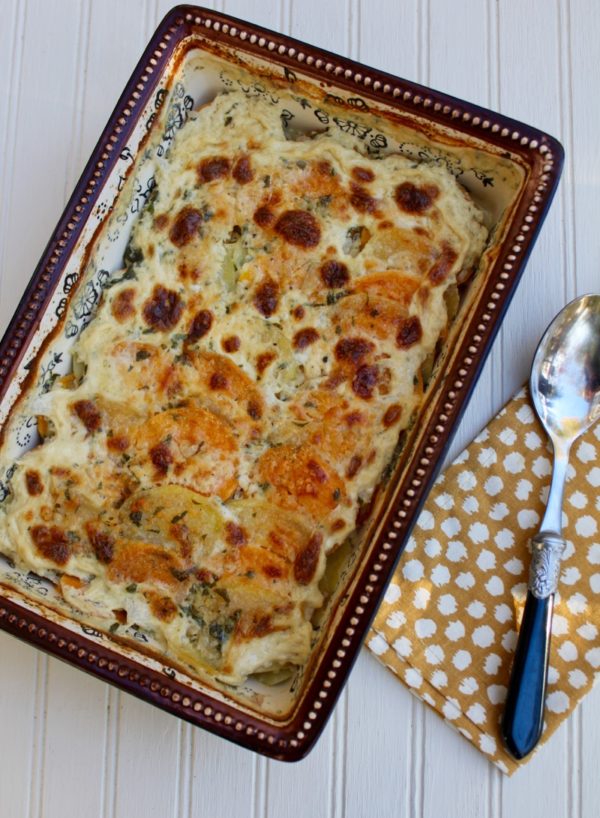 I love the idea of combining white and sweet potatoes.  This layered gratin can be partially made ahead which makes it a good side dish for Thanksgiving.  It also travels well if you are bringing a side dish to a hostess's table.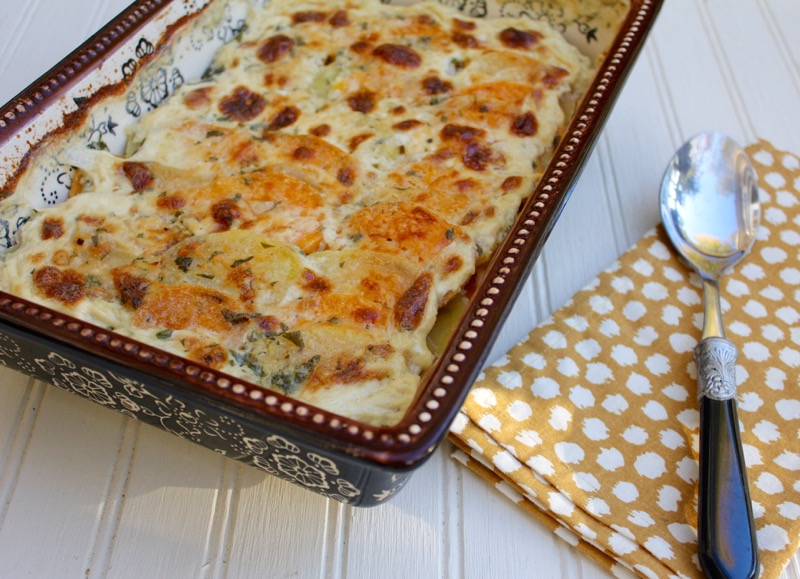 This gratin is rich with shallots, Gruyere cheese, and cream.  Over the next few weeks I hope to post some more ideas for Thanksgiving side dishes.  We will be traveling for Thanksgiving, so hopefully a few of them may show up on our host's table.
TWO POTATO GRATIN (Southern Living Magazine)
Ingredients
2 tablespoons chopped parsley
1 tablespoon chopped chives
1/2 teaspoon ground white pepper
1/8 teaspoon freshly grated nutmeg
1 1/2 pounds Yukon gold potatoes
1 1/2 pounds sweet potatoes
1 1/2 cups (6 oz.) shredded Gruyère cheese
1/4 cup grated Parmesan cheese
Preparation
1. Preheat oven to 375°. Sauté shallots in 3 Tbsp. melted butter in a saucepan over medium heat 2 minutes. Stir in cream and next 5 ingredients; cook 2 minutes. Remove from heat; cool 15 minutes.
2. Meanwhile, peel and thinly slice all potatoes. Combine sliced potatoes and milk in a large, microwave-safe bowl. Cover with plastic wrap, and microwave at HIGH 5 minutes. Uncover and gently stir mixture. Re-cover and microwave 5 more minutes. Drain mixture, discarding milk.
3. Layer one-third of Yukon gold potatoes in a well-greased (with butter) 9- x 13-inch baking dish; top with one-third of sweet potatoes. Spoon one-third of cream mixture over potatoes, and sprinkle with 1/2 cup Gruyère cheese. Repeat layers twice, and top with Parmesan cheese. Cut remaining 1 Tbsp. butter into small pieces, and dot over top. Cover with foil.
4. Bake at 375° for 30 minutes. Uncover; bake 20 minutes or until browned. Let stand 10 minutes.