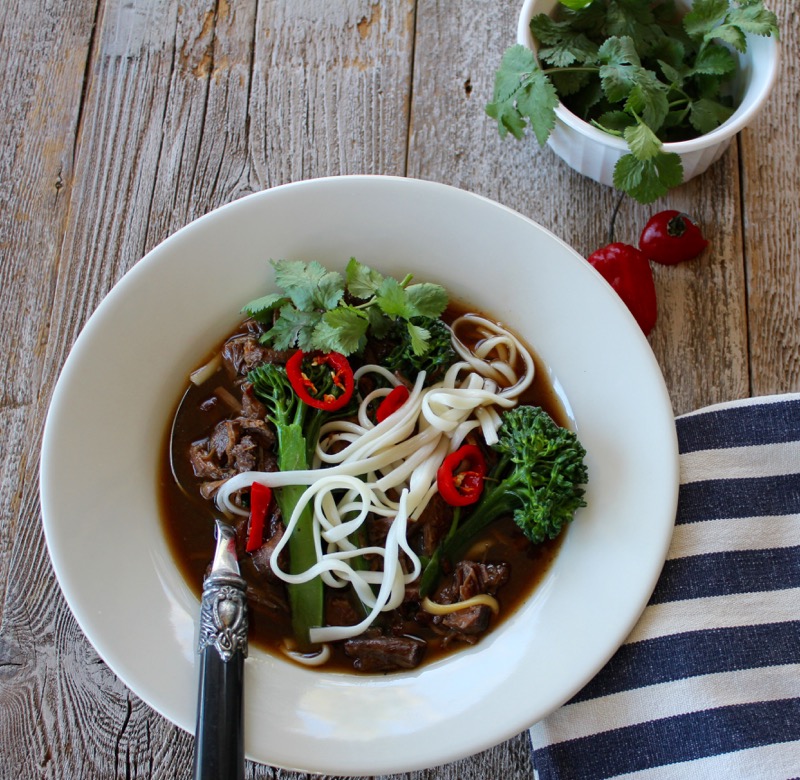 Before I get to this delightful soup recipe, I have to share some fun I had last week.  I have a dear friend who has moved just over the mountain from me.  Barbara has built a lovely home on acreage with a barn.  She raises goats for their wool and milk.  She prefers a vegetarian diet.  The two of us went to Whole Foods together on a shopping outing.  It is obvious what each of us bought.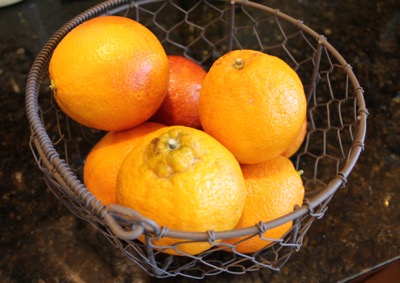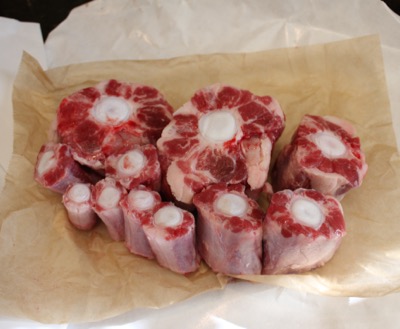 Sumo oranges are in season right now.  They are a cross between mandarin oranges and navel oranges.  Barb bought these.  Because I was making the beef soup, I needed both beef shanks with marrow bone and oxtail.  I asked the butcher for oxtail and he went into the walk-in refrigerator and brought out a whole cow's tail and flashed it about.  "Do you want me to cut this up for you?" he said. The look of horror on Barb's face was priceless.  He cut it up and we left the store giggling at our incongruent tastes. Barb said, "If you invite me to dinner I would prefer quiche and a salad."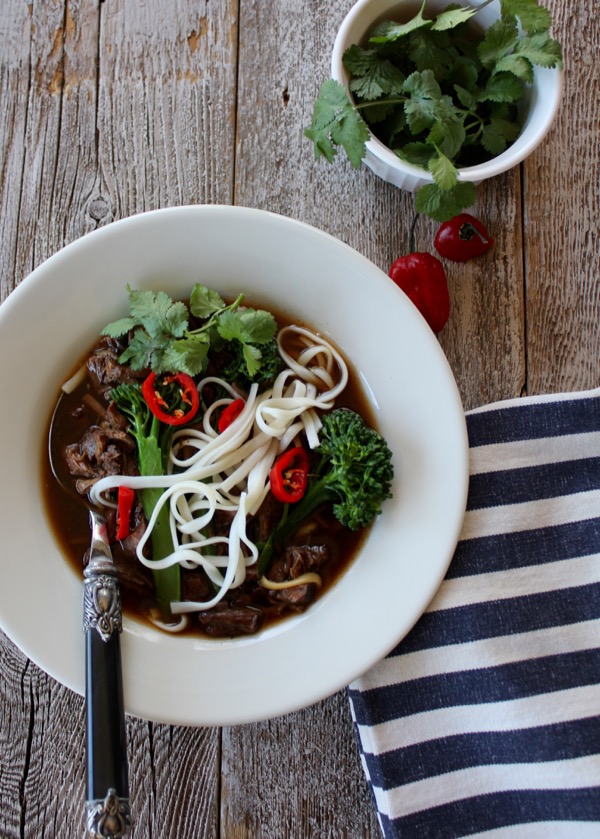 The heady combination of beef with bones and marrow, plus soy sauce, chilies, star anise and ginger makes for a rich broth and tender meat that cooks slowly for hours.  A meat lover's delight.  Ladle the soup into bowls and add cooked Chinese noodles and broccolini.  Adjust the amount of chilies to your taste.  I used 2 Thai chilies in the soup and garnished it with slices of Habanero chilies.  I will omit the too hot Habaneros next time, even though they looked pretty.  This was slightly adapted from Hélène Dujardin on her blog Tartelette.  It is best to make this a day ahead of time so you can skim the fat from the top after refrigerating.
TAIWANESE BEEF SOUP
Make this ahead of time so you can refrigerate and remove the fat before reheating
3 pounds bone-in beef shanks with marrow bones still on
1 pound beef oxtails
3 tablespoons canola oil
10 garlic cloves, bruised
one 1 1/2-inch piece of fresh ginger, cut into 6 slices,
5 scallions, halved crosswise
1 teaspoon Chinese five-spice powder
3 star anise
1 teaspoons peppercorns
2 Thai chili, split lengthwise
1/4 cup roasted red chili paste
1/3 cup rice wine vinegar
8 tablespoons light soy sauce
10 cups water
1 pound broccolini, stems halved
1/2 pound Udon noodles
cilantro
extra freshly sliced Habanero red chili (optional)
In a large stock pot, heat half the oil over high heat. Sear half of the beef shanks and oxtails on both sides, about 2 minutes per side. Remove from the pot and repeat with the remaining oil and beef pieces.
Add  all the remaining soup ingredients, except the broccolini, noodles and cilantro.
Bring to a boil then lower the heat to low, cover with the lid askew and cook for about 3 hours or until the beef is tender and falls off the bone.
Turn off the heat, and remove the beef pieces with a slotted spoon. Let the beef cool then shred it off the bones. Discard the bones. Strain the soup into another pot and put the meat into that pot. Refrigerate overnight. The next day, skim the fat that has risen to the top then reheat the soup on low heat.
In the meantime, blanch the broccolini in boiling water for about a minute. Set aside. Cook the noodles according to package instructions. Divide the noodles and broccolini among 6 bowls, ladle soup over noodles and garnish with cilantro and extra chili if desired.