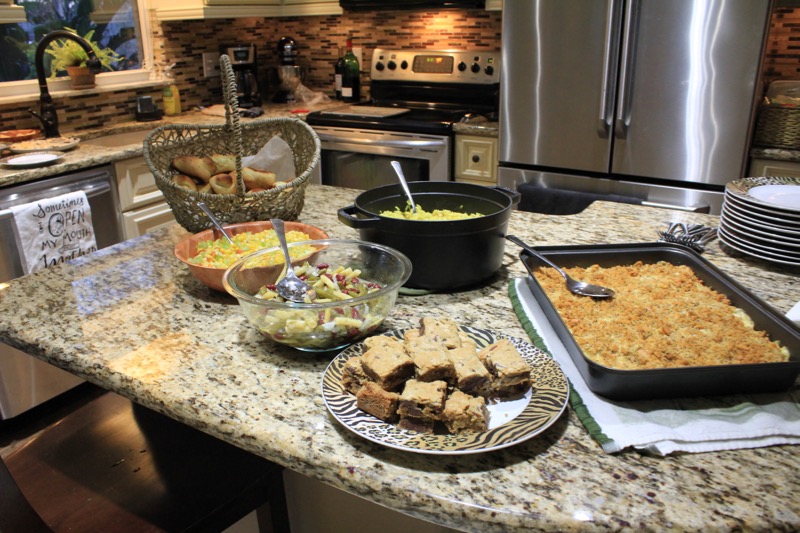 We have been very busy in our rental house in New Smyrna Beach.  As it turns out, we have had lots of get togethers with friends and family.  High School friends were here at the same time that we were.  We hosted a dinner for ten before we all headed to town (within walking distance) for music and dancing.  It felt like being in high school again accept for my aching back the next morning.  I planned a very simple dinner for the crowd.  Everything can be done ahead of time, except the rice.  We had my friend Barbara's Chicken Poppy Seed Casserole, two do ahead salads; Corn, celery and roasted red pepper salad and 3 bean salad, Zatarain's Caribbean Rice mix, and Ina Garten's Chocolate Chunk Blondies.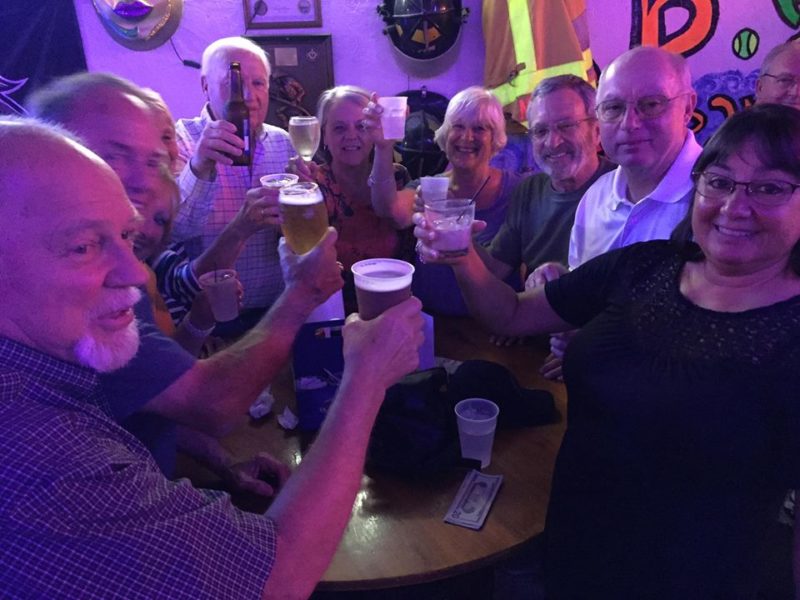 Flagler Avenue is a happening place with numerous restaurants and music venues.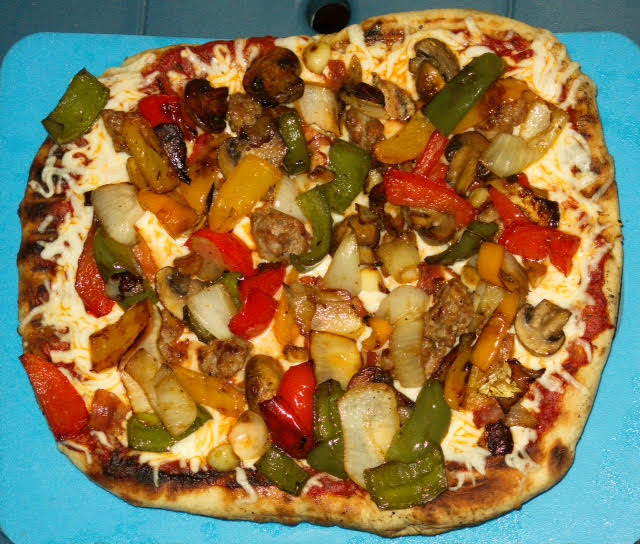 On another occasion we drove to Sanford to have dinner with David's Finnish relatives.  It is a long story, but in brief, David's Mother grew up in the Upper Peninsula of Michigan.  Her parents had immigrated there from Finland.  David had very little contact with the extended family until a few years ago when our friend Ruth brought him together with his cousin Don.  The family now spend time in Florida.  It means a lot to David to have this connection.
We were treated to delicious pizzas cooked on the grill by grill master Jon.  The above pizza has sausage, bacon and roasted vegies.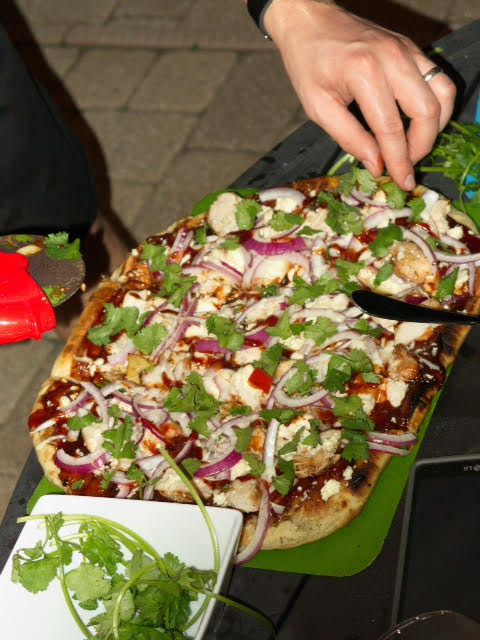 This is Jon's speciality pizza.  It is a Barbecued Chicken Pizza with red onions, goat cheese and cilantro. It was fun watching him maneuver the pizzas around with his giant pizza peel.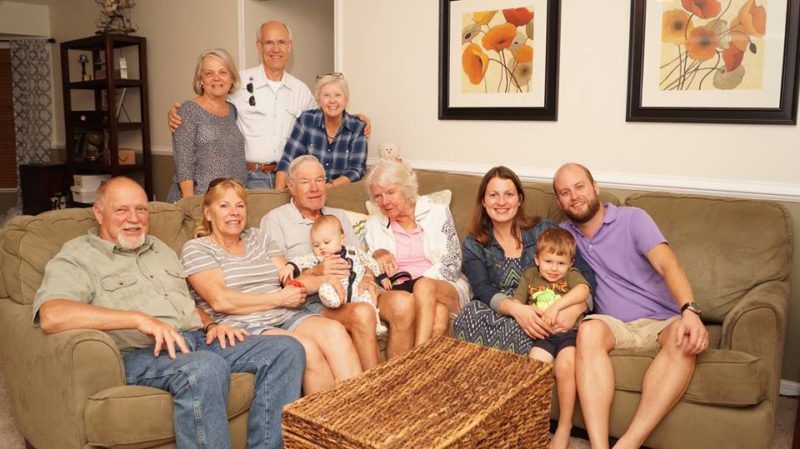 We enjoyed our evening spending time with wonderful family and friends.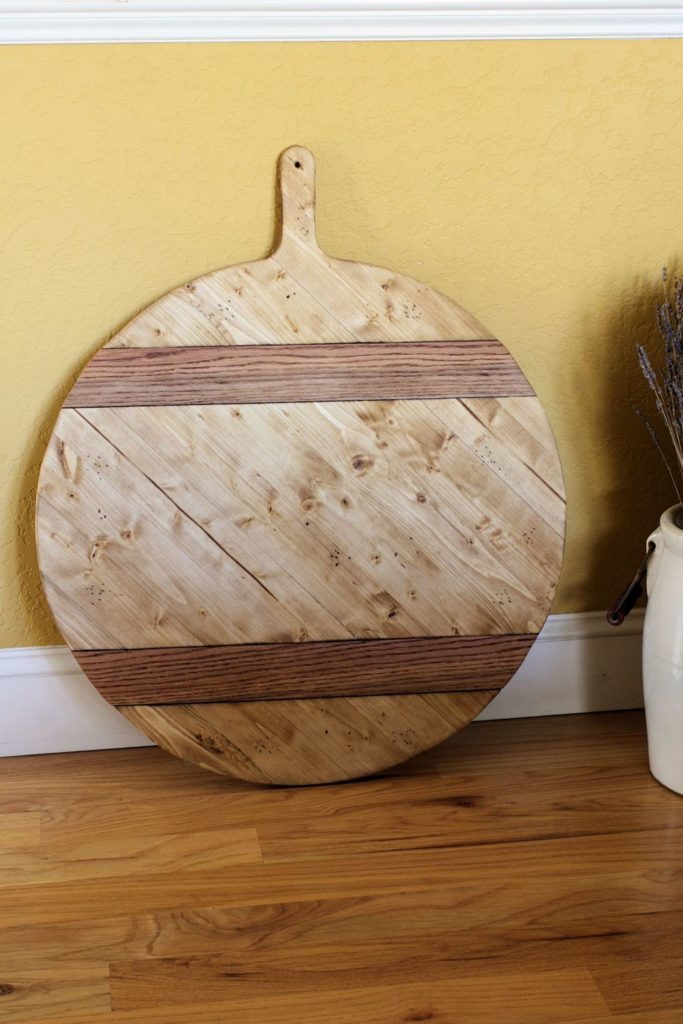 On another matter, I am happy to say that my friend Penny, of the blog Enjoying the Simple Things, has started an Etsy Shop selling her Artisan made European French Style Bread Boards.  She and her husband are making these beautiful boards and the workmanship and quality are outstanding.  They also sell for a lot less than others I have seen online.  Here is the link to her Etsy Shop.
Also there are links above for the rice and Chocolate Chunk Blondies.  Here is the recipe for the Chicken Poppy Seed Casserole.
BARBARA'S CHICKEN POPPY SEED CASSEROLE
6 Chicken Breasts – Cooked and Cubed
8 oz. Crushed Ritz Crackers
1 1/2 sticks Butter
1 1/2 Tablespoon Poppy Seeds
2 cans Cream of Chicken Soup
8 oz. Sour Cream
Melt butter and mix with crackers and poppy seeds.  In another bowl, mix soup and sour cream.  Add chicken to this.
Line greased 9×13 inch dish with 1/2 of the cracker mixture.  Pour chicken mixture over and top with remaining crackers.  Bake at 350 degrees for 35 to 40 minutes.