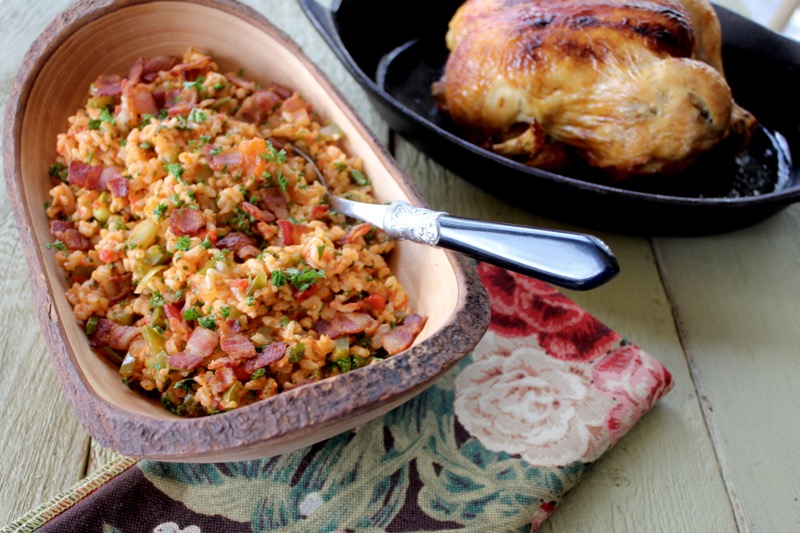 Brown rice has never been a favorite in our house.  But its nutritional value is so much better than white rice.  I was going through my stash of ancient Gourmet Magazines the other day and found this recipe for Herbed Brown Rice Stuffing to accompany a roasted chicken.  We had just gotten home from our 6 weeks in Florida and cooking was not high on my "to do" list. I put the rice on to cook (It takes 40 minutes), headed for the grocery store for a rotisserie chicken and finished the additions to the rice when I got home.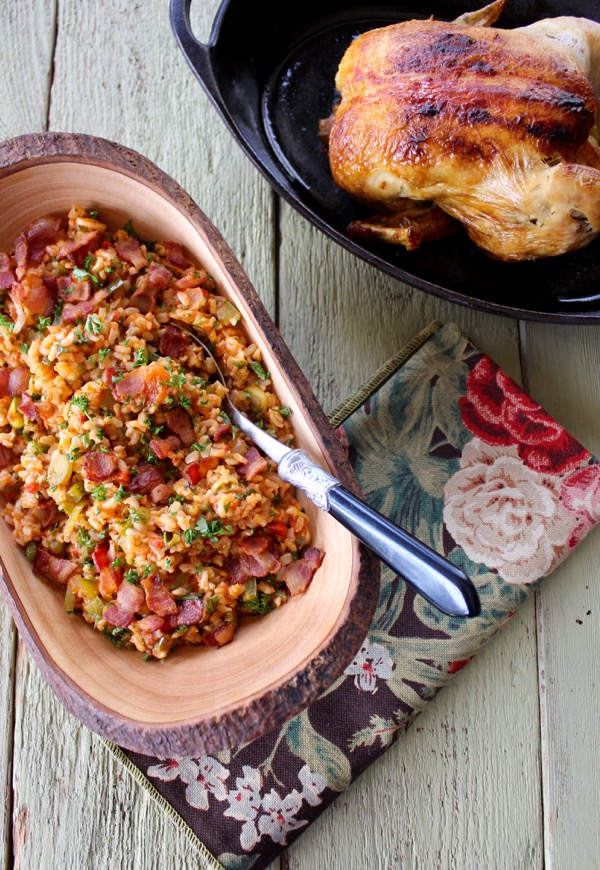 The boring brown rice was transformed with the addition of roasted red peppers, chopped vegetables, bacon, tomato paste, parsley and chicken broth.  Plus, we had enough to go with our pork chops for the next night.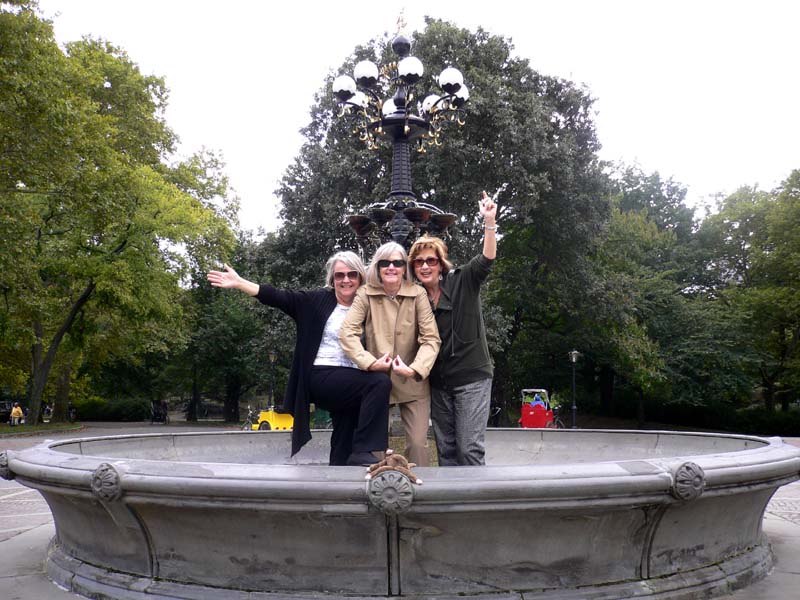 I lost a friend last month.  So many memories.  We went on a girls' trip to New York City a few years ago and posed for this picture in the "Friends" fountain in Central Park.  Karen (center), you will live on in our hearts always.
HERBED BROWN-RICE STUFFING ( Gourmet Magazine May 1992 )
3 slices bacon, chopped
1 small onion, chopped fine
1 rib of celery, chopped fine
1 small green pepper, chopped fine
1 garlic clove, minced
7 ounce jar roasted red peppers, rinsed, drained and puréed in a food processor
1 tablespoon tomato paste
1 cup chicken broth
1 cup minced fresh parsley leaves
1/2 cup finely chopped scallion greens
4 cups cooked brown rice
In a heavy saucepan cook the bacon over moderate heat, stirring, until it is crisp and transfer it with a slotted spoon to paper towels to drain.  In the fat remaining in the pan cook the onion, the celery, the bell pepper, and the garlic over moderately low heat, stirring, until the vegetables are softened, add the red pepper purée, the tomato paste, and the broth, and simmer the mixture, stirring occasionally, for 10 minutes, or until it is thickened.  In a bowl stir together the vegetable mixture, the bacon, the parsley, the scallion, the rice, and salt and pepper to taste, transfer the stuffing to a baking dish, and heat it in a 325 degree oven for 15 minutes, or until it is hot.  Serves 4 to 6.