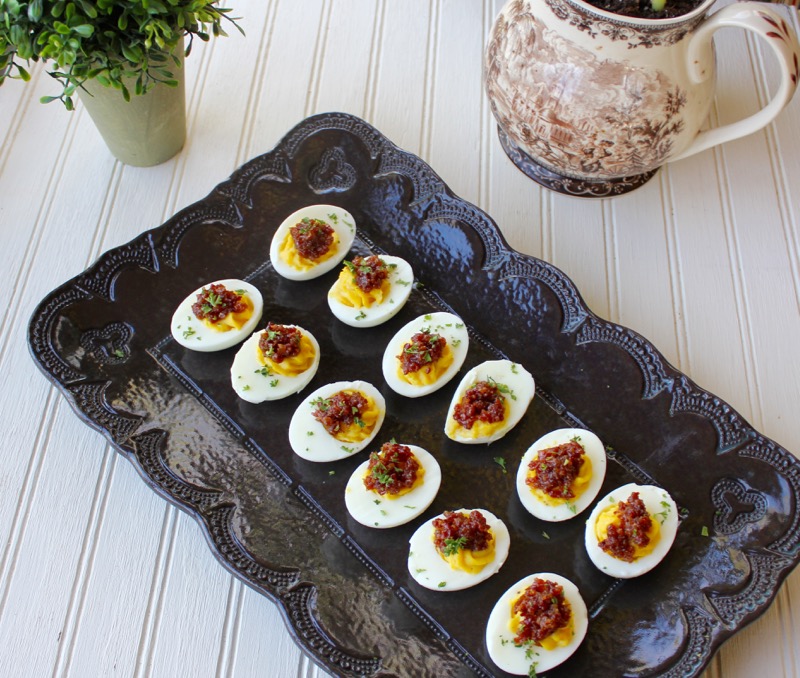 We attended our friend's Celebration of Life event last weekend.  It was a perfect remembrance of Karen, replete with her favorite food and music.  Shrimp and grits were passed in small mason jars with spoons. Kentucky fried chicken legs in the signature buckets centered one table.  Oysters, crab cakes and biscuits adorned another table.  But my favorite food offering was the deviled eggs with bacon jam.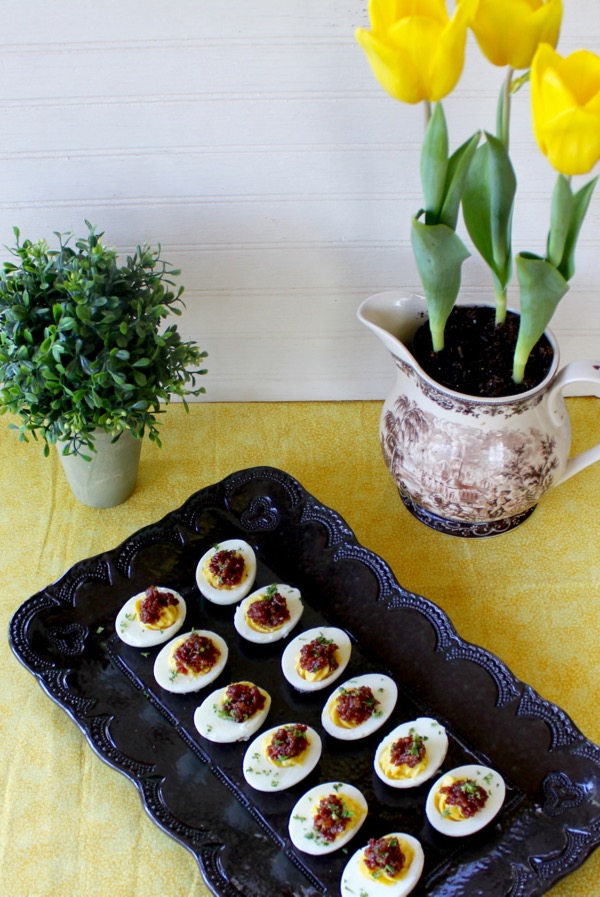 With Easter approaching, I can't think of a better choice for your holiday table.  I have been wanting to make bacon jam for quite a while.  It is actually very easy and can even be done in the crock pot. Bacon, in combination with strong coffee, brown sugar, vinegar and maple syrup cooked to a jam consistency is a unique experience. There are so many uses for it too.  Slather it on hamburgers, use as a topping for crostini, add to grilled cheese sandwiches or top deviled eggs as I did.  Store the leftover jam in mason jars in the refrigerator.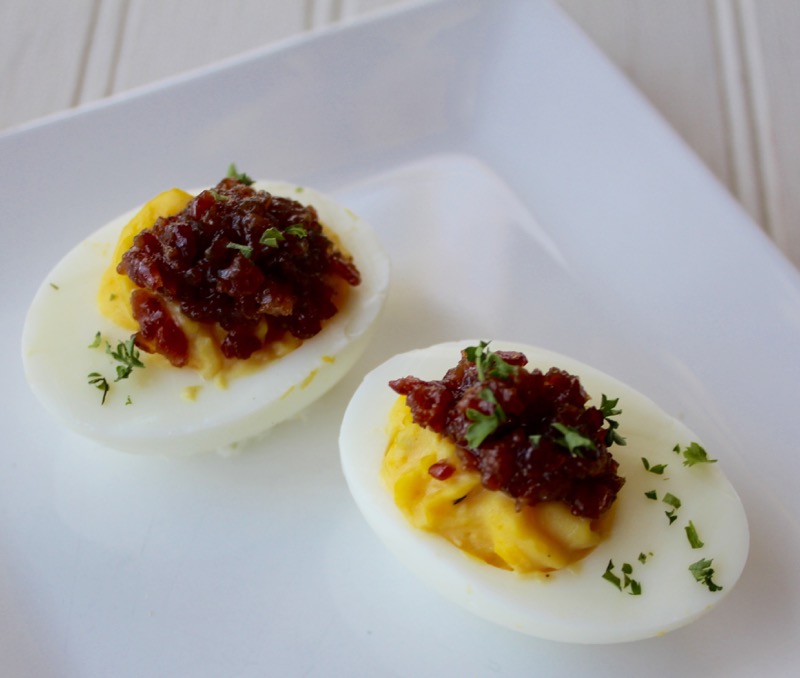 This is so good that we are having a hard time stopping before we eat the entire tray.  Spring is in the air and these deviled eggs are perfect for Easter.
BACON JAM ( Leite's Culinaria )
INGREDIENTS
1 1/2

pounds

sliced bacon

, cut crosswise into 1-inch pieces

2

medium

yellow onions

, cut into smallish dice

3

garlic cloves

, smashed and peeled

3/4

cup

strongly brewed coffee

1/2

cup

cider vinegar

1/2

cup

packed dark brown sugar

, or less to taste

1/4

cup

maple syrup

(the real deal, please)
DIRECTIONS
1. In a large skillet over medium heat, cook the bacon, stirring occasionally, until the fat is rendered and the bacon is browned and crisp, about 20 minutes. Using a slotted spoon, transfer the bacon to paper towel-lined plates to drain.
2. Pour off all but 1 tablespoon drippings from the skillet. Add the onions and garlic to the skillet and cook until the onions are translucent, about 6 minutes. Add the coffee, vinegar, brown sugar, and maple syrup and bring to a boil. Cook, stirring and scraping up any browned bits from the skillet, for 2 minutes. Add the bacon and stir to combine.
3. If making this on a stovetop, reduce the heat to a bare simmer and cook uncovered, stirring occasionally, until the liquid almost completely evaporates and turns syrupy, 1 to 1 1/2 hours. If making this in a slow-cooker, transfer the mixture to a 6-quart slow-cooker and cook on high, uncovered, until the liquid almost completely evaporates and turns syrupy, 3 1/2 to 4 hours.
4. Let the bacon concoction cool slightly before transferring it to a food processor and pulsing until coarsely chopped. Spoon the bacon lusciousness into individual jars or other resealable containers and refrigerate for up to 4 weeks. Transfer to a pan and rewarm gently over low heat prior to indulging.  Makes 3 cups.
Serve with your favorite deviled egg recipe