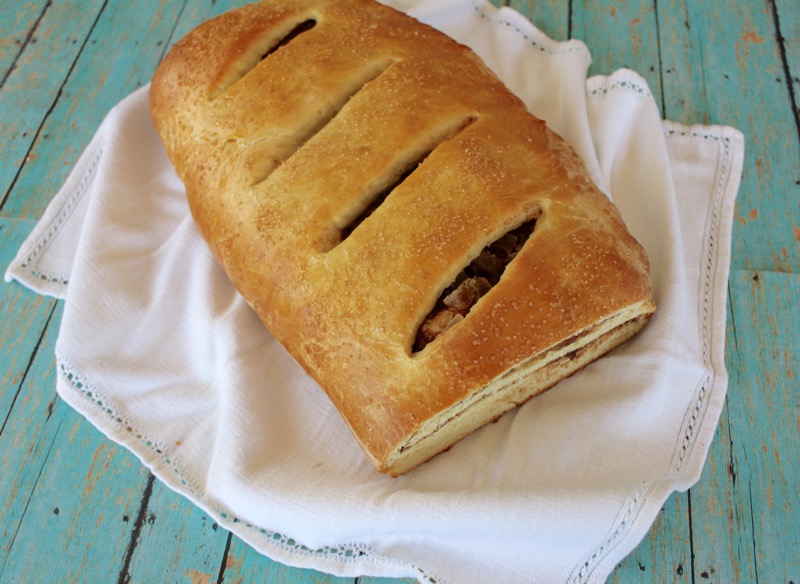 We will be spending Easter with out family in Cary, NC.  There are so many memories in my mind of growing up with Easter traditions. The cute dress accessorized with hat and gloves, the Easter egg hunt, and the clove spiked ham on the table.  Things have changed somewhat from my 50's memories.  Now we can attend church in whatever suites us; no gloves, no hat necessary. But this year I did buy a polished cotton flowered dress with coordinating sweater to celebrate the season.  At my age, I even might add a jaunty hat.  Our kids are on a trip right before the weekend, so I am not sure what our Easter dinner will entail. We may be eating out.  But I had to contribute something.  This bread came about because I had some leftover King Arthur baker's cinnamon filling mix.  But don't worry if you don't have the mix.  You can get the same results with 1/2 cup softened butter mixed with 1 cup of brown sugar and 4 to 5 tablespoons of cinnamon.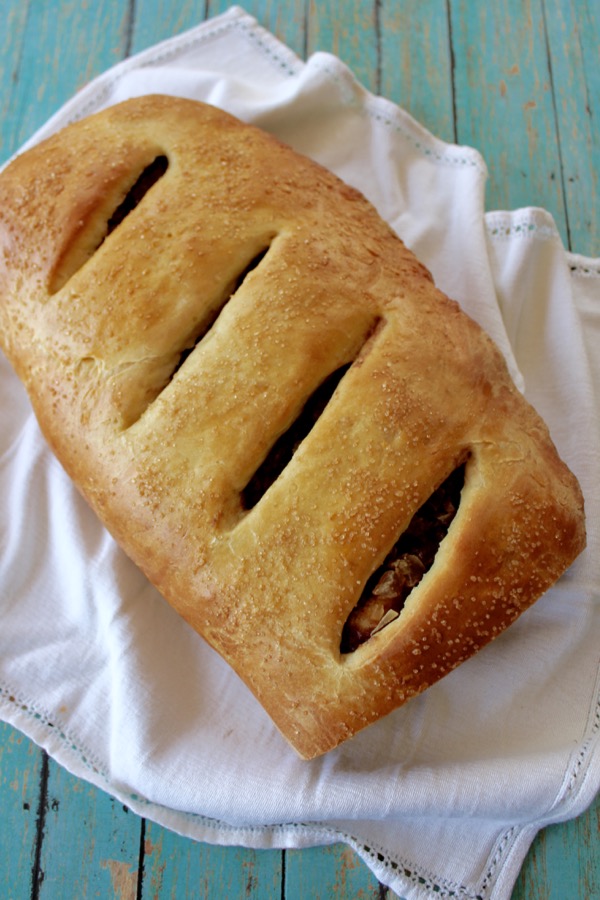 The bread looks complicated, but following the very simple directions you end up with a layered yeast bread with cinnamon swirls, bananas and dried pineapple.  The bananas and dried pineapple work well in this bread.  It is amazing toasted with the warm banana chunks and pineapple melting in your mouth.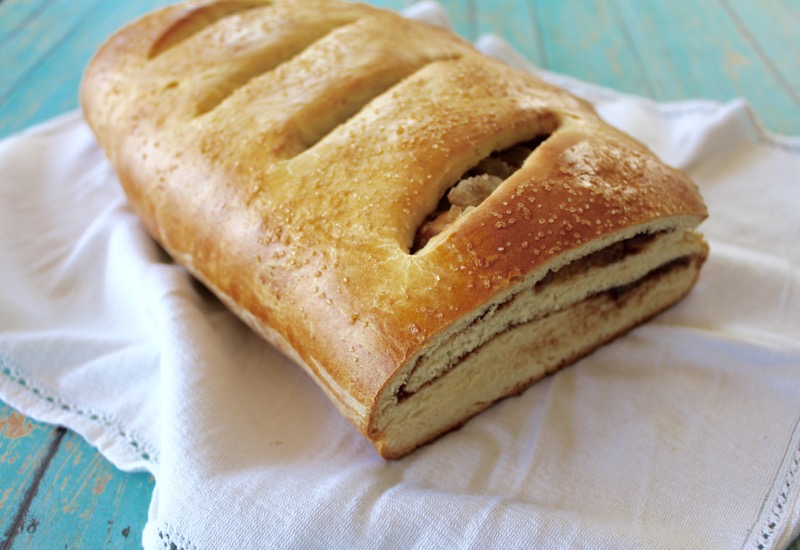 Whatever you have planned for your Easter holiday, I wish you well and encourage you to try this lovely bread from King Arthur Flour.  Have a great Easter weekend.
EASTER BREAD (King Arthur Flour)
This unusual sweet bread is stuffed with bananas and pineapple, plus rich cinnamon filling. The concept comes to us courtesy of Ricardo Neves Gonzalez, one of our Brazilian readers, who makes it at his bakery. Thanks, Ricardo!
Dough
1/2 cup to 2/3 cup lukewarm water*
6 tablespoons vegetable oil
1/4 cup honey
2 large eggs + 1 large egg yolk, white reserved for topping
1 1/2 teaspoons salt
1 tablespoon instant yeast
*Use the greater amount in winter or in a dry climate; the lesser amount in summer or a humid climate.
Filling
3/4 cup Baker's Cinnamon Filling ( Or recipe in post using 3/4 cups.  No water)
3 tablespoons water
2 medium bananas
2/3 cup diced dried pineapple
Directions
To make the dough: Combine all of the dough ingredients and mix and knead them, by hand, mixer, or bread machine, until you have a soft, smooth dough.

Allow the dough to rise, covered, for about 2 hours, or until it's puffy and nearly doubled in bulk.

Gently deflate the dough, and transfer it to a lightly greased work surface.

Pat and roll the dough into a rectangle about 18″ x 14″.

Make the cinnamon filling: Mix the Baker's Cinnamon Filling and water to make a smooth paste.

Looking at the dough horizontally (so it's 18″ long), spread half the filling down the center third of the dough

Slice each banana into about 12 rounds. Space the slices atop the filling.

Fold one of the end pieces into the center to cover the bananas and filling.

Spread the remaining filling atop the piece of dough you've just folded into the center, and distribute the dried pineapple evenly atop the filling.

Fold the other side of the dough over the filling to cover it. Pull the long side seam underneath, and tuck each end underneath, too. You should have a long, flat log with no filling showing.

Use a sharp knife to cut 4 diagonal slashes atop the loaf, cutting through both layers of dough; this will allow steam to escape.

Brush with the beaten egg white, and sprinkle with the coarse or Demerara sugar.

Cover the loaf gently with lightly greased plastic wrap, and allow it to rest for 1 hour. It won't rise much, if at all. Towards the end of the resting period, preheat the oven to 375°F.

Bake the loaf in the middle of the oven for 25 minutes. Tent with foil, and bake for an additional 20 to 25 minutes, till it's golden brown and a sharp knife poked into the center doesn't reveal any raw dough.

Remove from the oven, and transfer to a rack to cool.

Yield: 1 large loaf, about 16 servings.