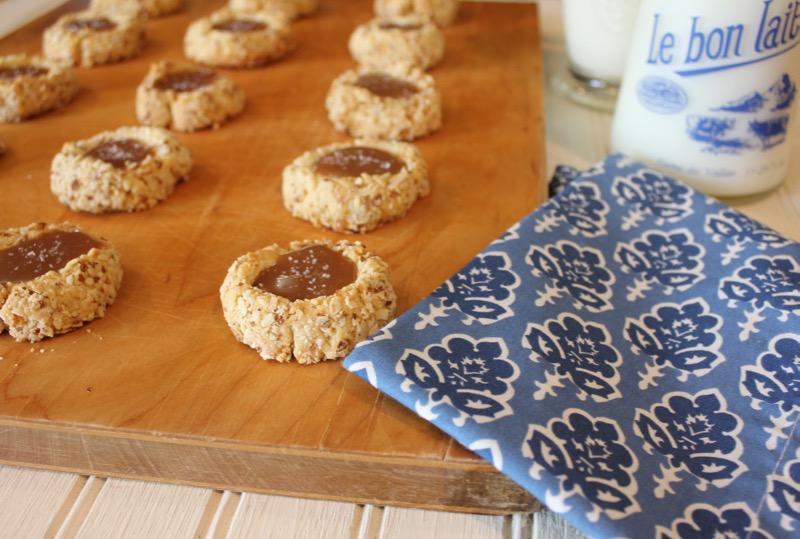 I try very hard not to eat sweets.  But there are a few sweets that I can't resist.  They all seem to have a hint of salt.  Salted dark chocolate is a favorite.  But while we were in Paris a few years ago, I fell in love with salted caramel macarons. The caramel was sweet and smooth. The salt added just the right counterpoint. I have been in love with that combination ever since.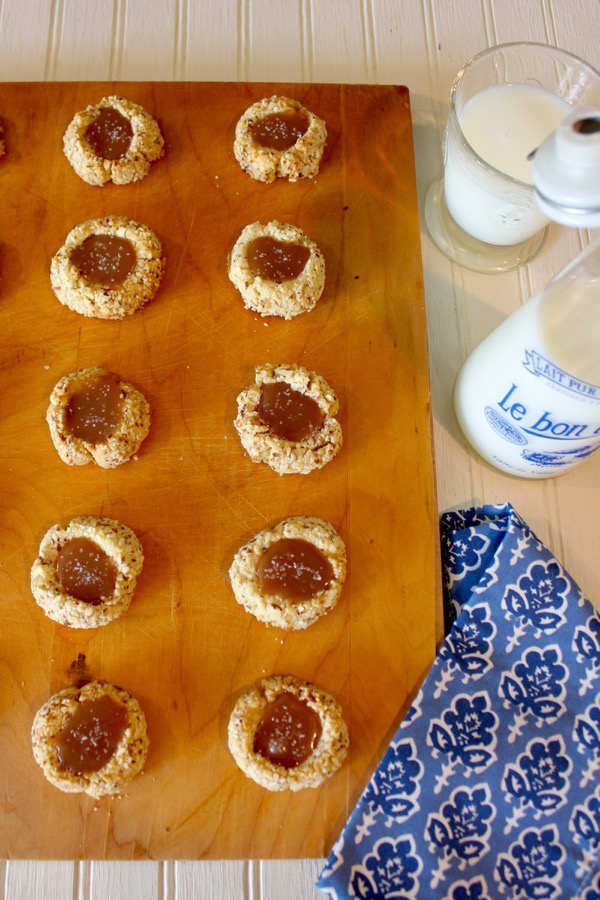 Because I have not mastered macarons yet, this recipe for Salted Caramel Almond Cookies fit into my "can do" repertoire. The cookies are buttery and nutty on the outside and richly caramel with a bit of salt at the center.  It hits all of the right taste buds in your mouth.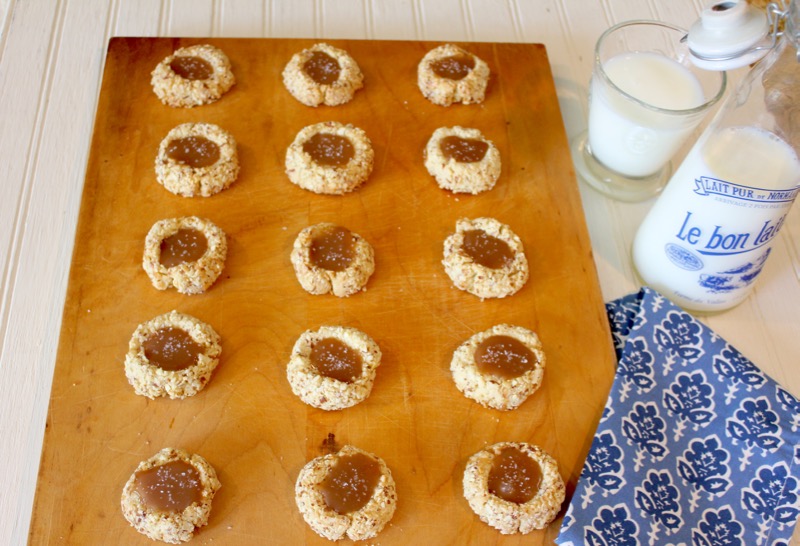 As an aside, the worn cutting board that the cookies are on was my Mother's and my Grandmothers before her.  They both used it to roll out their pie crusts.  It is one of my treasured possessions.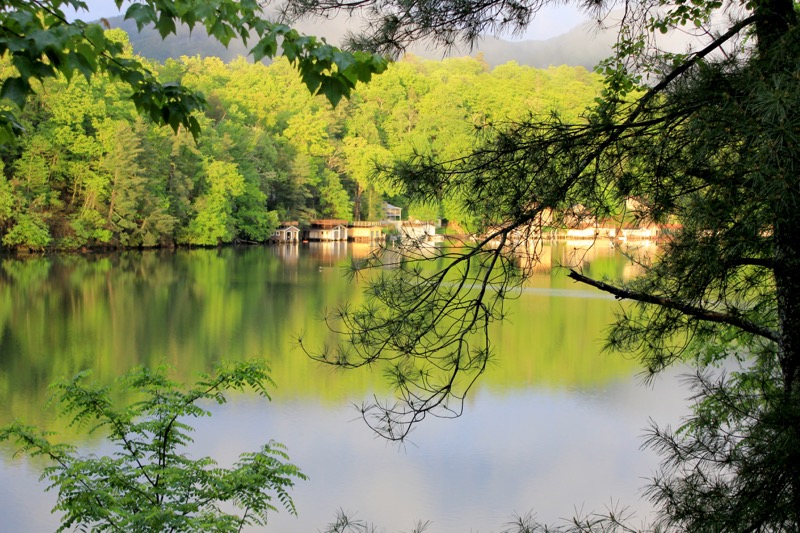 I love Spring at the lake.  We have had lots of rain but a few mornings ago the sun came out and reflected the vibrant spring green of the trees onto the lake.  It was magical.
SALTED CARAMEL ALMOND COOKIES (Bliss Victoria Magazine)
1 cup butter, softened
1/2 cup firmly packed brown sugar
2 large eggs, separated
1 teaspoon vanilla extract
2 1/2 cups all-purpose flour
1/2 teaspoon ground nutmeg
1/4 teaspoon salt
1 1/2 cups chopped sliced almonds
Caramel (recipe follows)
Kosher salt
Preheat oven to 350 degrees F; line baking sheets with parchment paper.
In the bowl of a stand mixer, beat butter and brown sugar at medium speed until creamy.  Add egg yolks, on at a time, beating well after each addition.  Beat in vanilla extract.
In a medium bowl, stir together flour, nutmeg, and salt; gradually add to butter mixture, beating until combined.  Roll mixture into 1 1/2 inch balls.
In a small bowl, whisk egg whites until foamy.
In a separate small bowl, place almonds.
Dip cooke balls in egg whites, letting excess drip off; dredge in almonds to coat. Place 2 inches apart on prepared pans.  Using a spoon, make an indentation in center of cookies.
Bake for 10 minutes. carefully press indentations down again; bake until cookies are lightly browned, 3 to 5 minutes more.  Let cool on pans for 2 minutes. Remove from pans and let cool completely on wire racks.
Spoon warm Caramel into indentations in cookies.  Let stand at room temperature until caramel is cool.  Sprinkle with kosher salt.  Serve immediately, or store in airtight containers for up to 5 days.
CARAMEL
2 cups sugar
1/2 cup water
1/4 cup light corn syrup
1/2 cup butter, softened
3/4 cup heavy whipping cream at room temperature
In a large skillet,whisk together sugar, 1/2 cup water, and corn syrup; bring to a boil over medium heat.  Reduce heat, and simmer, stirring occasionally, until mixture is honey-colored, about 10 minutes. (Mine took longer).  Add butter, whisking until melted.  Remove from heat, and gradually whisk in cream until mixture is smooth.  Pour into a heatproof container.  Cover and refrigerate for up to 2 weeks.