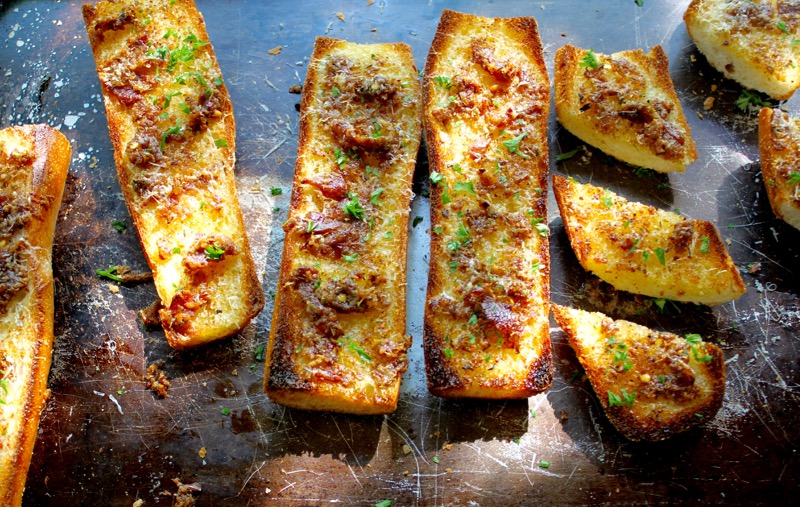 We all love garlic bread.  I have made many versions over the years. But I have to say that this recipe is the most amazing I have ever made.  Brought to the internet by Bon Appetit, I couldn't resist making it.  It helps that my weight-conscious husband is on a motorcycle trip and I can eat anything that I want for dinner.  Last night it was bread and wine with a very small helping of cole slaw and pork.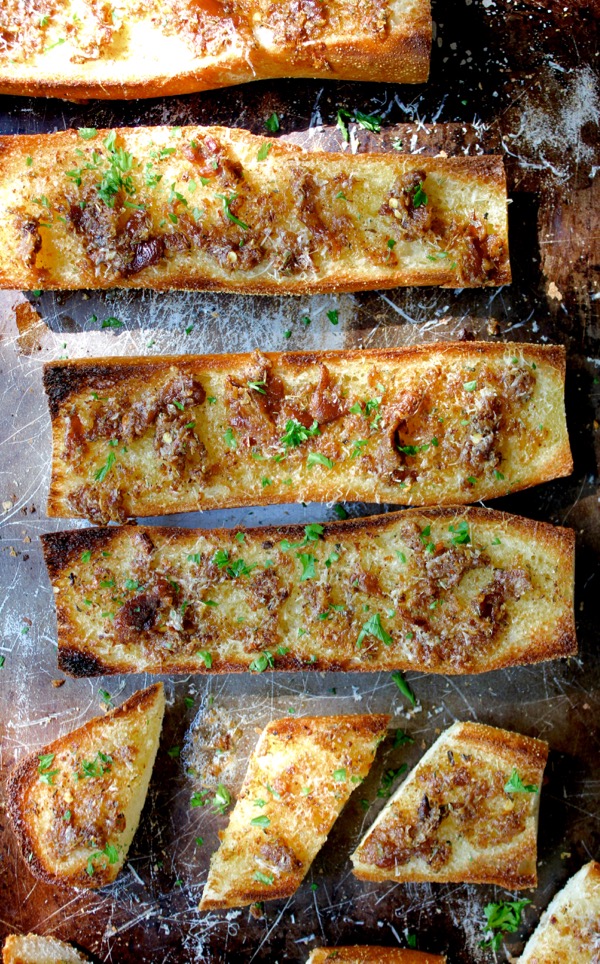 Usually a confit refers to the method of cooking duck or goose in their own fats.  But in this case, whole cloves of garlic are cooked in butter until they are golden brown.  the mixture is then mashed together with Parmesan cheese, oregano, lemon zest and red pepper flakes.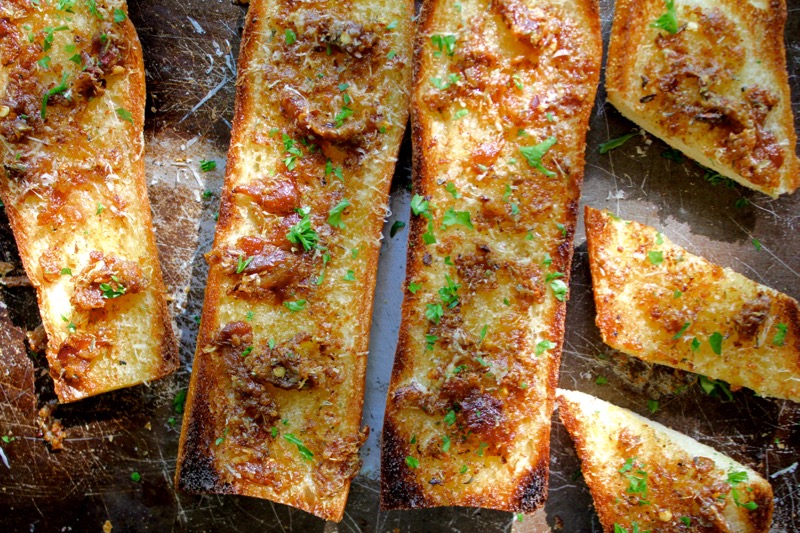 The mixture is spread on a sliced baguette and broiled. Be very watchful of the bread because it can burn easily.  Not sure what I will do with the leftovers, but I will worry about that later.  I thoroughly enjoyed my indulgence.  My, oh my.  This was good.
GARLIC CONFIT TOAST
 head garlic, cloves peeled

½ cup (1 stick) unsalted butter

1 cup grated Parmesan

2 teaspoons chopped oregano

1 teaspoon freshly grated lemon zest

½ teaspoon crushed red pepper flakes

Kosher salt

1 baguette
Cook garlic in butter in a small covered saucepan over medium-low heat until golden brown and very soft, 15−20 minutes. Transfer to a medium bowl; let cool.
Add Parmesan, oregano, lemon zest, and red pepper flakes to garlic and mash to a paste; season with kosher salt.
Heat broiler. Slice baguette in half lengthwise, then crosswise. Broil, cut side down, on a foil-lined baking sheet until golden brown, about 2 minutes (watch carefully). Let cool slightly, then spread cut side with garlic paste. Broil until cheese is golden and bubbling, about 2 minutes. (Mine took only 1 1/2 minutes) Slice.