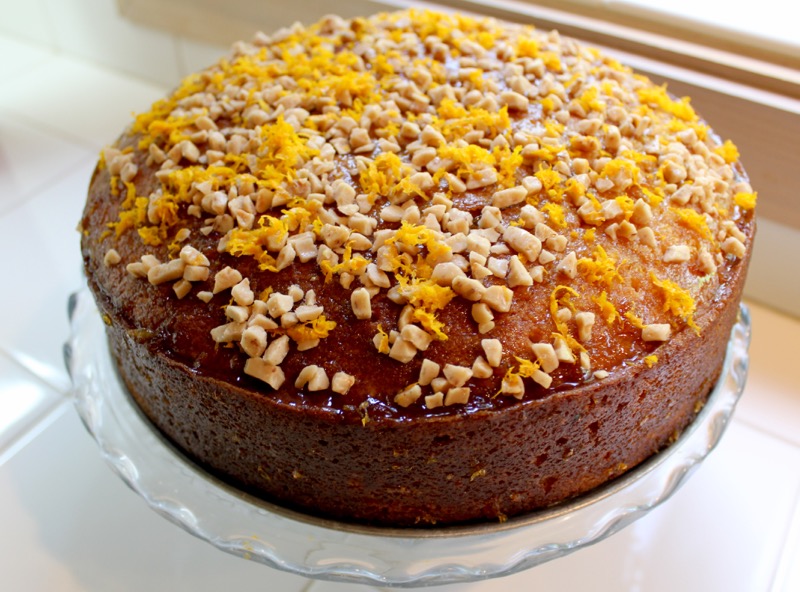 Our family rented a house in Highlands, NC to watch the total eclipse of the sun.  It was one of the locations along a narrow track that would experience totality. We were excited to be there.  It was also our DIL's birthday.  As part of the four day event, I made this Orange and Brown Sugar Glazed Cake from Jamie Schler for the celebration.  Her new cookbook, Orange Appeal: Savory and Sweet, has just been released.  It is a gorgeous book that showcases oranges in many ways.  I have been following her blog, Life's a Feast for years.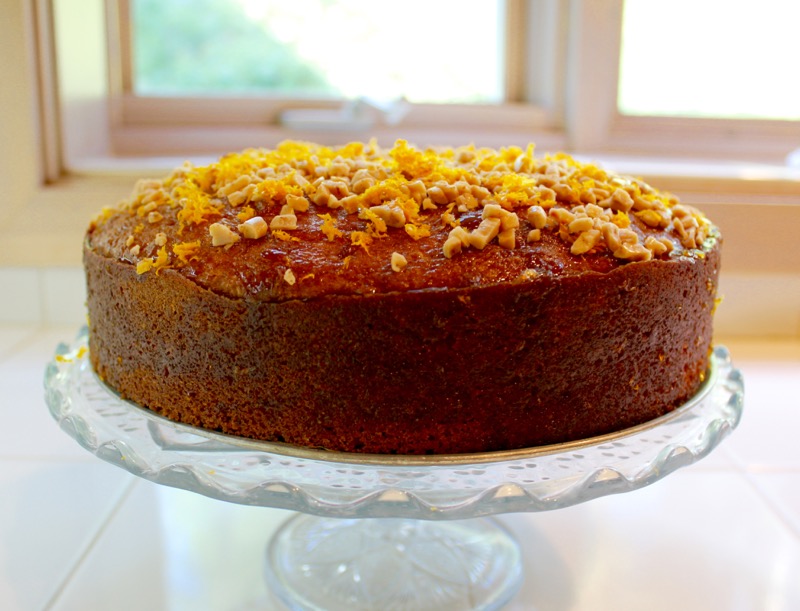 The orange flecked cake is drizzled with an orange glaze.  Because it was a birthday cake for Kristen, I added a brickle topping and extra orange zest.  I served it with Jamie's orange flavored whipped cream. I will be making this cake often.  I will also be ordering Orange Appeal from Amazon.  I am anxious to try the Beef in Bourbon Sauce and her Chocolate Orange Marmalade Brownies.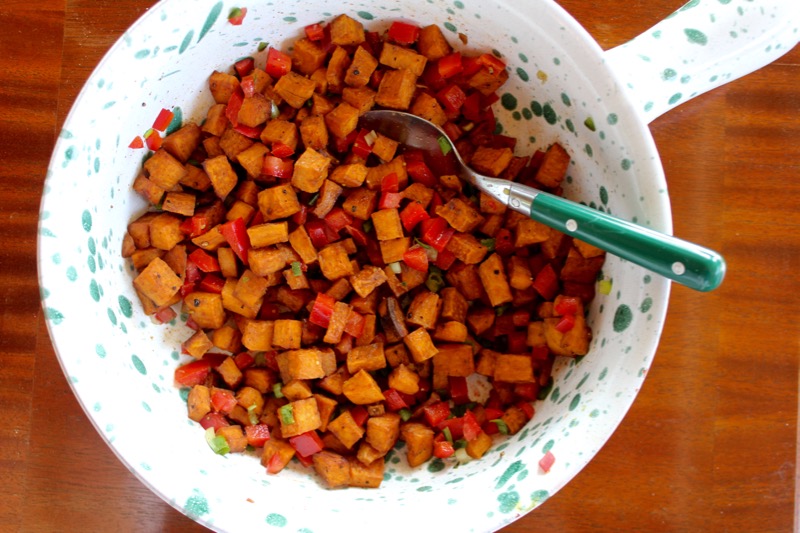 Kristen was in charge of breakfast one morning.  One of the components to her Eggs Benedict dish was this Roasted Sweet Potato Salsa from Foster's Market.  The smell of roasting sweet potatoes with Balsamic vinegar and cumin drew everyone into the kitchen.  This is such a versatile recipe.  Serve it with a steak, add it to tacos or serve it with eggs as we did.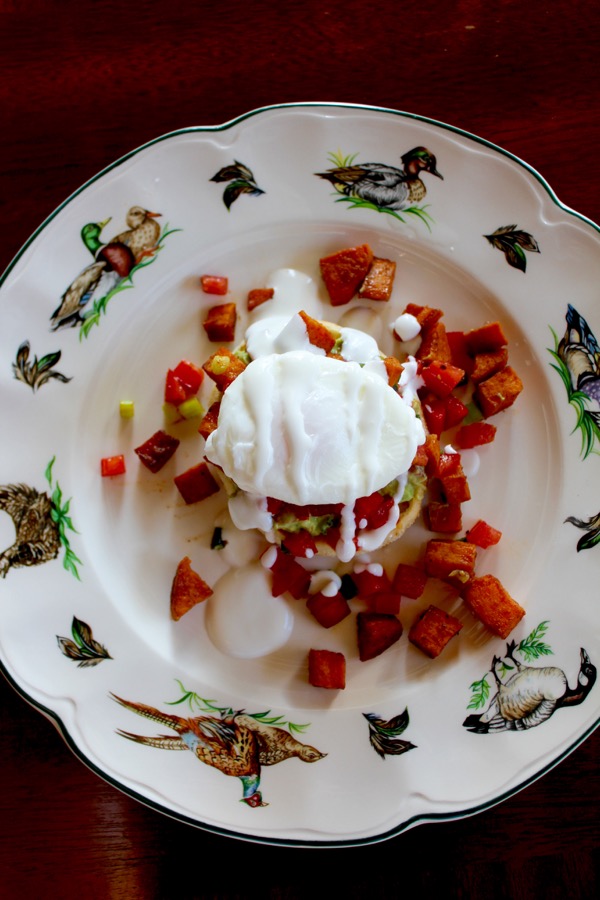 Kristen layered the English muffins with guacamole, cheddar cheese, sweet potato salsa, poached eggs and a crema sauce made from milk thinned sour cream.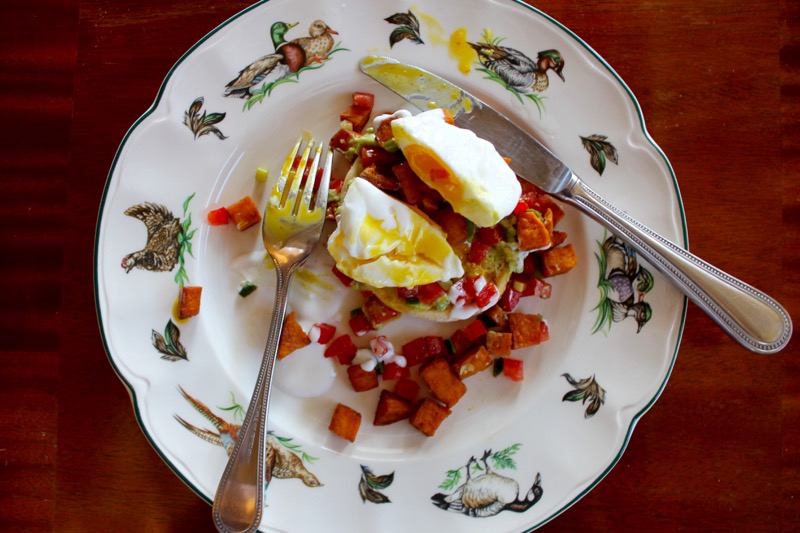 This was a unique take on traditional Eggs Benedict and we loved it.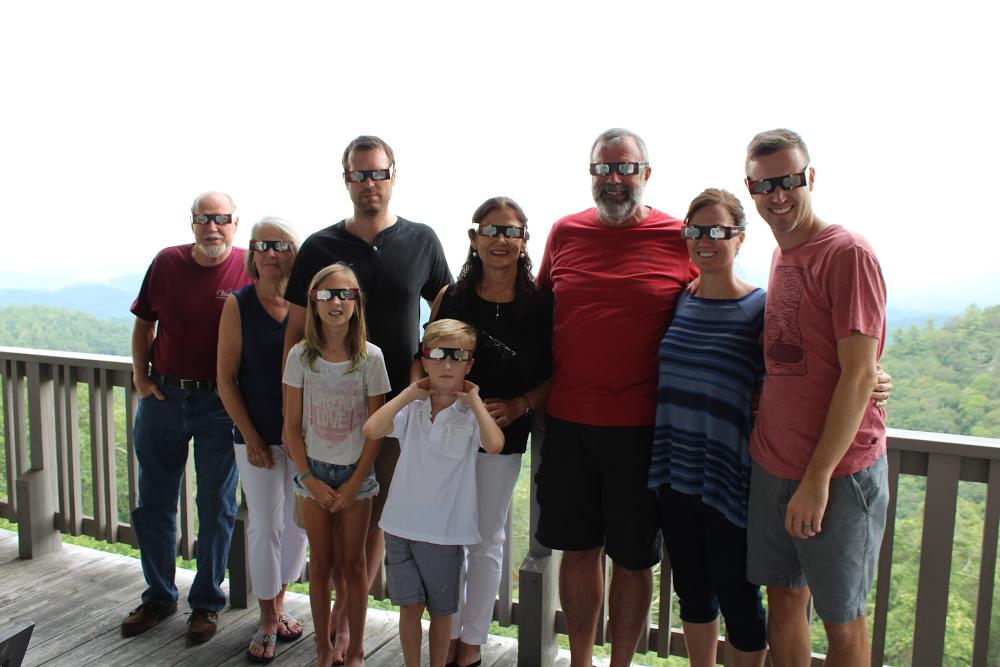 After breakfast we were ready for the eclipse.  Unfortunately the weather did not cooperate.  Clouds rolled in to block our beautiful view.  In spite of that, it was awesome.  Darkness descended quickly, the crickets began chirping, birds flew to their nests, the temperature dropped, and for a brief moment the total eclipse came into view, with a flash of the aurora.  The kids will remember it always.
ORANGE AND BROWN SUGAR GLAZED CAKE WITH ORANGE-FLECKED WHIPPED CREAM
(As printed in Fine Cooking Magazine by Jamie Schler)
For the Cake:
8 oz. (1 cup) unsalted butter, softened; more for the pan
12 oz. (scant 3 cups) unbleached cake flour
2 1/2 tsp. baking powder
3/4 tsp. table salt
2 oranges
1 1/2 cups granulated sugar
1 tsp. finely grated lemon zest (from 1 lemon)
3 large eggs
1/4 tsp. pure vanilla extract
1/2 cup milk
1/3 cup fresh orange juice
For the Glaze:
1/4 cup fresh orange juice
1/4 cup packed dark brown sugar
1 Tbs. orange marmalade
For the Whipped Cream:
1 cup heavy whipping cream, well chilled
1 Tbs. confectioners' sugar
1/4 tsp. finely grated orange zest
Make the cake:
Position a rack in the center of the oven and heat to 350 degrees F.  Butter the bottom and sides of a 9-inch springform pan.  In a small bowl, whisk together the flour, baking powder, and salt.
Use a rasp-style grater to remove 1 tbs zest from the oranges.  Juice one of the oranges to yield 1/4 cup juice.
In a stand mixer fitted with the paddle attachment, beat the butter, sugar, and orange and lemon zests on medium speed, scraping down the sides of the bowl as needed, until light and creamy, about 2 minutes.  Add the eggs one at a time, beating after each addition just to combine.  Add the vanilla, and beat briefly to combine.
In three additions and alternating with the milk and orange juice, add the dry ingredients, beating on medium speed after each addition and scrapping down the sides of the bowl as needed.  Pour the batter into the prepared pan, tap the pan on the counter a couple of times to remove air bubbles, and smooth the surface with a spatula.
Bake until the cake is just set in the center and golden brown, 40 to 45 minutes. (A toothpick inserted in the center of the cake may have a few crumbs clinging to it.) Check the cake during the last 10 minutes of baking; if it's browning too much, tent it loosely with aluminum foil.  Let the cake cool in the pan for 10 minutes, then slice a knife around the edge to release the cake, if necessary.  Remove the side of the pan, and using a large cake spatula, transfer the cake from thee pan to a cooling rack.  Let cool.
Glaze the cake:
Poke holes all over the cake with a toothpick in 3/4-inch intervals.
Combine the juice, sugar, and marmalade in a small saucepan over medium heat.  Bring to a simmer, lower the heat to low, and whisk often until syrupy, about 10 minutes.  Brush the glaze onto the cake, letting some drip down the sides.  (The cake can be wrapped in plastic and kept at room temperature for up to 2 days before serving.)
Make the whipped cream and serve:
In a stand mixer fitted with the whisk attachment or in a bowl using a hand mixer, whip the cream on medium speed until it starts to thicken, about 2 minutes.  Add the sugar and zest, raise the speed to medium high, and continue to whip until medium soft peaks form, about 2 minutes more.  Serve the cake with the whipped cream.
FOSTER'S MARKET ROASTED SWEET POTATO SALSA
2 medium sweet potatoes, peeled/chopped into 1/2-inch pieces
1/4 cup olive oil
1 tablespoon balsamic or red wine vinegar
1 teaspoon chili powder
1/2 teaspoon ground cumin
1 tomato, cored and chopped
1 red bell pepper, cored, seeded and chopped into 1/4-inch dice (about 1 cup)
1 to 2 jalapeños, seeded and diced
2 scallions, minced (green and white part)
2 tablespoons fresh chopped cilantro
juice and zest of 1 large lime
Salt and freshly ground pepper to taste
Preheat oven to 400 degrees F.
In a medium bowl, toss the sweet potatoes with the olive oil, vinegar, chili powder and cumin and spread in one layer on a large, rimmed baking pan.
Place in the oven and roast for 30 to 35 minutes, stirring a couple of times, until the potatoes are golden brown and soft.  Remove from the oven and set aside to cool.
In a medium bowl, place the tomato, red pepper, jalapeños, scallions, cilantro and lime juice and zest with the sweet potatoes; toss until combined.
Season with salt and pepper and serve warm with eggs, tostadas, grilled steak or chicken.