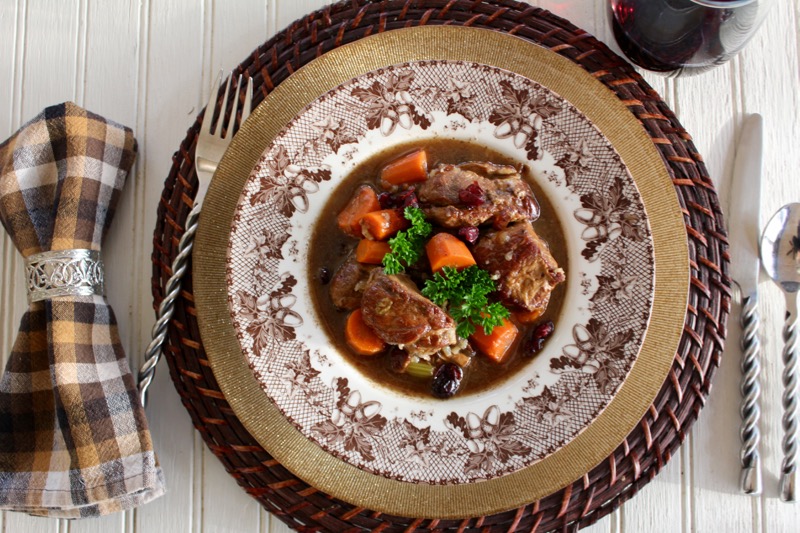 The days are counting down until Christmas; Christmas Tour that is.  My home will be on the tour with three other homes in my neighborhood on December 2nd.  All of this means that Thanksgiving has barely registered as I have been pulling out the Christmas baubles.  Thankfully, we will be having Thanksgiving at the kids' home, so much of the responsibility is not on my shoulders.
When I am busy, I like to rely on my Crock Pot for meals.  This pork stew has the addition of raisins and vinegar which give the dish a sweet-and-sour (agrodolce) tang that is very pleasing.  The recipe comes from one of my favorite Crock Pot cookbooks, The Italian Slow Cooker by Michele Scicolone.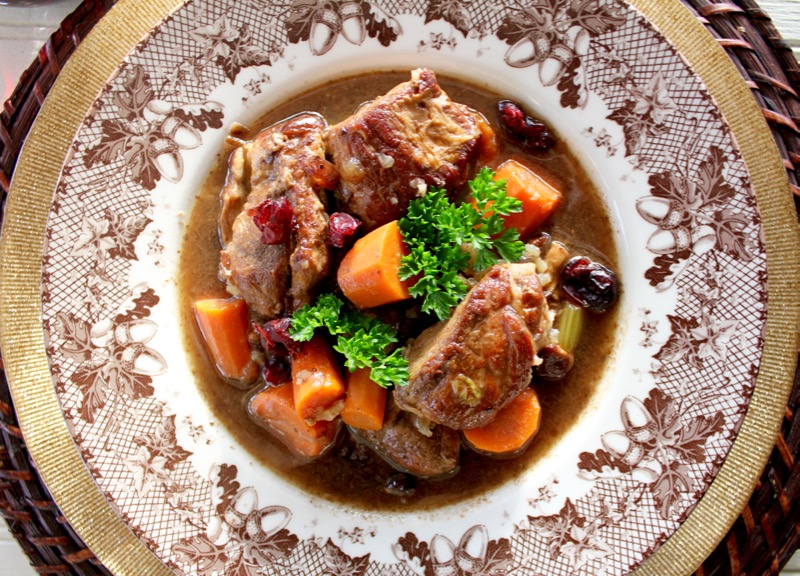 The pork was very tender and it was delicious with Basmati rice.  I substituted dried cranberries for the raisins.
We will get our tree after Thanksgiving but all of the rest of the decorations are in place.  Have a wonderful Thanksgiving everyone.  Christmas will be here (for some of us) before we know it.
PORK STEW AGRODOLCE
3 pounds boneless pork shoulder, cut into 2-inch pieces
3 tablespoons olive oil
3 large onions, chopped
2 large celery ribs, chopped
1 cup dry white wine
3 tablespoons balsamic vinegar
3 large carrots, cut into 1-inch chunks
1/2 cup golden raisins (I used dried cranberries)
Pat the pork dry with paper towels.  Sprinkle the meat with salt and pepper to taste.
In a large, heavy skillet, heat the oil over medium-high heat.  Add the pork, without crowding the pan.  Brown the meat on all sides and transfer it to the slow cooker.
When all the meat has been browned, reduce the heat to medium.  Add the onions and celery to the skillet and cook, stirring frequently, until golden.
Add the wine and vinegar and bring it to a simmer.  Transfer the onion mixture to the slow cooker.  Add the carrots and raisins.  Cover and cook on low for 6 hours, or until the pork is tender.  Serve hot.
Great with rice or polenta.