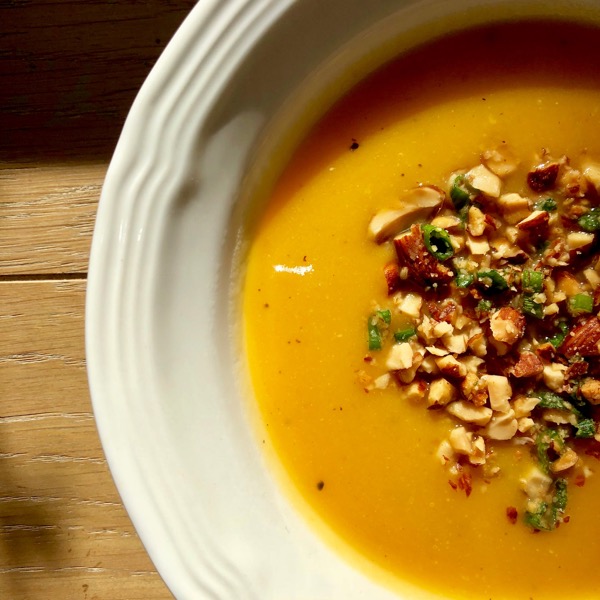 While staying with our family over Thanksgiving, my DIL Kristen made this flavorful soup for our lunch preceding our Thanksgiving dinner. The butternut squash is combined with a few parsnips and potatoes and simmered in chicken broth. Once cooked it is puréed with an immersion blender.  There is no need for heavy cream.  The soup is thick and velvety.  The smoked almonds and chopped scallions add a bit of crunch and flavor.  I will be making this butternut squash soup all through our chilly December.  If you want to make it vegetarian, substitute vegetable broth for the chicken broth.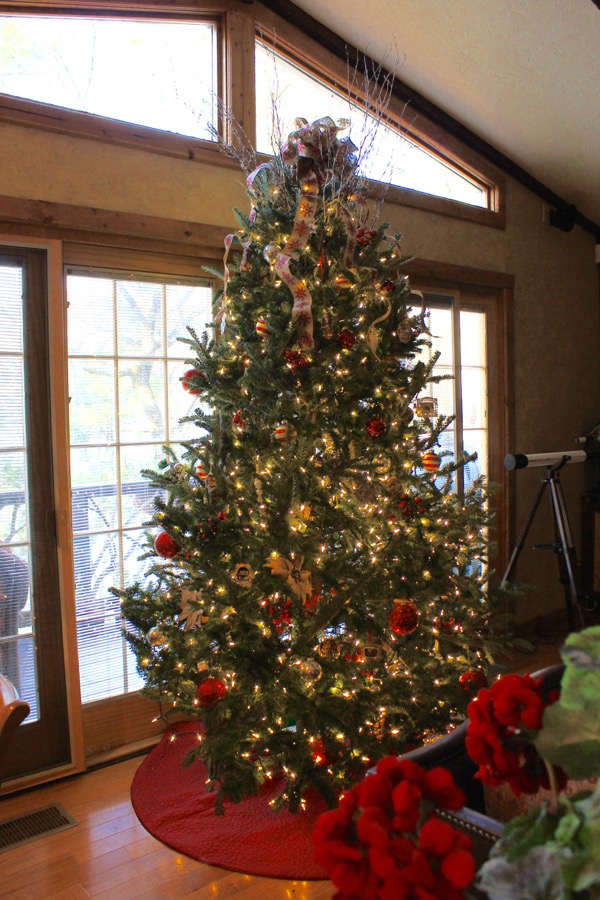 We got our tree right after Thanksgiving because our home was on a Christmas Walk on December 2nd. I scrambled to get all of the decorations out before the end of November.  But now it is done and I can sit back and enjoy the season in peace. Here are a few pictures of the results.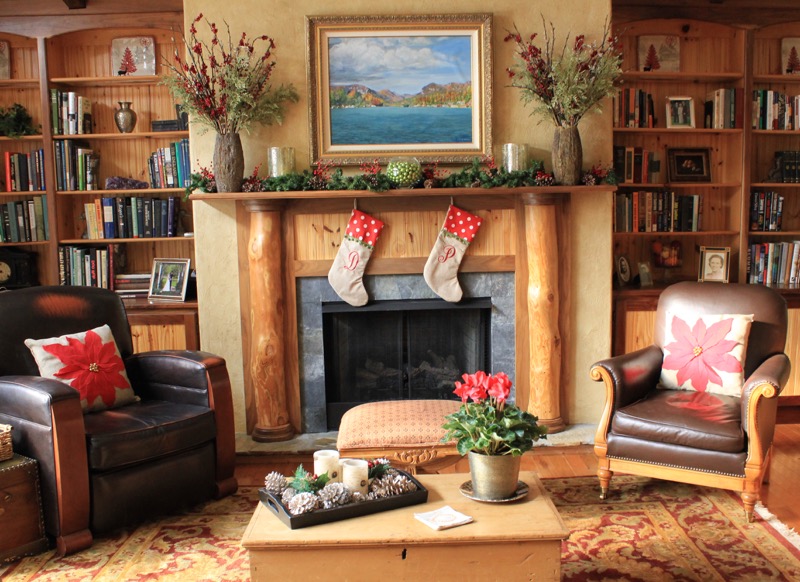 The mantel and chairs in their Christmas adornment.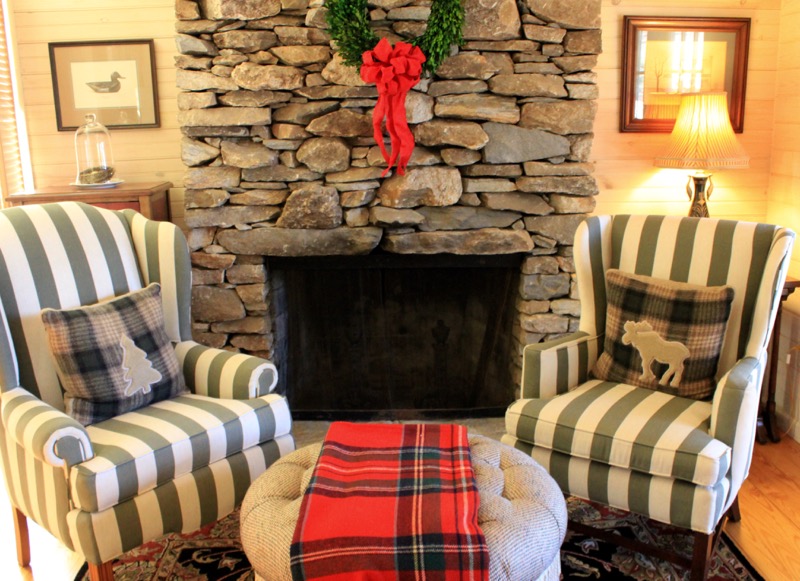 The den, ready for a fire and a good book.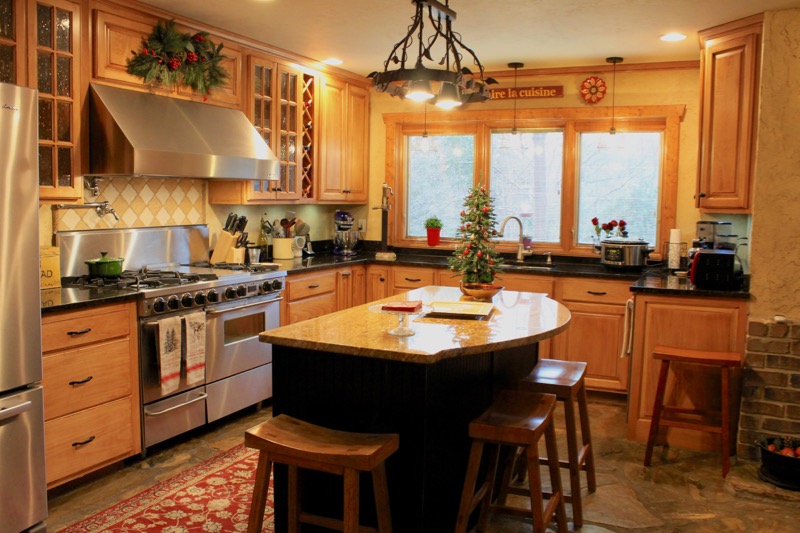 I have been busy making cookies, but on this day the Crock Pot is busy next to the sink making our dinner.  So much to do.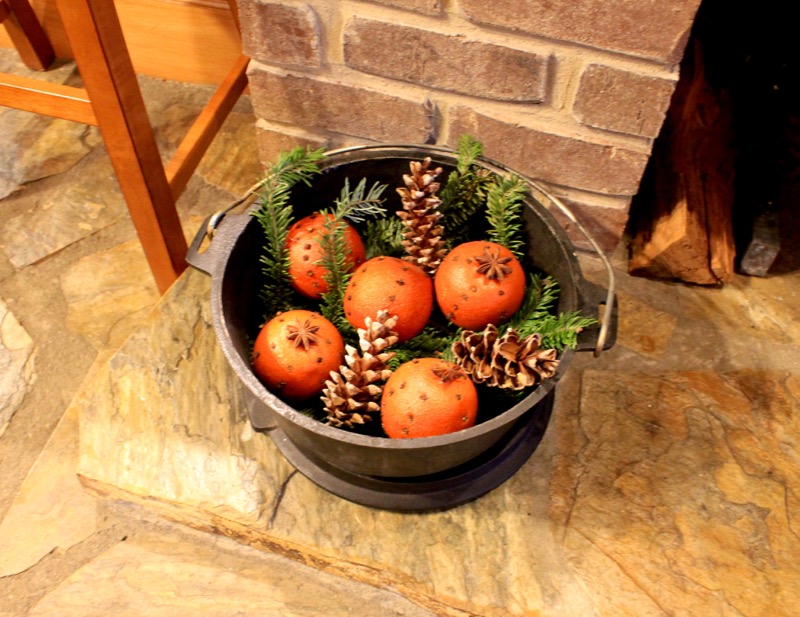 Oranges in my hearth pot next to the fireplace.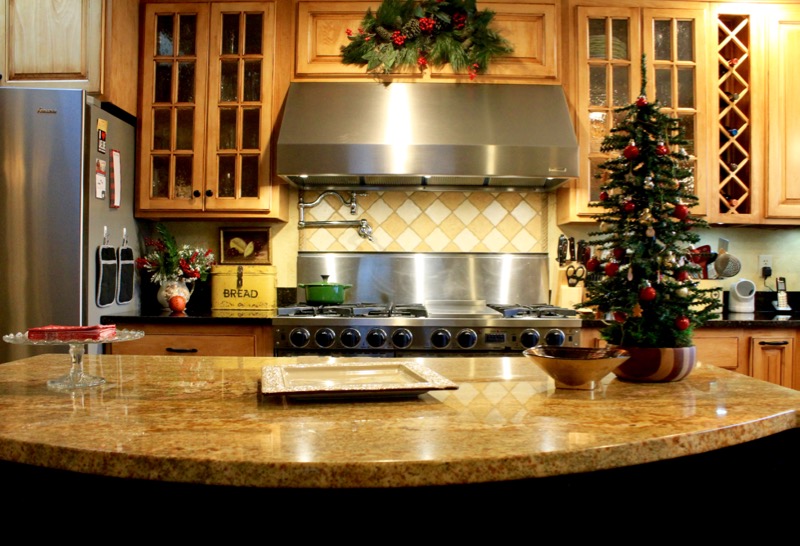 Another view of the kitchen.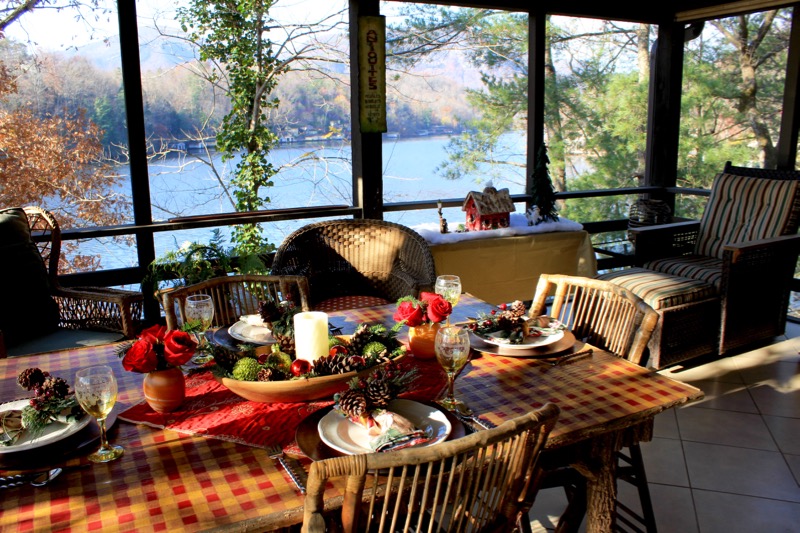 Christmas porch on a beautiful sunshiny day.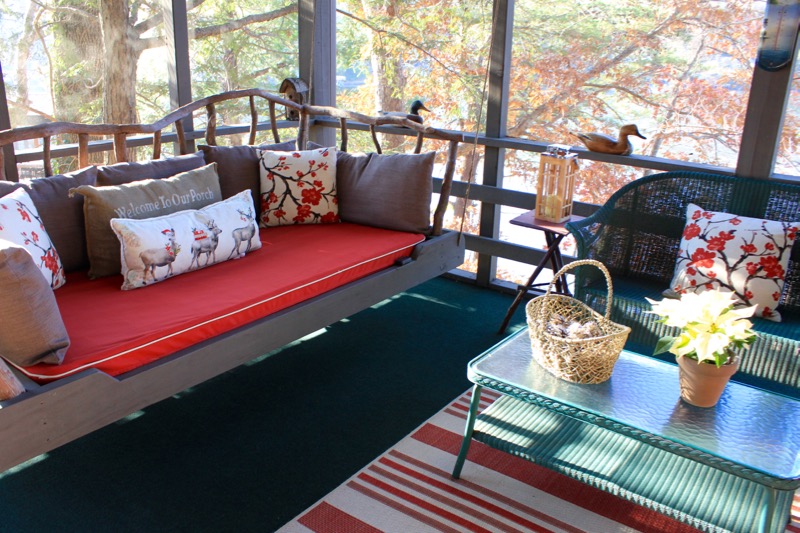 Lower porch with my new reindeer pillow.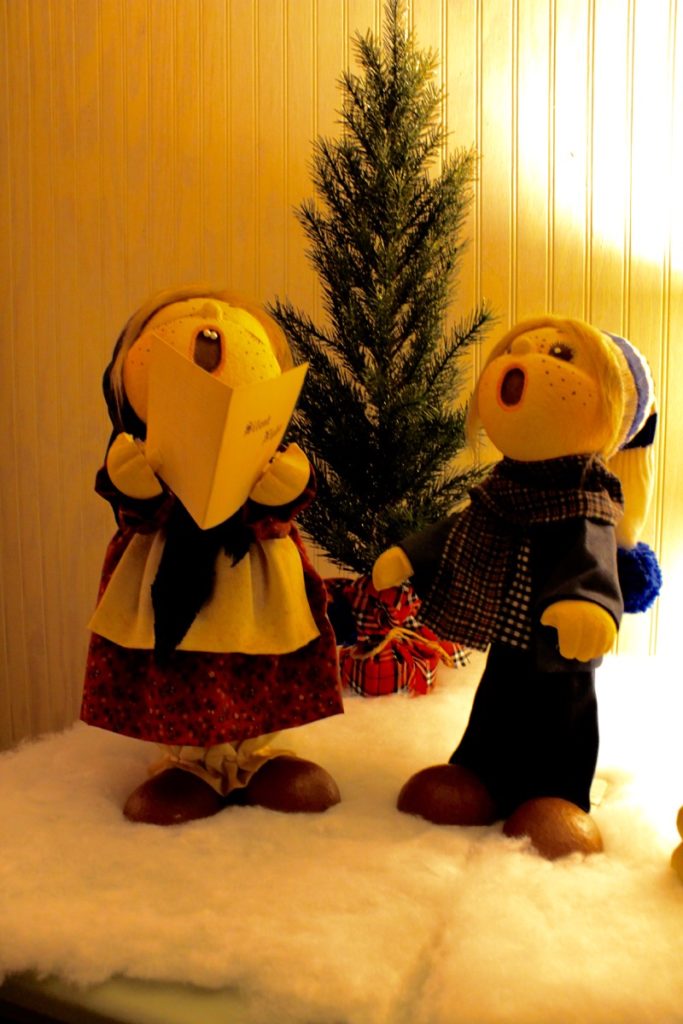 My talented Mother's Christmas Carolers.  I think everyone in our small town had a set of her carolers and I have fond memories of her making them in the hundreds.  She "lives on" in many households through her work.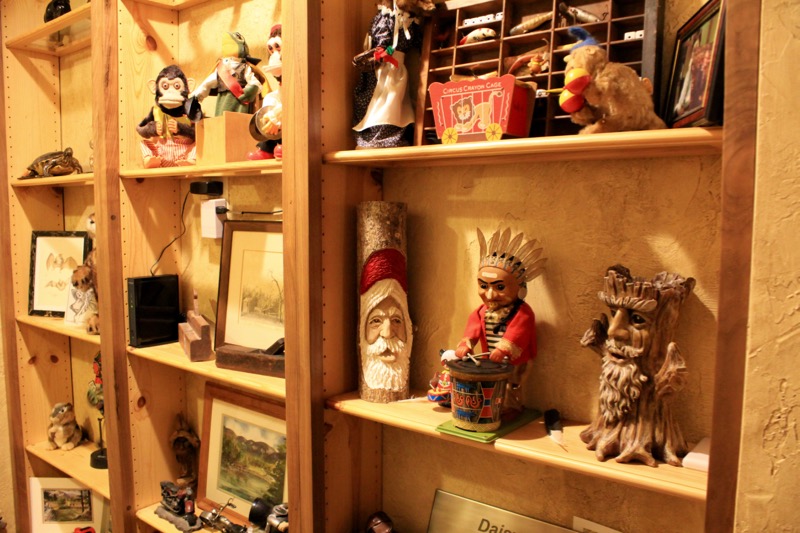 My husband has never grown up.  Fortunately we built bookshelves along the stairwell to our downstairs area.  I have given David free reign with all of his collectible toys.  When the Grands were younger they marveled at all of the mechanical toys (except for the bug-eyed monkeys that scared them).  The shelves seem particularly festive at Christmas.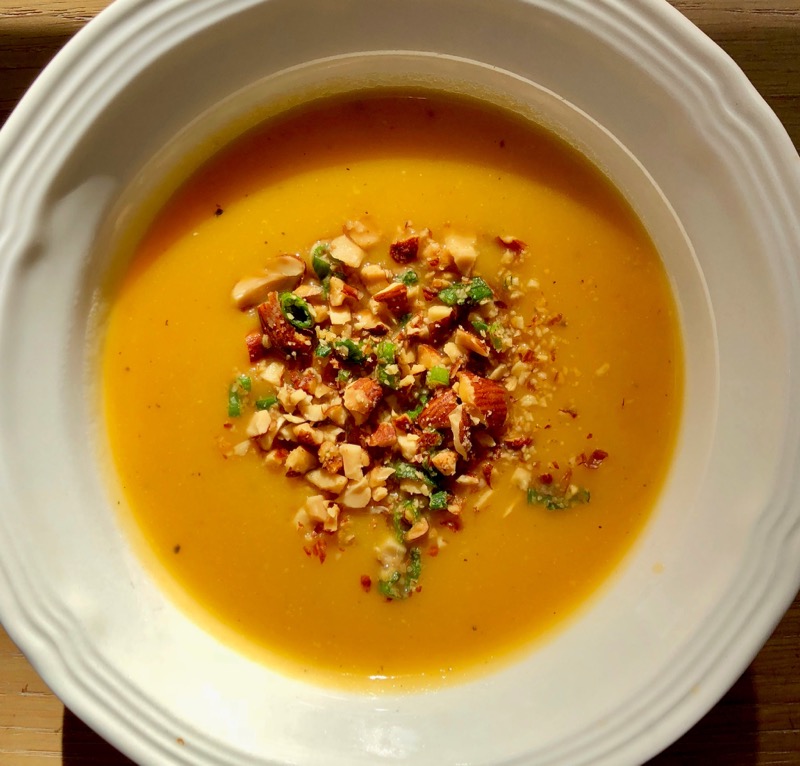 Enjoy the festive season and this velvety butternut squash soup on the countdown to Christmas. I am happy to have time to relax.
BUTTERNUT SQUASH SOUP (RECIPE FROM KRISTEN KLETT)
INGREDIENTS
2 tbsp

Olive Oil

1 medium

yellow onion

– rough chop

2 cloves of

garlic

– rough chop

1 tablespoon of

dijon mustard

1 medium

butternut squash

, cut into approx. 1" cubes (3 to 4 cups)

3 small

parsnips

– cut similar to squash

2 very small

yukon potatoes

(fingerling okay) – peeled and cut similar to squash and parsnips

3 cups of

chicken broth

(I prefer making mine with "better than boullion" chicken base – much richer flavor)

3 shakes of

cayenne pepper
FOR GARNISH
Smoked almonds –

chopped/crushed

Scallions

– chopped
In a medium pan, saute the onions in olive oil with a sprinkle of salt and pepper until the onions are translucent.
Add the dijon mustard and garlic and cook for another 1-2 minutes
Add the squash, parsnips and potatoes and stir to combine and coat with oil/onions/garlic. Cook for another 1-2 minutes. Season with another sprinkle of salt and pepper.
Add the chicken broth. The broth should just cover the vegetables (too much broth will make your soup more watery/runny). Cook for 20 minutes on a low simmer until all vegetables are fork tender.
Turn the heat off and, using an immersion blender, puree the soup directly in the pan until silky smooth.
Add a few dashes of cayenne pepper to taste.
Serve soup topped with crushed smoked almonds & green onions.
TIP: Root vegetables pair very nicely with Gruyere cheese. If you want a tasty side for your soup, make grilled cheese or crostini with Gruyere.