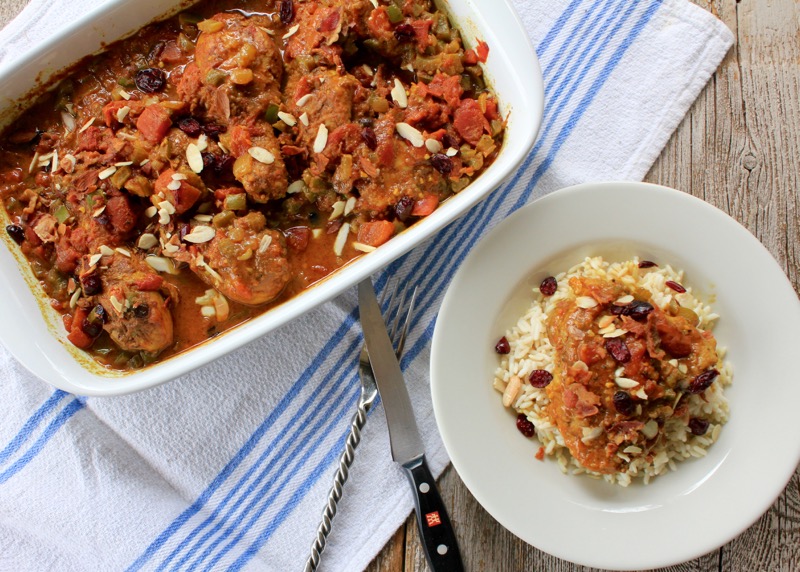 This wonderful chicken casserole has been in my wheel house for a long time.  I first blogged about it here.  This version came from Sam Sifton at the New York Times.  I love the addition of lots of tomatoes. But the basics of the dish are still here: chicken,curry, dried fruit, almonds, and bacon.  It is perfect for a crowd.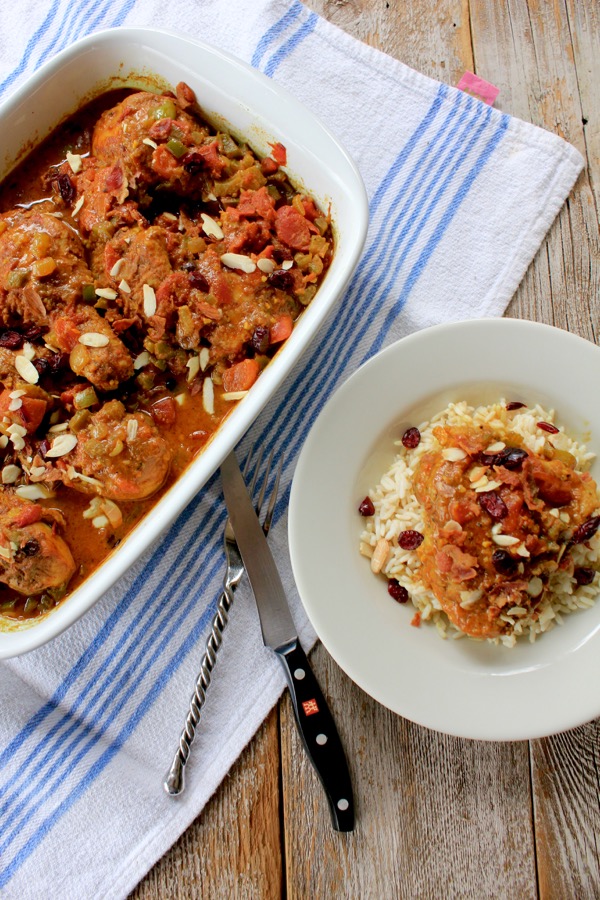 The port of Charleston saw many products from the Orient in the 18th and 19th century.  Curry powder was one of them and this dish became popular with hostesses all over the south.  FDR was very fond of Country Captain and had it served to him often in Warm Springs, Georgia.  It is best served over rice.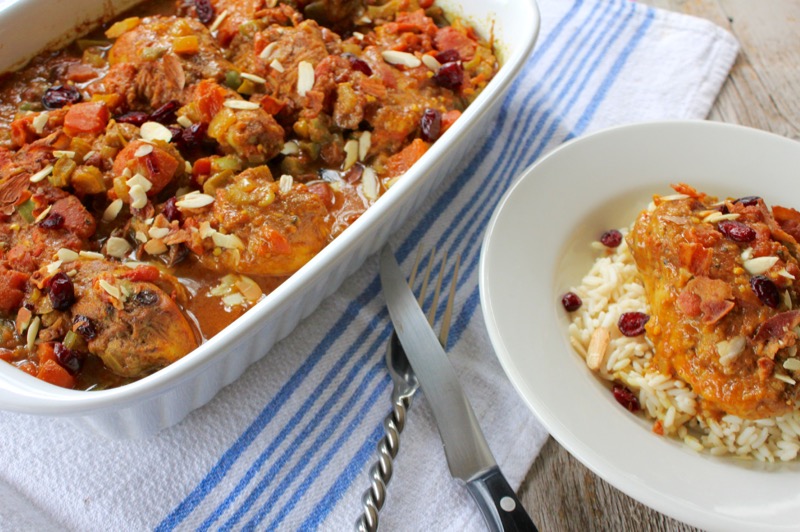 We are back in beautiful Lake Lure enjoying our home and especially my kitchen, although David was the one responsible for this delicious meal.  So glad that he loves to cook as much as I do.
COUNTRY CAPTAIN
1/4 cup flour
Kosher salt
Freshly ground black pepper
1 tsp dried thyme
2 Tbls butter
3 pounds chicken pieces (We used thighs and legs)
4 slices bacon
1 medium onion, diced
1 medium green pepper, seeded and diced
2 tsps celery, diced
1 Tbls minced garlic
2 Tbls curry powder
3 Tbls dried cranberries or currants
1 28-ounce can chopped tomatoes and their juices
3 Tbls slivered almonds, toasted
Cooked white rice
Heat the oven to 325 degrees.  Combine the flour, 2 teaspoons kosher salt, 1 teaspoon pepper and the thyme in a bowl.  In a large skillet, melt the butter over medium-high heat until it foams.  Dredge the chicken in the flour mixture, shaking off excess, and fry, in batches if needed, until browned on all sides, about 8 minutes.  Transfer the chicken to a plate and drain off all but 1 tablespoon of the fat in the skillet.
Return the skillet to medium heat, add the bacon and fry until crispy.  Transfer to a plate.  Once cool, crumble and set aside.
Add the onion, pepper, celery, garlic, curry powder and 1 tablespoon of the cranberries or currants to the skillet and sauté over medium-high heat until soft and fragrant, about 7 minutes.  Stir in the tomatoes and their juices, bring to a boil and simmer over medium-low heat for 10 minutes.  Season to taste with salt and pepper.
Spread 1 cup of the tomato sauce in the bottom of an ovenproof casserole large enough to hold the chicken snugly in one layer.  Arrange the chicken on top.  Pour the remaining sauce over and around the chicken.  Cover tightly with foil and bake for 35 minutes.  Remove the foil and cook for 15 minutes more.
Top with the crumbled bacon, remaining cranberries or currants and slivered almonds.  Serve with cooked rice and any condiments you wish.