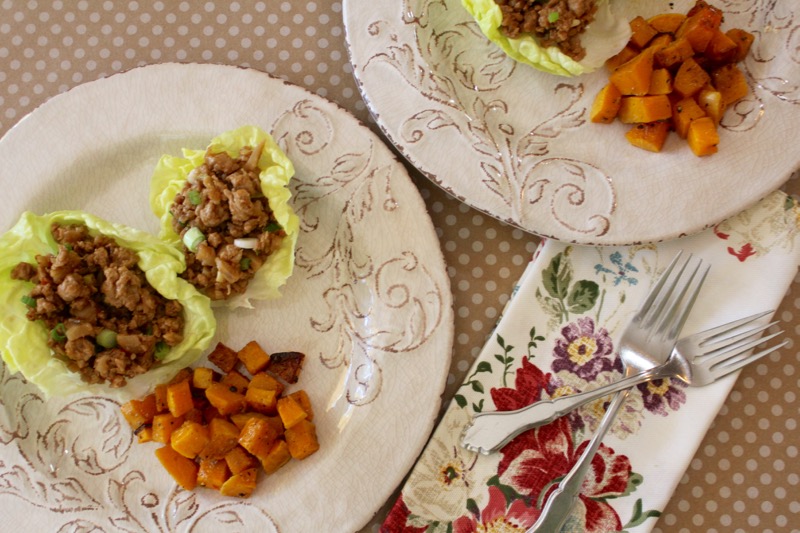 There are several recipes on the internet for this copycat recipe for Chicken Lettuce Wraps from P.F. Chang's.  I used the recipe from Averie Cooks.  David is trying to reduce carbohydrates in his diet so anything wrapped in a lettuce leaf is a winner in my book.  Crispy butter (Boston) lettuce is the perfect vessel to hold this flavorful mixture.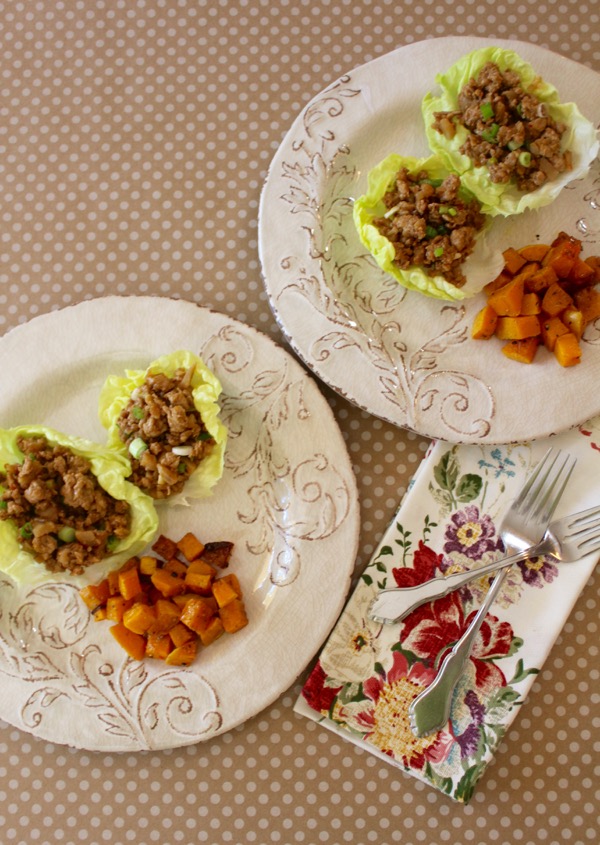 The ground chicken is paired with hoisin sauce, soy sauce, rice wine vinegar and chili garlic sauce.  Crunch is provided by water chestnuts.  I served it with roasted butternut squash.  It was a quick and easy meal.
P.F. CHANG'S CHICKEN LETTUCE WRAPS
INGREDIENTS:
1 tablespoon olive oil
1 tablespoon sesame oil
1 pound ground chicken (I've also used ground turkey with good results)
1 medium/large sweet Vidalia or yellow onion, diced small
1/3 cup hoisin sauce
2 tablespoons low-sodium soy sauce
1 tablespoon rice wine vinegar
1 tablespoon Asian chili garlic sauce, or to taste
3 cloves garlic, finely minced
1 teaspoon ground ginger or 2 teaspoons freshly grated ginger, or to taste
one 8-ounce can water chestnut, drained and diced small
2 to 3 green onions, sliced into thin rounds
1/2 teaspoon salt, or to taste
1/2 teaspoon freshly ground black pepper, or to taste
butter lettuce leaves, for serving
DIRECTIONS:
To a large skillet, add the oils, chicken, and cook over medium-high heat until chicken is cooked through; stir intermittently to crumbly while cooking.
Add the onion, hoisin sauce, soy sauce, rice wine vinegar, chili garlic sauce, stir to combine, and cook for about 5 minutes, or until onion is soft and translucent and most of the liquid has been absorbed; stir intermittently.
Add the garlic, ginger, stir to combine, and cook for about 1 minute, or until fragrant.
Add the water chestnuts, green onions, salt and pepper to taste, and cook for about 2 minutes, or until tender. Taste filling and make any necessary flavor adjustments, i.e. more soy sauce, hoisin, pepper, etc.
 Spoon about 1/4 cup of the mixture into the lettuce leaves to serve. Recipe is best warm and fresh but filling will keep airtight in the fridge for up to 5 days.