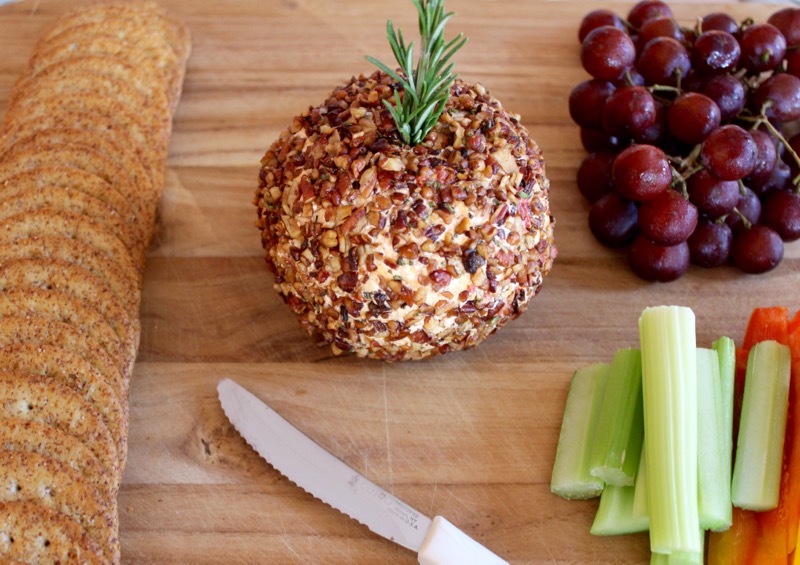 It would appear that I am on a roll with recipes with "ball" in the title.  While searching for a new appetizer to serve to company, I found this tasty cheese ball recipe on Cafe Sucre Farine's website.  Chris always has terrific ideas for what to serve.  When I made it for friends everyone said it was a winner.  I have a confession to make.  Not sure if I have mentioned it before but I am not a cheese lover.  I love melted cheese but usually avoid cheese boards.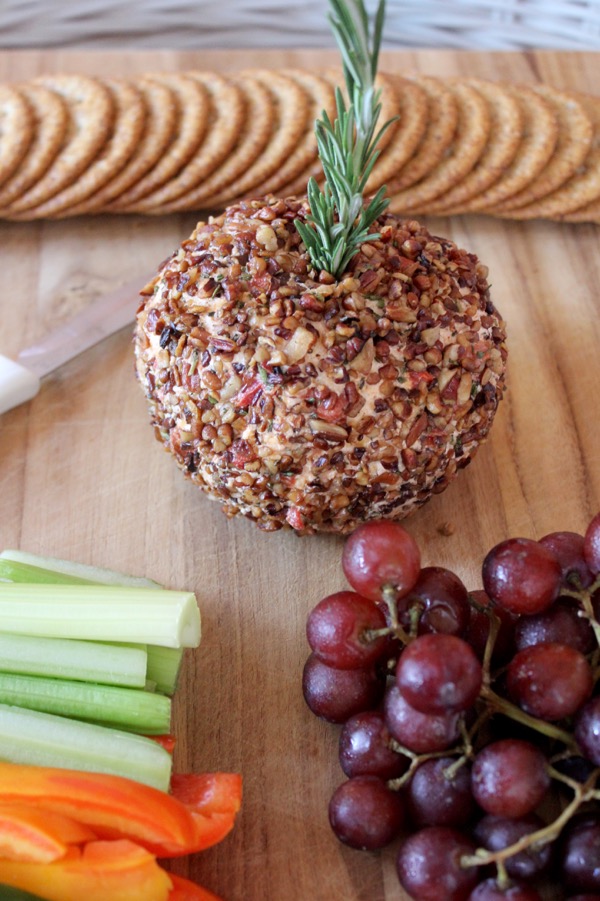 But that doesn't mean I don't serve cheese to my guests.  This cheese ball is filled with goat cheese, cheddar, cream cheese, roasted red peppers and garlic.  The pecan and rosemary coating makes it interesting.  It is easy to mix all of the ingredients by hand if you don't have a food processor. But I do miss my stand mixer here in Florida.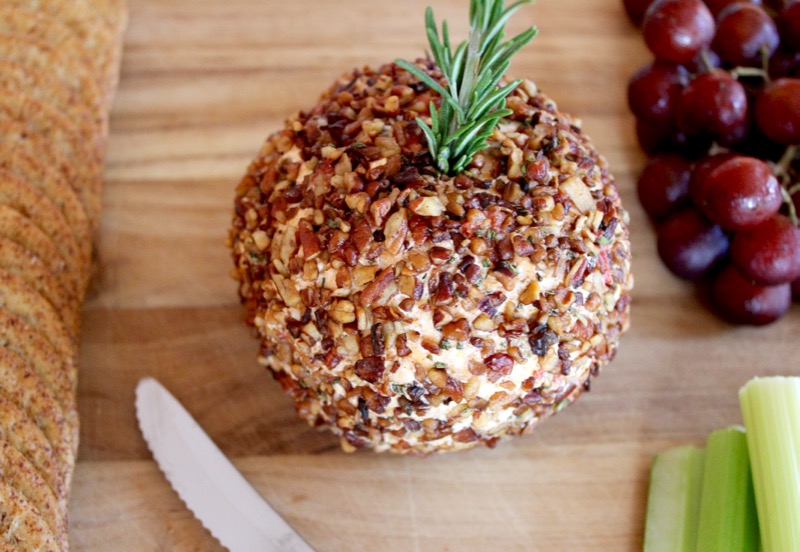 We have many occasions for get togethers while in the Sunshine State.  High School friends from Michigan are in New Smyrna Beach for Race Week.  The beginning of Nascar's Daytona Five Hundred is coming up this weekend.  After that New Smyrna Beach celebrates Mardi Gras with a parade on Fat Tuesday.  Then in March, Bike Week will bring our motorcycle group to our house for the event.  Lots of entertaining is in our future.  Glad I have this cheese ball recipe in my repertoire.
ROASTED RED PEPPER CHEESE BALL  (Cafe Sucre Farine)
Ingredients
For the cheese filling:
4

 

ounces

 

cream cheese

 

regular or lower fat, not fat-free)

4

 

ounces

 

goat cheese

1 ½

 

cups

 

shredded medium cheddar cheese

1

 

teaspoon

 

Worcestershire sauce

½

 

teaspoon

 

garlic powder

¼

 

teaspoon

 

crushed red pepper

4

 

ounce

 

jar roasted red peppers
For the pecan coating:
2

 

teaspoons

 

butter

1

 

teaspoon

 

extra virgin olive oil

4

 

ounces

 

fairly finely chopped pecans

 

or pecan chips

2

 

teaspoons

 

finely chopped fresh rosemary
Instructions
Drain roasted red pepper well and then roll in several thicknesses of paper toweling to remove any excess liquid.

Combine cream cheese, goat cheese, cheddar cheese, roasted red peppers, Worcestershire sauce, garlic powder and crushed red pepper in the bowl of a food processor. Blend until smooth and creamy.

Line a medium-size bowl with plastic wrap then add the cheese mixture and pull plastic wrap over the top of the cheese. Refrigerate for 2-3 hours or place in the freezer for 30-45 minutes.

While the cheeseball is chilling, prepare the pecan coating by melting butter in a small non-sticking sauté pan until bubbly and beginning to brown a bit. It will have a nutty aroma. Add olive oil and pecans and stir to coat pecans. Cook, stirring frequently, for 4-6 minutes until pecans turn golden. Remove from heat and set aside to cool then add the 2 teaspoons chopped rosemary and stir to combine.

Pull the cheese out of the bowl with the plastic wrap and use the wrap to help you shape the cheese mixture into a ball. Roll the ball in the pecan mixture and shape again by gently pushing the sides to form a rounded ball. Place on a serving tray and sprinkle with a bit more chopped fresh rosemary, for garnish, if desired. Serve with crackers and/or celery.