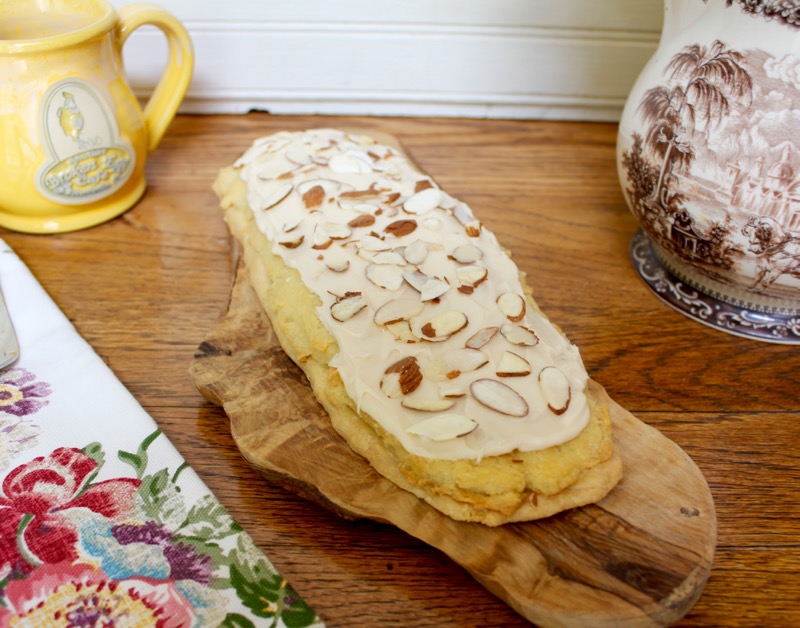 As a continuation of some of my favorite posts, I am including this simple homemade coffee cake that has been in one of my recipe boxes for a long time.  The following blog entry was posted 10 years ago and reflected on our life in the Lake Lure Cottage long before we expanded it to a full-time home. We were in the process of renovating.
While cleaning out the back of an old closet for renovations, I found a small recipe box that I put together years ago. It was done shortly after we bought our 600 square foot Lake Lure cottage in 1984. We fell in love with this lake from the first time we saw it and when a realtor showed us a modest cottage with a huge screened in porch, we knew it would be ours. Our son Michael was seven years old at the time. He did not know how to swim, but an old speed boat came with the cottage and after watching all of the water skiers on the lake, Michael said he wanted to learn to ski. We had grown up on lakes in Michigan and had always skied. But a prerequisite to skiing is knowing how to swim. So he learned to swim and that was the beginning of wonderful summers of swimming, boating and water skiing with all of our friends and their children. Our small cottage was full most summer weekends. Because we had only two small bedrooms, each morning the living room floor and the screened in porch were full of sleeping bags containing exhausted kids. The trip to the coffee pot in the kitchen was a delicate dance, bobbing and weaving between the outstretched arms and far flung legs of deeply sleeping children. The trip to the top of the boathouse with freshly brewed coffee was much easier and the view was enough to quell any doubts about our decision to invest our modest savings in this most beautiful of places.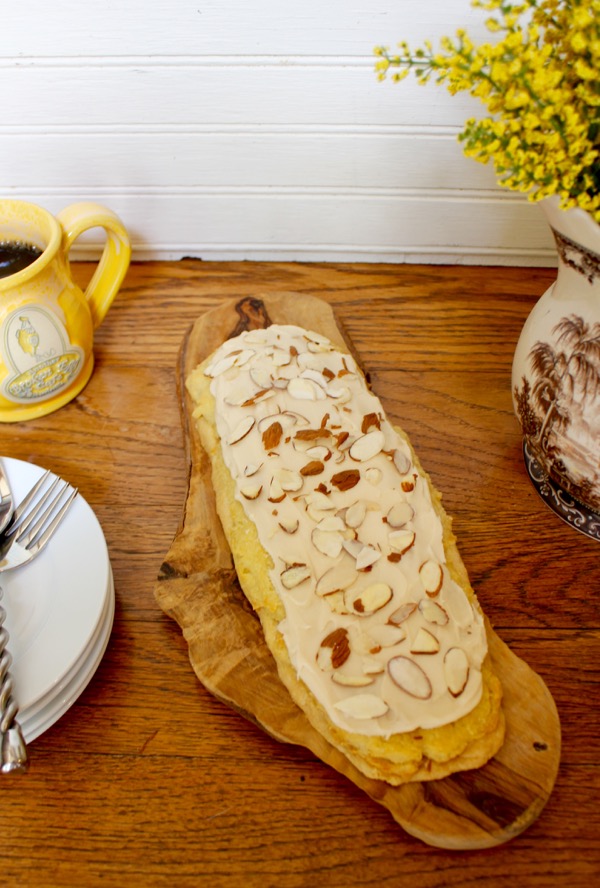 Feeding the crowd was sometimes a challenge, but one that I enjoyed. That's why finding my old recipe box was such a treat. There were recipes in it for things I haven't made in years; Frogmore Stew, Quick Breakfast Rolls, Paella Salad, Quick Coconut-Pecan Upside-Down Cake and this recipe for Almond Puff Coffee Cake. I remember liking this recipe very much, but it was more suited to the adults than the children because of the distinct almond flavor. While they were munching cereal we would dig into this luscious coffee cake and plan another sunny day on the lake.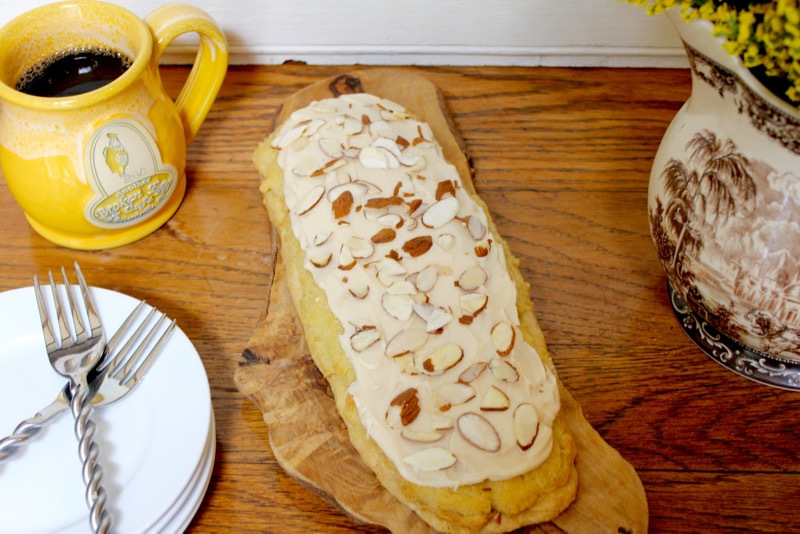 Now another generation of children are enjoying the cottage and the lake. We have a lot more room now. But you know what? I miss the close quarters and stepping over sleeping kids. Shhh. Don't tell my husband I said that or he will think all of our hard work was not necessary.
The coffee cake is really very simple. It is just a pastry crust base with a pate a choux topping that is baked and then drizzled with a confectioners sugar glaze.
ALMOND PUFF COFFEE CAKE
For the pastry base:
1/4 cup cold butter cut into small pieces
1/2 cup flour
1/4 tsp salt
1 Tbls water (May need a little more)
Mix flour and salt and pulse in food processor to combine. Add butter cubes and pulse until butter is size of small peas. Add water and pulse until dough comes together. Form into ball and place on ungreased baking sheet. Pat into a 12″x 3″ strip.
For Pate a Choux:
1/4 cup butter
1/2 cup water
1/2 tsp almond extract (I now use 1/4 tsp. almond extract and 1/4 tsp vanilla extract)
1/2 cup flour
1 1/2 eggs, beaten
Melt butter in a sauce pan. Add water and bring to a rolling boil. Remove from heat and quickly stir in almond extract and flour. Return to low heat and stir until mixture forms a ball. Remove from heat again and add eggs. Stir until mixture is smooth. Spread over pastry strip. Bake for about 1 hour at 350 degrees until top is crisp and brown. Cool.
For Glaze:
3/4 cup confectioners sugar
1 Tbls soft butter
3/4 tsp almond extract (I use 1/2 tsp vanilla extract and 1/4 tsp almond extract)
3/4 tsp warm water (You may need a little more to make a spreadable glaze)
2 oz. sliced almonds, toasted
Mix ingredients except almonds until smooth and spread over top of cake when cool. Sprinkle with sliced almonds. Serves 6.