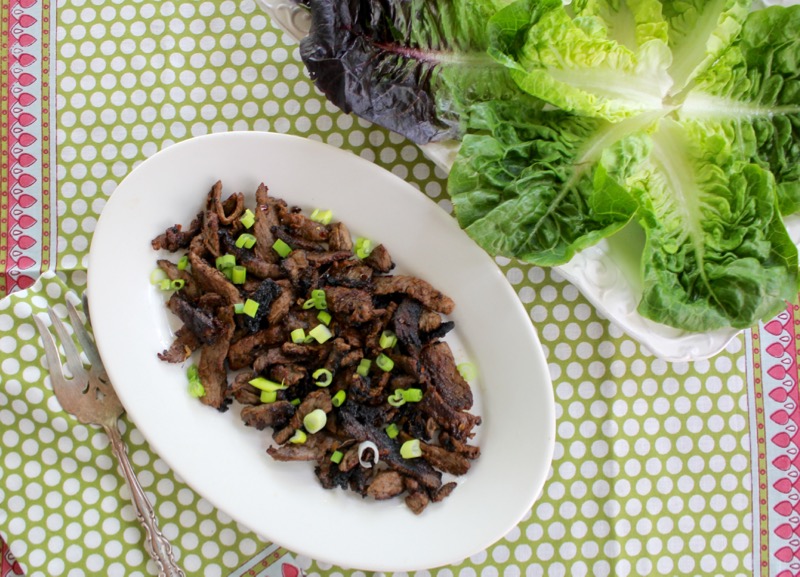 The genesis of this Bulgogi recipe happened while traveling in the backseat of the car with my Grandson. We were playing a word game with tiles and a hangman.  Cameron, at age 8, does very well with spelling words and solving word games.  But Mimi (me) is very good too.  The challenge was on!  After many rounds, Cameron gave me a seven letter word for food.  Guessing letter after letter, I never came up with the answer.  I had never heard of Bulgogi.  Cameron's Mom, in the driver's seat, was impressed too.  It turns out he knew the word after reading a book about a Korean boy trying to fit in at his new school in America.  His Mother had packed his school lunch with this Korean beef dish.  But the boy would have preferred the same food his classmates had brought to school.  So Cameron remembered this passage, the word, and a desire to try Bulgogi.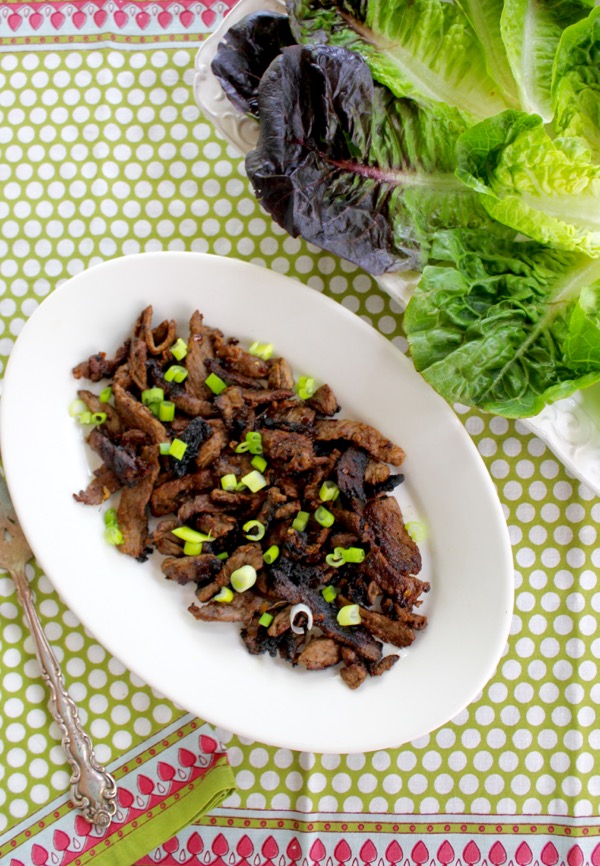 Bulgogi is an addictively delicious beef dish.  The sauce is a blend of soy sauce, brown sugar, pear, garlic, ginger, crushed pepper flakes and sesame oil.  The results are a salty, slightly sweet and nutty dish. Although you could use a tougher cut of beef like, chuck, sirloin or flank steak, the preferred cut is  rib eye or strip steak.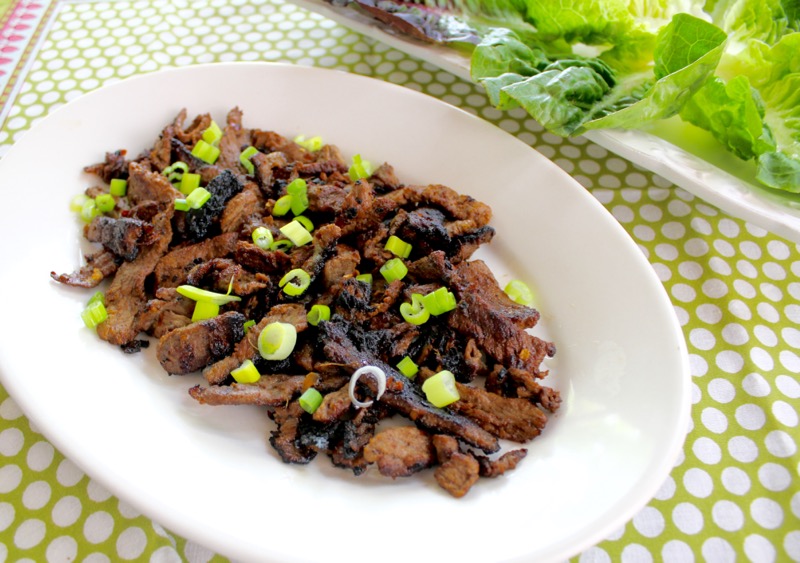 Traditionally Bulgogi would be served over rice, but we served it in lettuce cups.  Thank you Cameron for the inspiration.  I love that my Grandchildren are interested in trying foods from all over the world.  As soon as you return from your European trip with your parents, I will make this for you Cameron and your sister Rachel.
BULGOGI ( Adapted from Bon Appétit)
INGREDIENTS
¼ pear, grated

1 garlic clove, grated

2 tablespoons soy sauce

1 tablespoon gochugaru (coarse Korean hot pepper flakes), or 1 teaspoon crushed red pepper flakes

1 tablespoon grated peeled ginger

1 tablespoon light brown sugar

1 tablespoon toasted sesame oil

1 pound boneless rib-eye or strip steak

2 tablespoons vegetable oil, divided

Kosher salt

Sliced scallions (for serving)
RECIPE PREPARATION
Combine pear, garlic, soy sauce, gochugaru (I used 1 tsp crushed red pepper flakes), ginger, sugar, and sesame oil in a large resealable plastic bag or medium bowl. Using a sharp knife, slice meat into very thin strips. Add to marinade, seal bag, and squish everything around until the meat is coated. Let sit at room temperature 30 minutes, or chill up to 8 hours.

Heat 1 Tbsp. vegetable oil in a large skillet over medium-high until oil is shimmering. Remove half of meat from marinade, letting excess drip back into bag; season lightly with salt and cook in a single layer without moving until lightly browned, about 1 minute. Toss meat and continue to cook, tossing occasionally, until cooked through and crisp at edges, about 3 minutes. Transfer to a plate. Repeat with remaining 1 Tbsp. vegetable oil, remaining meat, and more salt.

Serve topped with scallions.