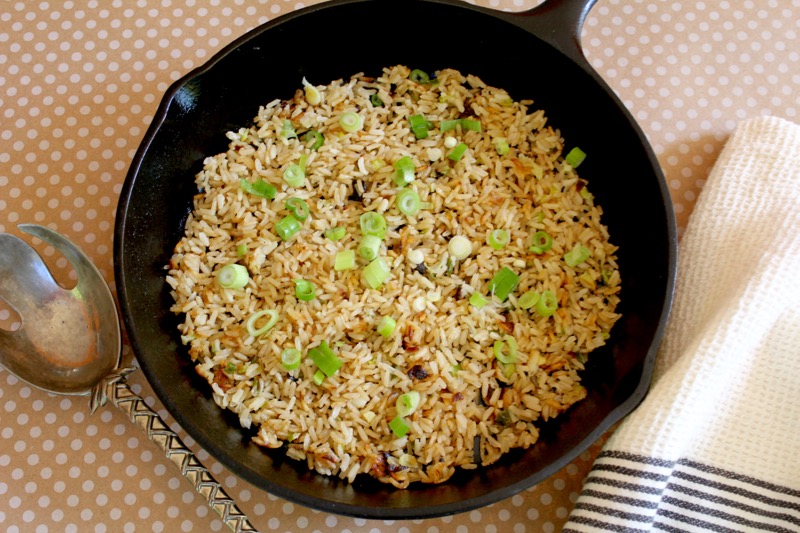 If you have ever watched the HGTV show Beat Bobby Flay, you know that he wins the challenges many more times than he loses.  One of the reasons is his use of texture in his dishes. I have watched him spreading cooked rice on a sheet pan, cooling it and then frying it in a skillet.  The crispy rice wins over the judges even when the rice is not the centerpiece of the dish.  Paired with braised meats or Asian-inspired dishes, the rice is always  a winner.
My carb conscious husband could not resist this rice.  He even added some of the leftover rice to his seafood gumbo and said it was just the thing to complete it.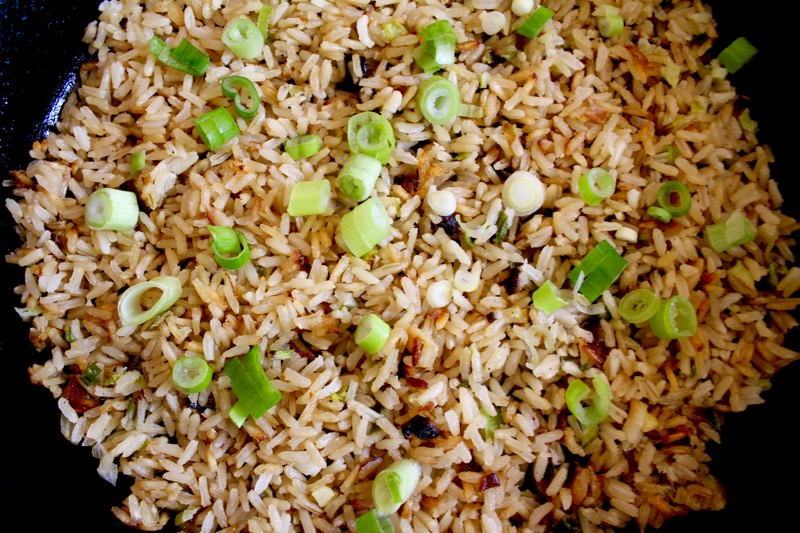 The rice does require some initial prep work, but is easy to do.  The last minute sauté does not take long.  You can even do this with left-over take out rice that has been chilled.  The recipe is in Bobby Flay's new cookbook,  Bobby at Home.
CRISPY COCONUT-SCALLION RICE (Adapted from Bobby Flay)
1 cup canned coconut milk
1 cup water
Salt and pepper to taste
1 1/4 cups Jasmine Brown Rice or Carolina long-grain rice (Bobby uses 2 cups)
1/2 cup thinly sliced scallions plus more for garnish
3 Tablespoons canola oil
Combine the coconut milk, 2 teaspoons salt, 1/4 teaspoon pepper, and 1 cup water in a medium saucepan and bring to a boil over high heat.  Stir in the rice and bring back to a boil.  Reduce the heat to medium-low, cover, and cook until the liquid has been absorbed and the is tender, about 18 minutes.
Remove the pan from the heat and let sit, covered, for 5 minutes. Remove the lid and fluff the rice with a fork  Spread the rice in an even layer over a large baking sheet and let cool completely, about 30 minutes.  The rice can be made up to 24 hours in advance: store it on the baking sheet, covered with plastic wrap, in the refrigerator.
Combine the rice and scallions in a large bowl.  Heat the oil in a large cast-iron or nonstick pan over high heat until it begins to shimmer.  Add the rice and, using a heavy-duty metal spatula, immediately press the rice down into the pan until the top is flat.  Cook, without stirring, until the bottom becomes golden brown and crispy, about 5 minutes (start checking at 4 minutes, making sure not to burn it).  Turn the rice over and press down firmly on the top again.  Cook until the bottom is golden brown and crispy, about 5 minutes more.  Transfer to a platter, sprinkle with more scallions, and serve.