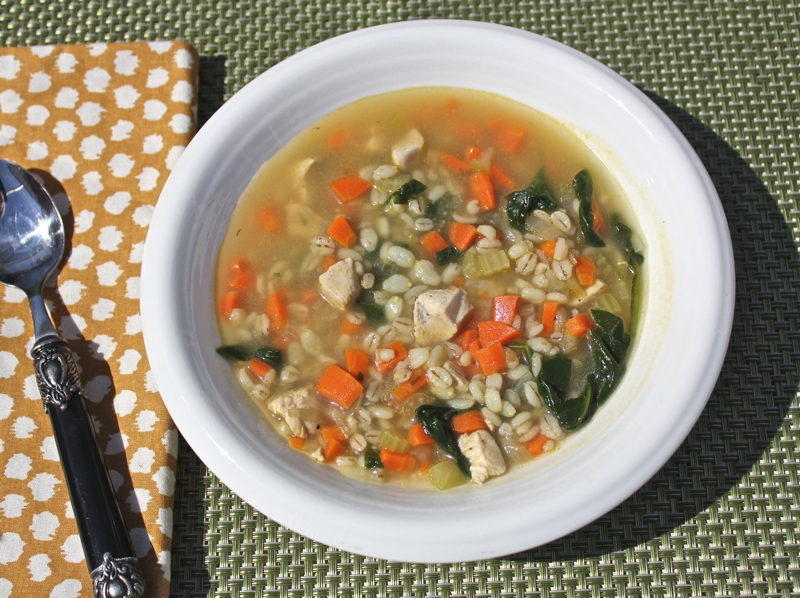 While we were in Washington DC a few weeks ago, we spent a Sunday morning visiting The Phillips Collection of art in one of the row houses in Dupont Circle.  We had decided that we wanted to stay in the neighborhood where our apartment was located.  As much as I admire the Metro System in DC, we found that the Red Line was undergoing an upgrade this Winter and parts of the track were closed.  On Saturday we had experienced delays, overcrowded cars and none of the ease that we had experienced in our previous visits.  Besides that, the morning was very cold, so being close to our warm apartment made sense.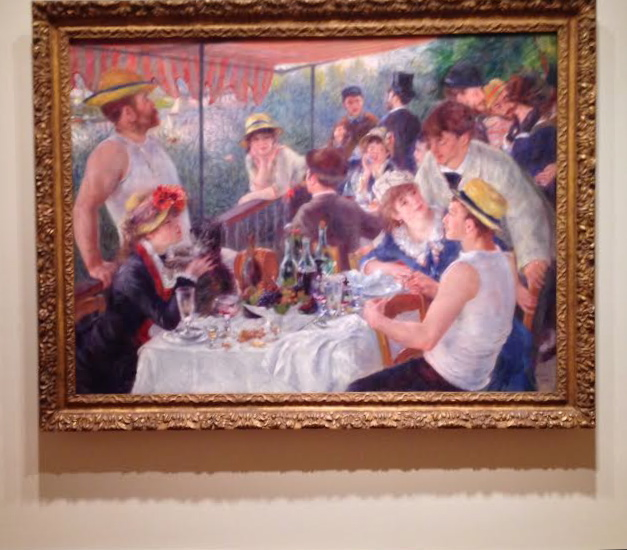 The most well known painting in The Phillips Collection is Renoir's Luncheon of the Boating Party.  Duncan Phillips, an avid collector of modern art, acquired the painting in 1923.  He had opened his row house in Dupont Circle as an art museum in 1921.  Luncheon of the Boating Party "captures an idyllic atmosphere as Renoir's friends share food, wine and conversation on a balcony overlooking the Seine at the Maison Fournaise Restaurant in Chatou.  Parisians flocked to the Maison Fournaise to rent rowing skiffs and . . . eat good meals."   We also ate a good meal in the museum cafe, Tryst.  Chicken and barley soup was on the menu.  Due to the fact that I was still chilled to the bone, that was exactly what I wanted.  Lots of Hmmms later, David said "I know what you are thinking. You want to make this soup when you get home."  He had it right.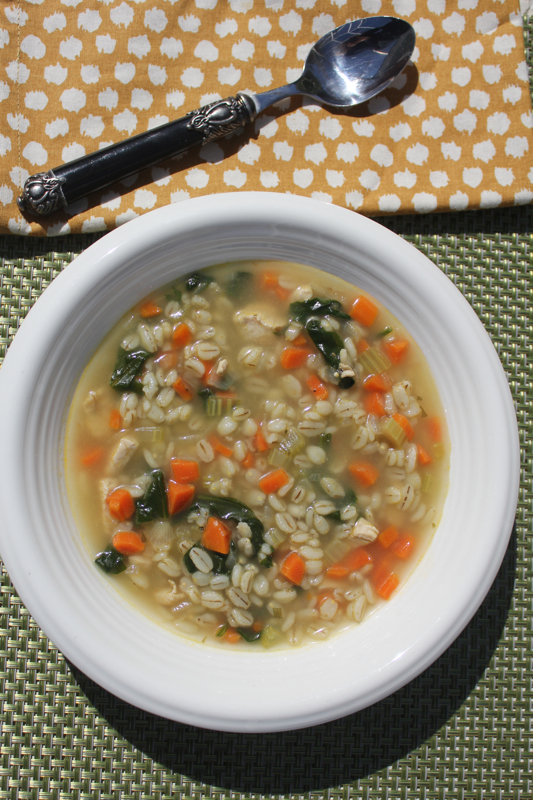 The only decision was finding the right recipe that would be as close as possible to the soup that I had eaten.  Martha Stewart's recipe won out.  It is full of vegetables and aromatic chicken and broth.  The barley is a quick cooking variety and I had this on the table in no time.  Each spoonful was as good as I remembered.  Even though we are all looking forward to Spring meals, this last hurrah to winter soups is worth your attention.
CHICKEN AND BARLEY SOUP  (Martha Stewart)
1 tablespoon extra-virgin olive oil
4 carrots, diced small
4 celery stalks, diced small
1 medium yellow onion, diced small
2 boneless, skinless chicken breasts, cut into 1/2-inch pieces
Coarse salt and ground pepper
6 cups low-sodium chicken broth
5 sprigs thyme
1 cup quick-cooking barley
5 ounces baby spinach (5 cups)

STEP 1

In a large Dutch oven or other heavy pot, heat oil over medium-high. Add carrots, celery, and onion. Cook until just tender, about 8 minutes. Add chicken, season with salt and pepper, and cook, stirring, until chicken is opaque at edges, about 2 minutes.

STEP 2

Add broth and thyme and bring to a boil. Stir in barley. Cover, reduce heat, and simmer until barley is tender and chicken is cooked through, 10 to 12 minutes.

STEP 3

Add spinach and cook until wilted, 1 minute. Season to taste with salt and pepper and serve.