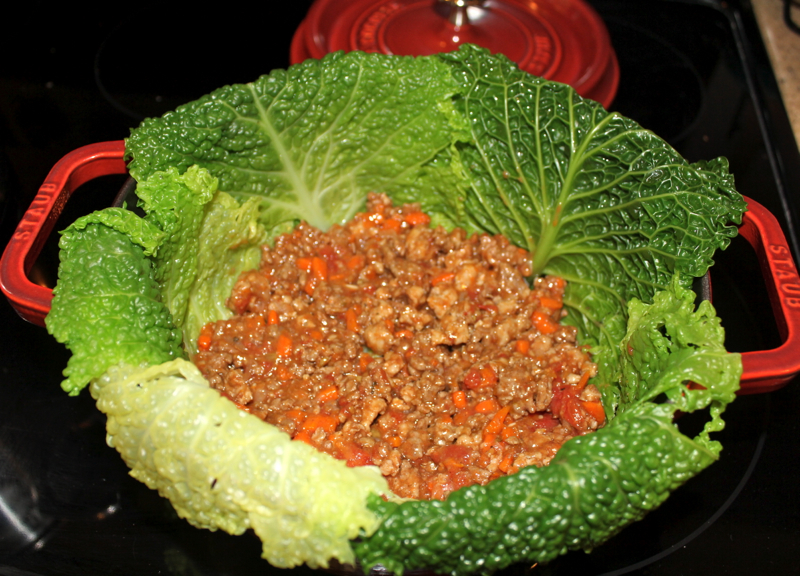 In the Medoc region of France stuffed cabbage is called Chou Farci.  But stuffed cabbage is called many names by numerous cultures.  The Polish name for stuffed cabbage is Golabki or Galumpkis.  The Czech name is Holubky.  The Serb and Croatian name is Sarma.  How then did my Mother come up with the name Habacha?  I have no idea where that originated.  But I do remember how wonderful her cabbage rolls tasted.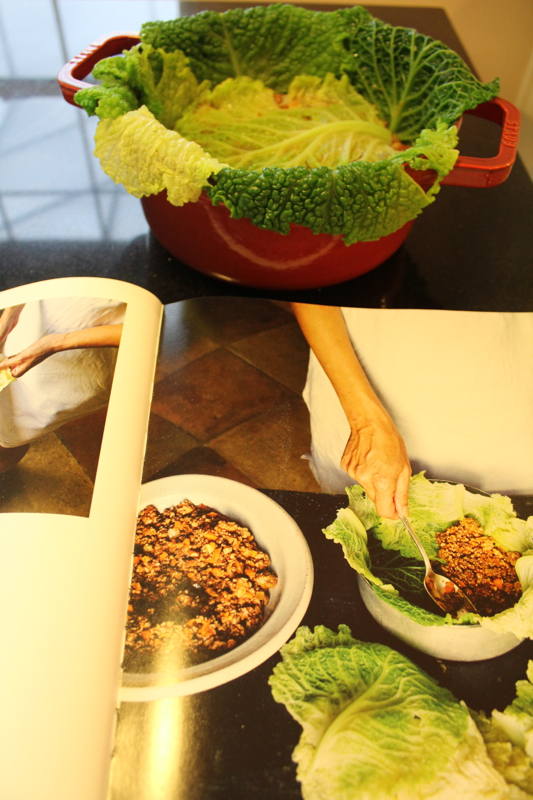 So naturally when I received Mimi Thorrison's new cookbook,  A Kitchen in France, I was excited to try her version of stuffed cabbage.  Instead of individual cabbage rolls, she makes one large stuffed cabbage with layers of meat and cabbage leaves.  She uses the ruffled Savoy cabbage which, when fresh, has a bright green color.  I had a hard time finding a bright green savoy cabbage, but did finally find one at my local supermarket.  Use the prettiest bright green leaf for the bottom layer as this is what will be seen when it is inverted.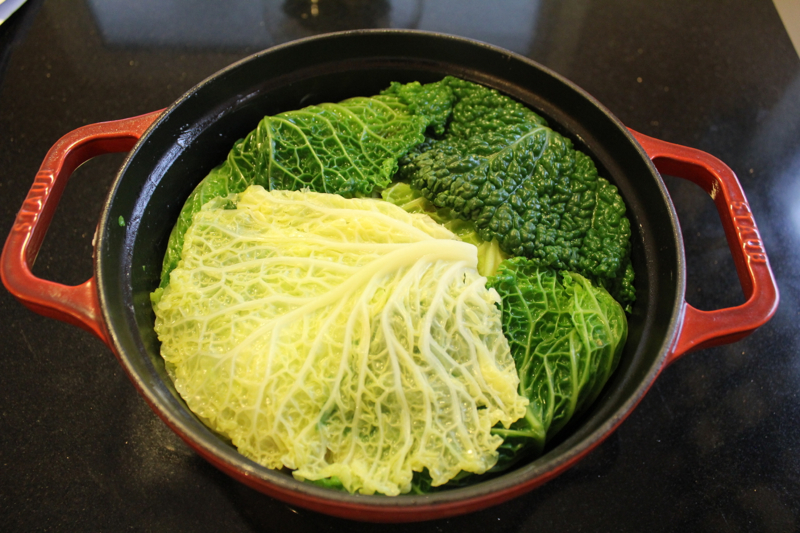 Once the cabbage leaves totally enclose the filling, it is ready to go into the oven.  "It's all wrapped together in a pretty parcel" in Mimi's words.  I have to say that this pretty parcel was a lot easier than wrapping individual cabbage leaves.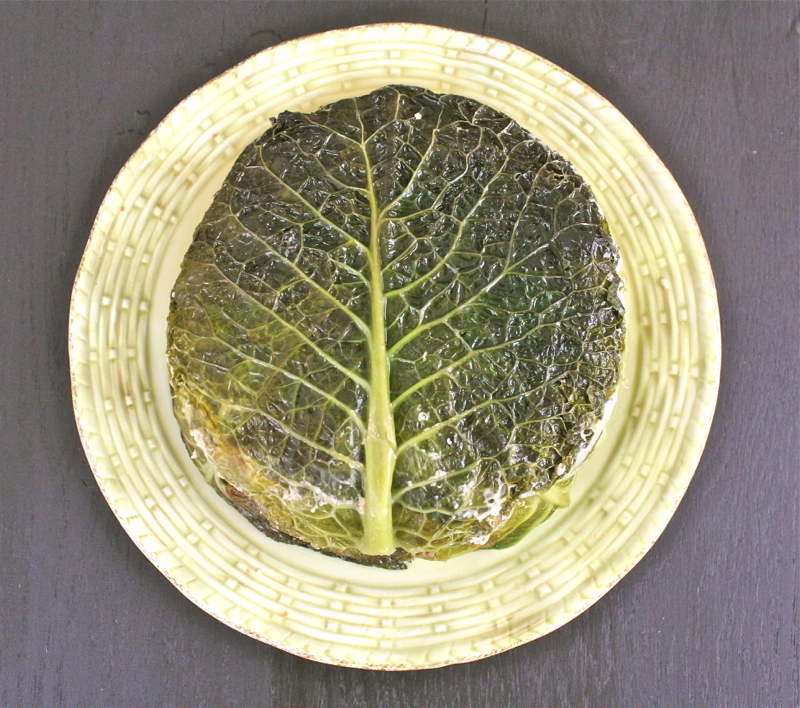 Once cooked it is ready to be inverted onto a serving plate.  You can see now why you should use a pretty cabbage leaf for your base.  I also reinforced that leaf with two others underneath it to keep the filling intact.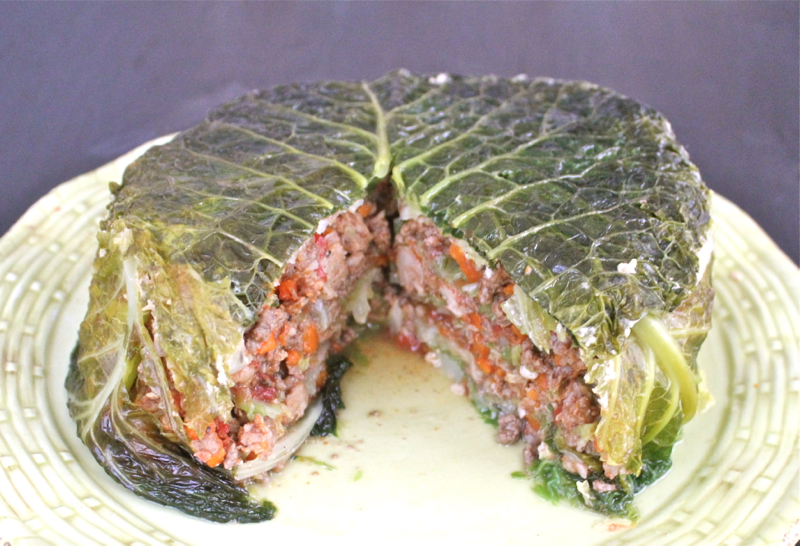 The meat and sausage filling studded with vegetables was delicious and the cabbage leaves held up well.   This was another successful recipe from my new favorite cookbook.
CHOU FARCI
1 head Savoy cabbage
2 tablespoons extra-virgin olive oil
1 onion, thinly sliced
2 carrots, finely diced
2/3 pound ground beef
2/3 pound good quality bulk pork sausage
2 garlic cloves, thinly sliced
2 to 3 sprigs of fresh thyme
1 bay leaf
1/2 teaspoon Rabelais spice (see Note) or ground allspice
Fine sea salt and freshly ground black pepper
3/4 cup canned whole tomatoes, crushed, with their juices
1 large egg
Bring a large pot of salted water to a boil.  Meanwhile, core the cabbage leaves and separate them, discarding any coarse outer ones.  Cook the leaves in the boiling water for 8 minutes.  Drain and set aside to cool.
Grease the bottom and sides of a 7-inch souffle dish or charlotte mold with butter.  Put a large pretty cabbage leaf, domed side down, in the dish.  Top with another leaf and continue arranging the leaves until the entire base and sides are covered.  You won't use all of the leaves at this point (reserve enough for 4 to 5 layers).
Heat the olive oil in a large saute pan over medium heat.  Cook the onion and carrots until softened, 4 minutes.  Add the ground beef, sausage, garlic, thyme, bay leaf, spice and salt and pepper to taste and cook, stirring once or twice, until the meat is browned.
Pour in the crushed tomatoes, with their juices, and simmer until nearly all the liquid has been absorbed, about 5 minutes.  Transfer the mixture to a bowl and let cool.
Preheat the oven to 350 degrees F.
When the meat mixture has cooled, discard the thyme and bay leaf.  Add the egg and mix well.
Put a layer about 1/2 inch thick of the meat in the cabbage-lined dish and top with a cabbage leaf.  Repeat until you've used all of the meat and filled the dish, about 4 layers.  Finish with a final layer of cabbage, making sure to tuck in the leaves on all sides.
Bake for 40 minutes.  To unmold, invert a plate over the souffle dish, flip the plate and dish, and remove the mold.  Serve immediately, cut into slices.
Note:  Rabelais spice is a mix of allspice, nutmeg, and curry – a traditional spice in France since 1820.