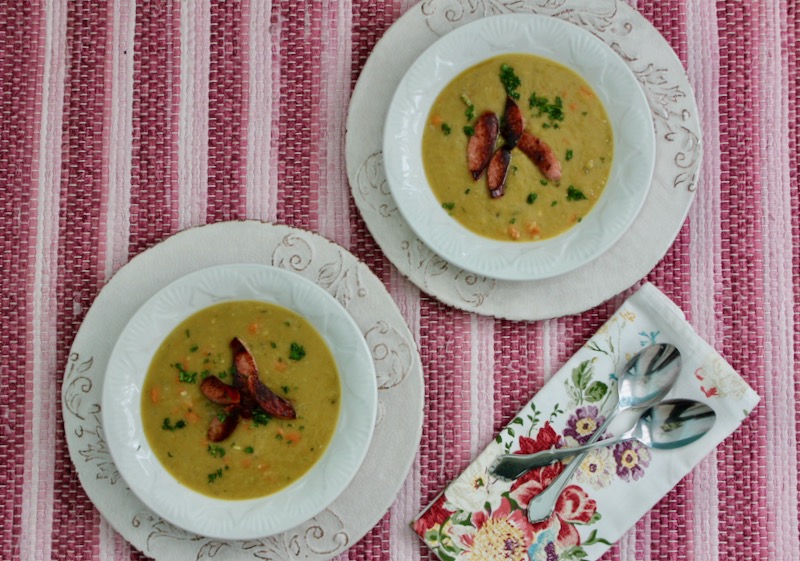 I received Ina Garten's new cookbook, Modern Comfort Food, for Christmas. This is an updated, perhaps you could call it modern, version of split pea soup. What makes it different is the crispy kielbasa sausage that is added to it.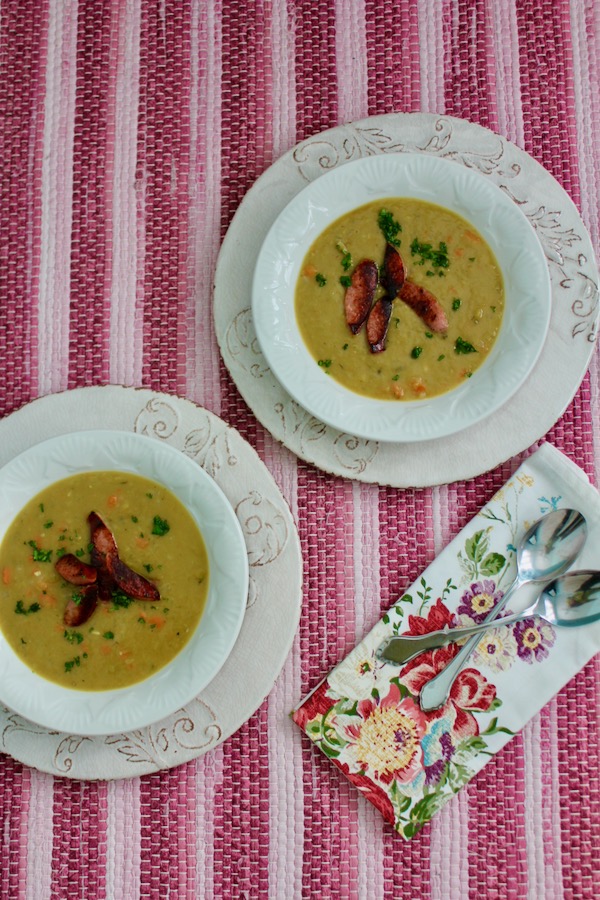 With leeks, onions, carrots and a ham hock it rocks with flavor. Ina has a way of bringing out the maximum flavor in her recipes.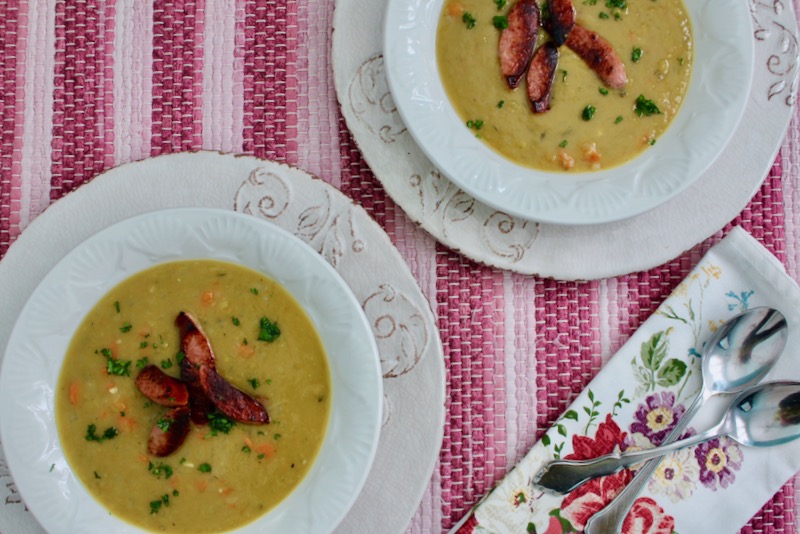 We are in Florida. It has been cool so far. Therefore this split pea soup is a welcome meal and makes us feel warm and healthy. We also were able to get our Covid vaccines. Looking forward to a better year.
Split Pea Soup with Crispy Kielbasa
6 Tbsp olive oil, divided
2 cups chopped leeks, white and green parts (2)
2 cups (½-inch) diced carrots (3 large)
1½ cups chopped yellow onion (1 large)
1 Tbsp minced garlic (3 cloves)
1 lb dried green split peas
8 cups chicken stock (preferably homemade)
1 smoked ham hock
2 tsp kosher salt
1 tsp freshly ground black pepper
8 fresh thyme sprigs, tied with kitchen twine
2 large fresh bay leaves
12 oz smoked kielbasa, halved lengthwise and sliced diagonally into ¼-inch-thick pieces
Minced fresh parsley, for garnish
Heat 1/4 cup (50 mL) olive oil in a large (11 to 12-inch/28 to 30-cm) pot or Dutch oven, such as Le Creuset, over medium-high heat. Add the leeks, onion and carrots and cook for 7 to 8 minutes, stirring occasionally, until tender and starting to brown.
Stir in the garlic and cook for one minute. Stir in the peas to coat with oil and cook for one minute. Add 8 cups (2 L) of the chicken stock, 2 cups (500 mL) water, the ham hock, thyme bundle, bay leaves, 2 teaspoons (10 mL) salt and 1 teaspoon (5 mL) pepper. Bring to a boil, lower the heat and simmer, partially covered, for 1 1/4 hours, stirring occasionally, until the peas are very tender and falling apart. After 45 minutes, stir more frequently, scraping the bottom of the pot to be sure the soup doesn't burn.
Discard the thyme bundle, bay leaves and ham hock. Transfer 2 cups (500 mL) of the soup to the bowl of a food processor fitted with the steel blade and purée. Return the purée to the pot, adding more chicken stock or water if the soup is too thick.
To serve, heat 2 tablespoons (30 mL) olive oil in a medium (10-inch/25-cm) sauté pan over medium heat. Add the kielbasa and sauté for 5 to 6 minutes, tossing occasionally, until the kielbasa is browned. Serve the soup hot with the kielbasa and parsley sprinkled on top.
Serves: 6
Make ahead: Reheat the soup over low heat, adding chicken stock or water to thin.