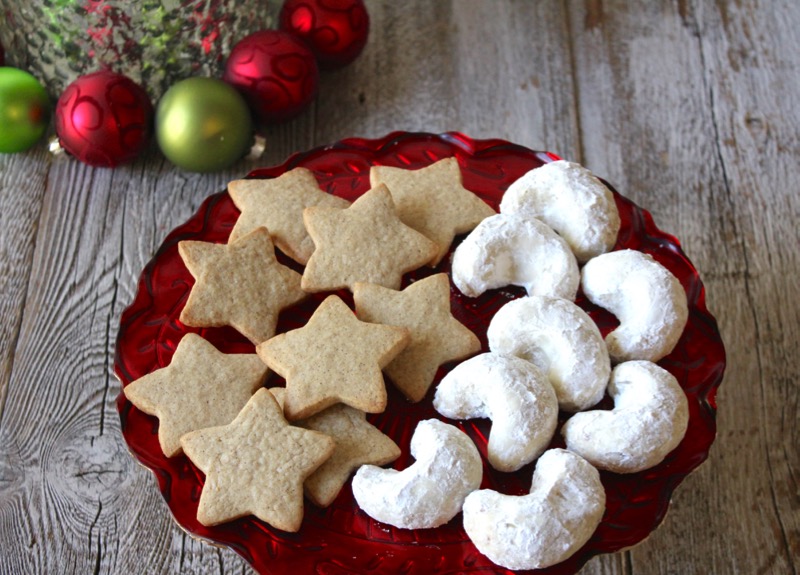 The holidays are moving quickly in our house.  We were late arriving in Florida this year because of all of the follow-up Doctor's appointments that I had.  The leg is healing well and we finally moved back last week.  The tree and wreaths went up quickly, but the Christmas baking has taken some time.  We are also preparing to put the house on the market in January.  Therefore I am trying to simplify the baking tasks.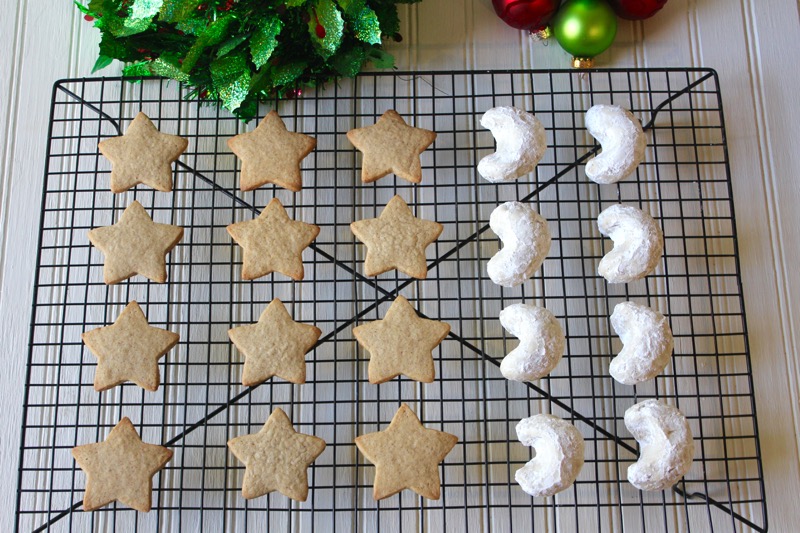 No frosted and decorated cookies are in my arsenal this year.  But I had to make my Swedish crescent cookies.  It is the one tradition that can't be altered.  These buttery melt in your mouth cookies are the best.  To pair with these crescent moon cookies I made Dorie Greenspan's speculoos.  These crisp spicy Belgium cookies celebrate the name day of Saint Nicholas and are served everywhere in the country at Christmas time.  The cinnamon aroma scents your kitchen while they are baking.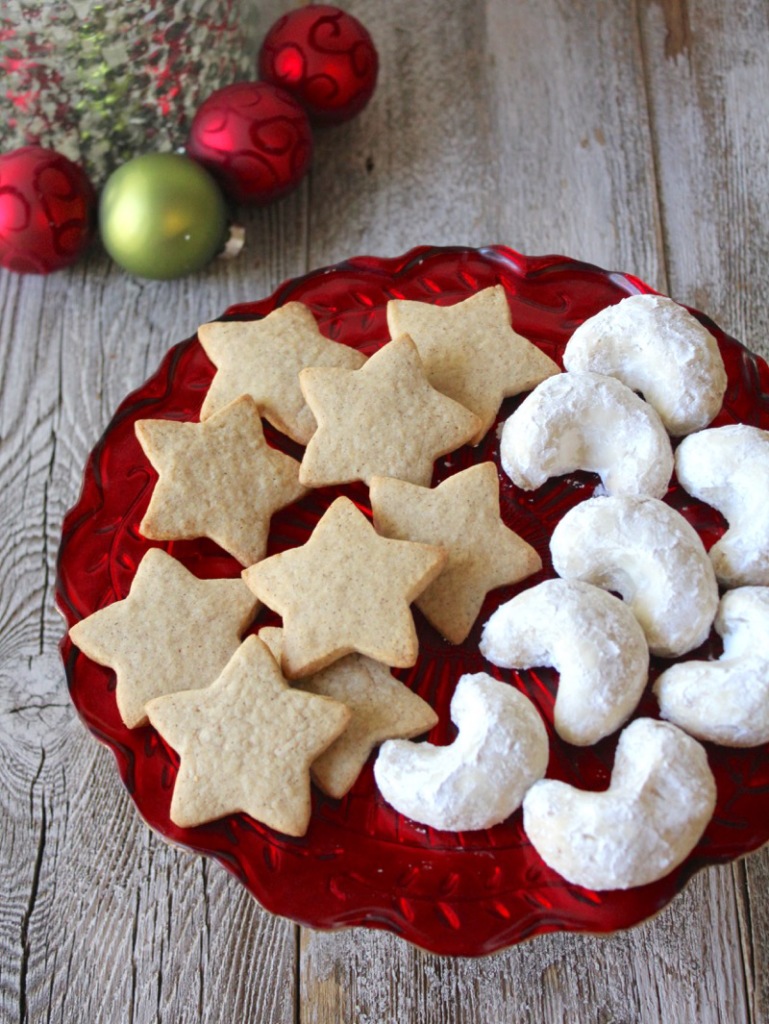 The speculoos are easy, but be aware that the rolled out dough requires a three hour rest in the refrigerator before being cut and baked. Now I am off to wrap presents.  Christmas and New Year's are right around the corner.  If only I had some snow!  Enjoy the Season.
SWEDISH CRESCENT COOKIES
1/2 cup powdered sugar
1 cup butter, softened

1 1/2 teaspoons vanilla
2 cups all-purpose flour
1 cup finely chopped or ground almonds or pecans
1/4 teaspoon salt
3/4 cup powdered sugar
Heat oven to 325°F. In large bowl, beat 1/2 cup powdered sugar, the butter and vanilla with electric mixer on medium speed until light and fluffy. On low speed, beat in flour, almonds and salt until dough forms.
With floured hands, shape heaping tablespoons of dough into crescent shapes and place on ungreased baking sheet 1-inch apart.
Bake 13 to 17 minutes or until set but not brown. Immediately remove from cookie sheets to cooling racks. Cool slightly, about 10 minutes.
Place 3/4 cup powdered sugar in small bowl. Roll cookies in powdered sugar. Cool completely, about 15 minutes. Roll in powdered sugar again. Cookies can be placed in an airtight container and freeze up to 3 weeks. Before serving, thaw the cookies and reroll them in powdered sugar.
SPECULOOS (Dorie Greenspan)
Be prepared:  The rolled-out dough needs to be chilled for at least 3 hours.
Makes about 70 cookies – I used a 2″ star cutter and got around 35 cookies
1 2/3 cups all-purpose flour
1/4 teaspoon salt
1/4 teaspoon baking soda
2 1/2 teaspoons cinnamon
1/4 teaspoon ground ginger
1/8 teaspoon ground cloves
7 tablespoons unsalted butter, at room temperature
1/2 cup sugar
1/2 (packed) cup light brown sugar
1 LARGE EGG, AT ROOM TEMPERATURE
Whisk the flour, salt, baking soda, and spices together in a bowl.
Working in the bowl of a stand mixer fitted with the paddle attachment or in a bowl with a hand mixer, beat the butter at medium speed until creamy.  Add the sugars and beat until well blended, about 2 minutes.  ADD THE EGG AND CONTINUE TO BEAT UNTIL IT, TOO, IS BLENDED INTO THE BUTTER AND SUGARS.  With the mixer on the lowest speed, add the dry ingredients in 3 additions, mixing only until the flour disappears into the soft dough.  You may have some flour at the bottom of the bowl, or the dough may not be entirely smooth, but that's normal.  Using your hands (always my first choice) or a spatula, reach into the bowl and knead or stir the dough 2 or 3 times, just enough to eliminate any dry spots.
Divide the dough in half.  (The dough is very soft, even after you refrigerate it for several hours, so if your kitchen is hot, you might want to divide the dough into thirds – that way it won't take you as long to cut out the cookies and the dough won't soften as much.)  Working with 1 piece of dough at a time, roll the dough between two sheets of wax paper or plastic wrap until you have a circle that's a scant ¼ inch thick.  As you're rolling, turn the dough over a couple of times and pull away the paper or plastic, so you don't end up rolling creases into the dough.  Put the rolled-out rounds of dough on a tray or cutting board and refrigerate for at least 3 hours.  (The dough can be refrigerated for up to 3 days or frozen, well wrapped, for up to 2 months.)
When you're ready to bake, center a rack in the oven and preheat the oven to 350 degrees F.  Have a baking sheet lined with a silicone baking mat or parchment paper.
Choose a cookie cutter – I like to use a scalloped cutter that's 1 1/4-inches in diameter – and remove 1 circle of dough from the refrigerator.  Peel off the top piece of wax paper or plastic and cut out as many cookies as you can from the dough,carefully lifting the cutouts onto the lined baking sheet.  Collect the scraps and set them aside to combine with the scraps from the second piece of dough.
Bake the cookies for 8 to 10 minutes, or until they are lightly golden and just slightly brown around the edges.  Allow the cookies to rest on the baking sheet for a couple of minutes before transferring them to a cooling rack to cool.
Repeat with the second round of dough, making certain the baking sheet is cool before you put the cutouts on it.  To use the scraps, press them together, roll them into a circle, and chill them before cutting and baking.
Serving:  The cookies are just right with coffee, made for espresso and tea and really good nibbled as a snack.
Storing:  The dough can be wrapped airtight and kept in the refrigerator for up to 3 days or in the freezer for up to 2 months.  Kept in an airtight container, the cookies will be fine for a week or more.
Printable Recipe Swedish Crescent Cookies