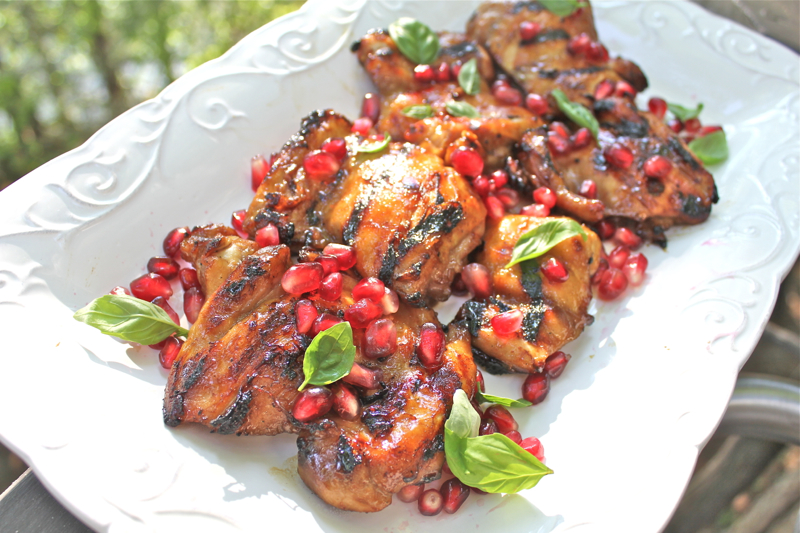 We are so happy that grilling season is here again.  One of the first recipes I wanted to try was this pomegranate marinated chicken.  It calls for pomegranate molasses.  That was an ingredient that I had never heard of before.  It turns out, it is not easy to find.  But Whole Foods carries it and if you look online you can actually make it yourself.  Here is a link.  It is nothing more than pomegranate juice, sugar and lemon juice reduced down to a syrup.  The tangy syrup goes very well with grilled chicken.  The bottle that I found was actually called pomegranate syrup.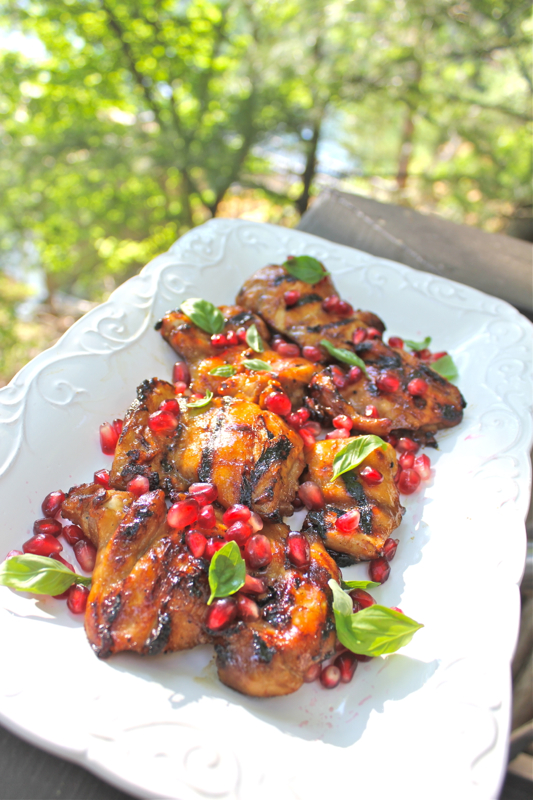 Add a cluster of pomegranate arils and you have a pretty spectacular dish.  And speaking of spectacular, our weather has been perfect this week.  We've had cool mornings, temperatures in the high 70's in the afternoon, and evenings warm enough to eat on the porch.  The lake has been busy with boat traffic and a few brave souls are water skiing in wet suits.  One of the newest sports on the lake is paddle boarding.  It looks so peaceful to see a lone person standing on a board, paddling along the quiet shoreline in the morning.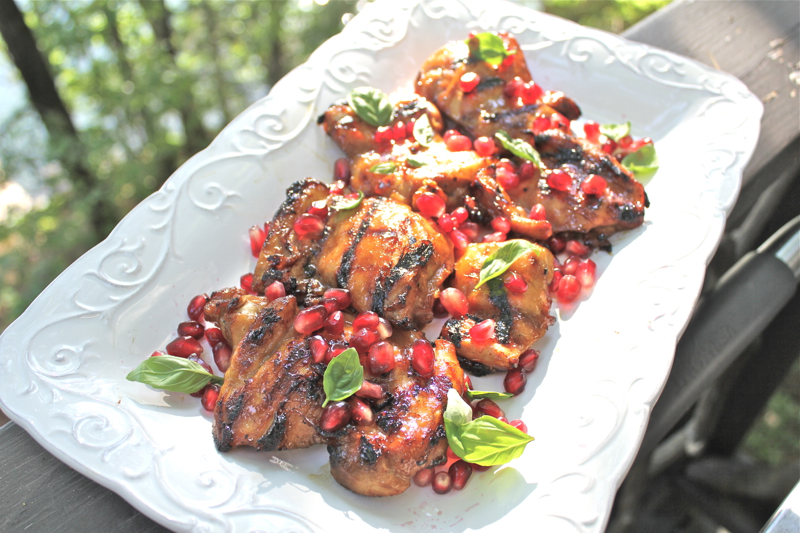 This dish was a good introduction to grilling season.  It pairs well with  so many summer sides; pasta salad, grilled corn, coleslaw or potato salad.  I hope this has gotten everyone in the mood for summer.  I am ready.
POMEGRANATE CHICKEN (What Katie Ate on the Weekend )
12 skinless boneless chicken thighs, trimmed of excess fat
Pomegranate Molasses, Mint and pomegranate seeds, to serve
Pomegranate Molasses Marinade:
2 1/2 tablespoons olive oil
1/3 cup pomegranate molasses
juice of 1 lemon
3 large cloves garlic, finely chopped
2 1/2 tablespoons Dijon mustard
2 1/2 tablespoons sherry vinegar
2 sprigs mint, leaves picked and very finely chopped (I used basil leaves)
sea salt and freshly ground black pepper
For the marinade, place all the ingredients in a pitcher or bowl and whisk to combine.  Pour into a large resealable plastic bag, add the chicken thighs, then seal and shake to combine.  Marinate in the fridge for at least 6 hours ( or overnight if possible).
Heat a grill or grill pan over medium-high heat until hot.  Cook the chicken thighs for 5 to 6 minutes on each side or until golden brown and cooked through.
Drizzle over some extra pomegranate molasses, then serve hot, scattered with mint and pomegranate seeds.  Serves 4 to 6.