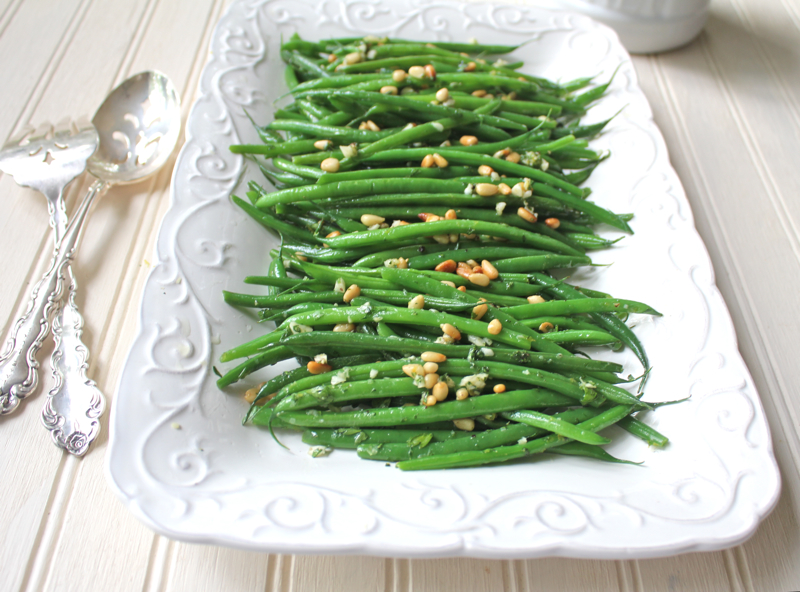 While shopping at one of my favorite Supermarkets, I found a package of Haricot Vert, the lovely French thin green beans.  By the way, that store is a mega Harris Teeter store that we have dubbed the Taj maTeeter.  Although I usually like to shop at small stores with quality ingredients, Farmer's markets and butcher shops, sometimes a trip to a mega store yields interesting ingredients.  Haricot Vert are hard to find.  Translated haricot means beans, vert means green.  French green beans are thinner and longer than the beans that we grow here in the United States.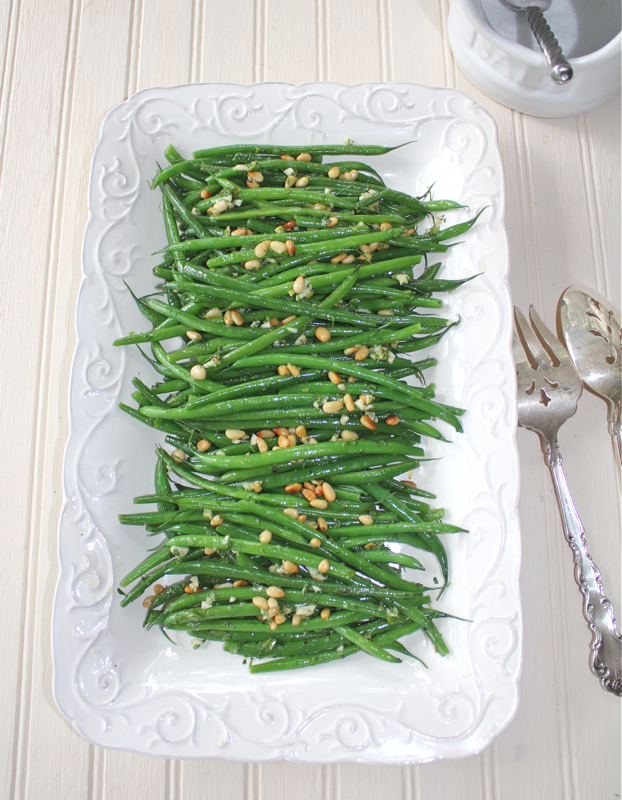 The beans are cooked quickly and then put in an ice and water bath to stop the cooking and set the color.  This can be done way ahead of time.  What makes the beans taste so special is the gremolata garnish that is added during the final cooking.  Gremolata is a mixture of garlic, parsley, lemon zest, Parmesan cheese and toasted pine nuts.  It is usually associated with Osso Bucco, the popular Milanese veal shank dish.  The slow cooked veal shanks are garnished with the gremolata mixture.  But used on the green beans, the mixture sings with flavor.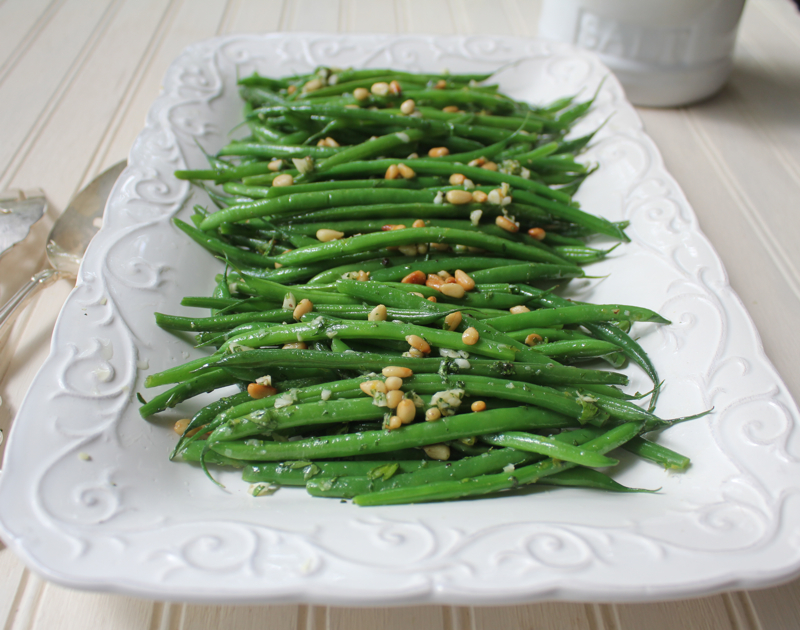 This is a wonderful side dish for a company meal.  Eat your heart out Dave S..  This was supposed to be for you.  We had a wonderful time at the blogger get together at Almost Heaven South.  There will be more about our gathering in future posts.  But in the meantime, enjoy this lovely and delicious side dish.
GREEN BEANS GREMOLATA (Ina Garten)
1 pound French green beans, trimmed
2 teaspoons minced garlic ( 2 cloves )
1 tablespoon grated lemon zest ( 2 lemons )
3 tablespoons minced fresh flat-leaf parsley
3 tablespoons freshly grated Parmesan cheese
2 tablespoons tasted pine nuts
2 1/2 tablespoons good olive oil
Kosher salt and freshly ground black pepper
Bring a large pot of water to a boil.  Add the green beans and blanch them for 2 to 3 minutes, until tender but still crisp.  Drain the beans in a colander and immediately put them into a bowl of ice water to stop the cooking and preserve their bright green color.
For the gremolata, toss the garlic, lemon zest, parsley, Parmesan, and pine nuts in a small bowl and set aside.
When ready to serve, heat the olive oil in a large saute pan over medium-high heat.  Drain the beans and pat them dry.  Add the beans to the pan and saute, turning frequently, for 2 minutes, until coated with olive oil and heated through.  Off the heat, add the gremolata and toss well.  Sprinkle with 3/4 teaspoon salt and 1/4 teaspoon pepper and serve hot.