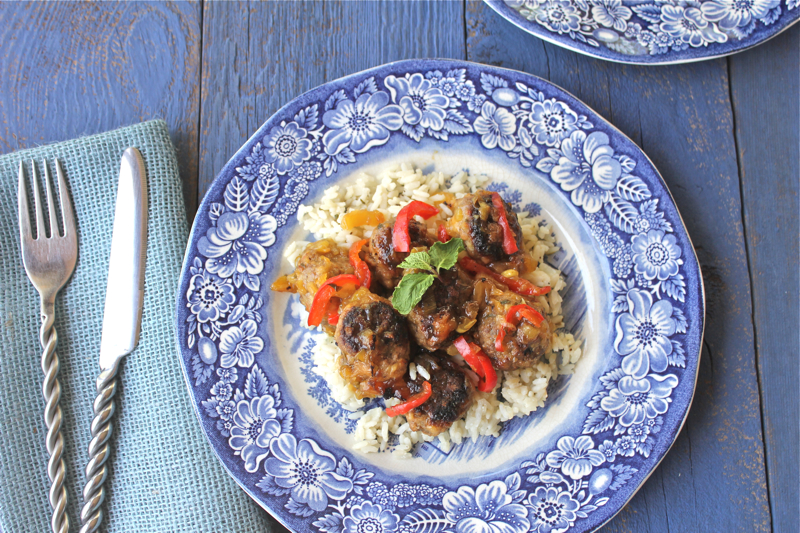 Sometimes I have to  admit to myself, that when given a choice of meat to enjoy, I would invariably choose ground beef.  As a child my favorite meal was hamburgers and french fries.  Ground beef is so versatile.  It can be used in casseroles with a southwestern flavor or turn Italian in spaghetti.  I remember my Aunt Pat making hundreds of meatballs for my cousin's wedding.  They were cooked in a combination of chili sauce and jellied cranberry sauce.  I'm sure you remember that combination.  That's why this combination with a Polynesian spin caught my eye.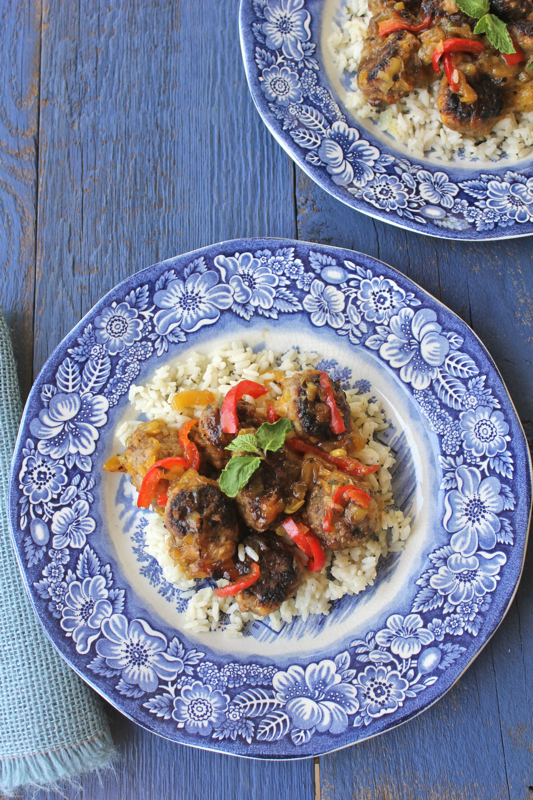 Sweet and sour dishes are always popular in our house.  There are interesting components to this recipe.  The coconut milk in the meatballs is a nice touch.  If you buy a can of coconut milk for this, you will have leftover milk.  You can freeze the rest for future uses. The pineapple, ginger and garlic give just the right flavor to the whole dish.  The only caveat that I have is that I think there is too much sugar.  You can cut it down if you prefer.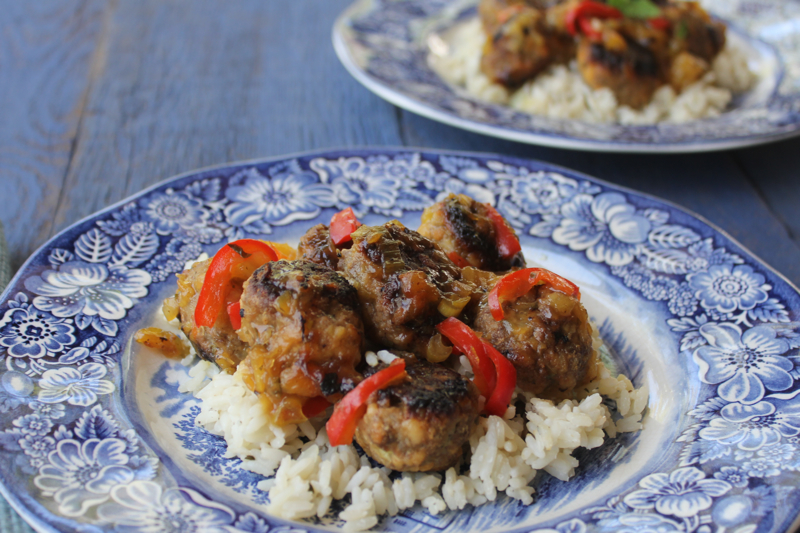 The sauce can be made ahead of time and the meatballs are easy because they are browned in the oven. This makes a colorful and complete meal on a plate with a scoop of rice.  Enjoy!  I know we did.  I am linking this to Foodie Friday at Rattlebridge Farm and Tasty Tuesday at The Comforts of Home.
POLYNESIAN MEATBALLS ( The Fresh Market and Friends Cookbook )
Polynesian Sauce:
1/2 jalapeno, chopped
1/3 cup cider vinegar
1/2 cup sugar or Demerara sugar
1 1/4 cups pineapple juice
1 (8 ounce can crushed pineapple with juice
1 tablespoon water
2 tablespoons cornstarch
1 tablespoon soy sauce
2 green onions, thinly sliced
1/2 red bell pepper, cut into 2-inch long thin strips
1 teaspoon fresh mint, chopped
1 tablespoon fresh cilantro, chopped
Meatballs:
1 1/2 pound ground beef
2/3 cup Panko breadcrumbs
1/4 onion, minced
1 egg
1/4 cup coconut milk
2 teaspoons fresh ginger, grated
1/2 teaspoon salt
1 tablespoon chili garlic sauce
Preheat oven to 450 degrees F.  In a small sauce pan over high heat, bring jalapeno and cider vinegar to a boil.  Remove from heat, let stand 30 minutes, strain to remove jalapenos and set aside.
In a large saucepan over high heat, combine jalapeno vinegar, sugar, pineapple juice and crushed pineapple; bring to a boil until sugar has dissolve.  In a mixing bowl, combine water, cornstarch and soy sauce until smooth; pour into sauce and bring to a boil.  Remove from heat and add onions, bell pepper, mint and cilantro; set aside and keep warm.
In a medium bowl, gently fold together all meatball ingredients.  Roll into 1-inch meatballs and place on a greased baking sheet.  Bake 20 minutes.
Transfer meatballs to a shallow bowl.  Pour sauce over top and toss to coat.