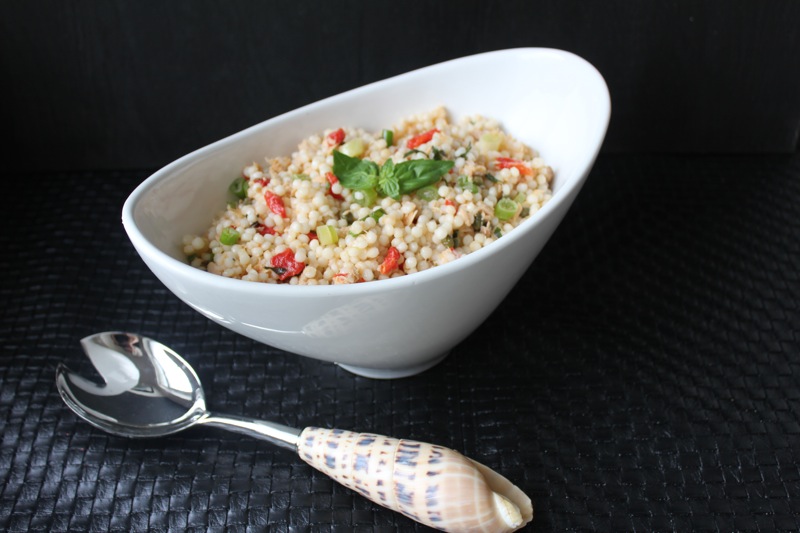 When looking for something healthy for us to eat for lunch, I grabbed Ina Garten's new cookbook, Foolproof.  I remembered seeing a tuna salad recipe that sounded interesting and flavorful.  The ingredients were intriguing; good quality canned tuna, roasted red peppers, olives, capers, lots of lemon flavor, basil and that pearly white grain, Israeli couscous.  There was also garlic in the salad.  This gave me a good opportunity to try out my new garlic press that I received from a company called Savora.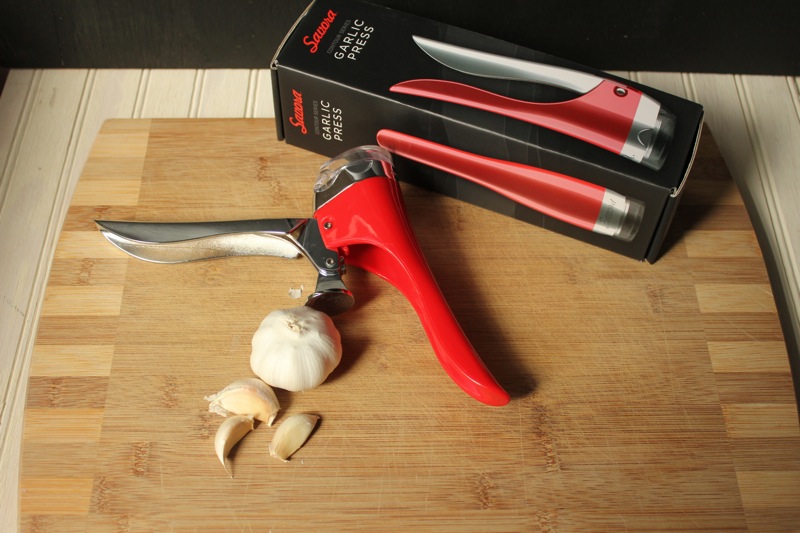 I was contacted by Savora to try out one of the kitchen tools from their new line of products.  They sent me a garlic press and asked me to give an honest evaluation of it.  I received no monetary compensation other that the garlic press itself.  To be honest with you, I hardly ever use a garlic press.  I have gotten so used to chopping garlic by hand.  But I was impressed with the beauty and quality of this garlic press.  All of the Savora kitchen tools have eye-catching lines and they come in 8 different vibrant colors.  The design teams worked hard on both the aesthetics of the tools and the performance.  The Savora garlic press is designed to crush up to 5 cloves of garlic at once.  The mechanism is strong and makes pressing the garlic easy.  Not only that, the garlic press comes apart with just a twist of the top so that clean up is a breeze.  I will definitely be using my garlic press from now on.  It is especially good for recipes that call for lots of garlic or in salads like this one where you want the garlic to blend easily into the other ingredients.  You can find out more about the Savora line on Facebook, Pinterest, or Savorastyle.com.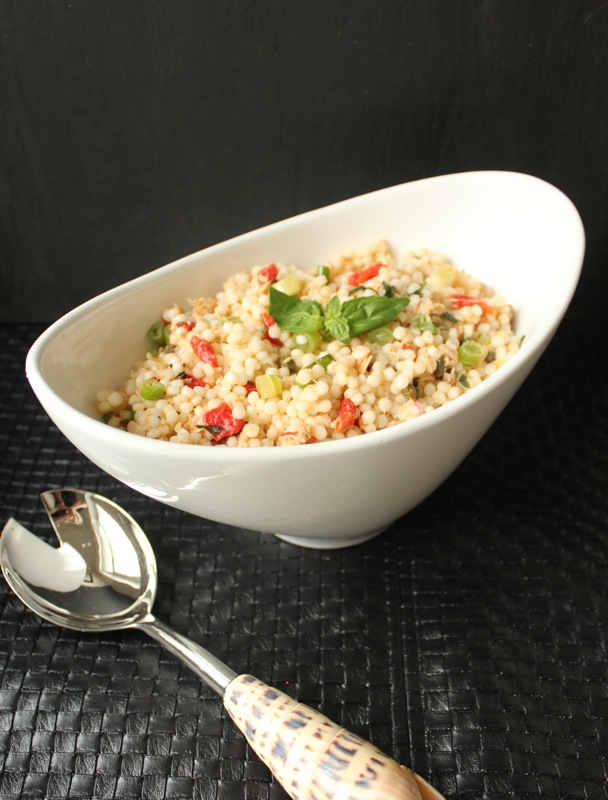 This is such a pretty salad.  Ina says to use Italian tuna, but my humble grocery store only has the usual brands.  So I chose a light tuna packed in olive oil.  It worked just fine.  We loved this salad.  It can be eaten hot or cold.  It is packed with flavor too.  I just happened to watch The Food Network Barefoot Contessa program this week and Ina made this for Jeffery.  They were renting a house in Napa Valley and they dined on the couscous salad in their garden.  Ah, to be in Napa Valley dining amongst the vineyards.  No matter, we loved it right here at home.  It will be a regular from now on.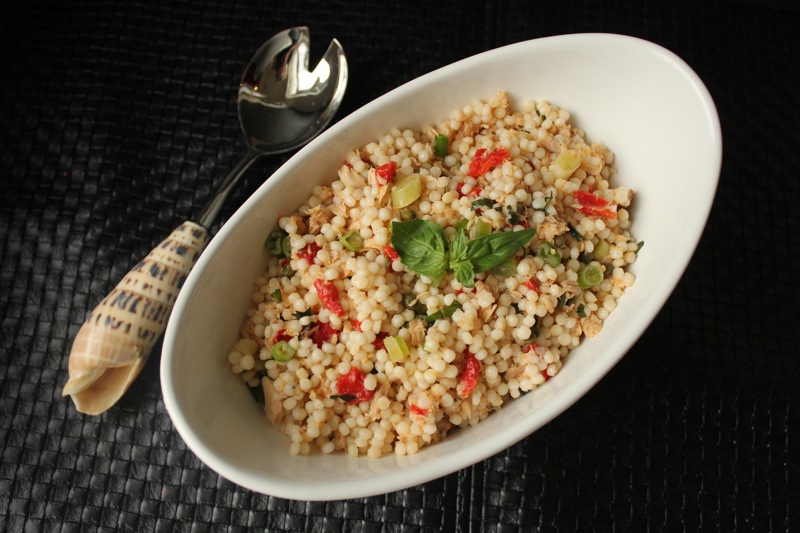 ISRAELI COUSCOUS AND TUNA SALAD
2 cups Israeli couscous (10 to 12 ounces)
2 (7-ounce) cans or jars Italian tuna, drained and flaked
2 teaspoons grated lemon zest (2 lemons)
1/4 cup freshly squeezed lemon juice
1/2 cup good olive oil
3 tablespoons capers, drained
1/2 cup pitted, oil-cured black olives, coarsely chopped
1/2 cup jarred roasted red peppers, medium-diced
2 teaspoons minced garlic (2 cloves)
Kosher salt and freshly ground black pepper
1 cup chopped scallions (6 to 8 scallions)
1/4 cup julienned fresh basil leaves, lightly packed
Juice of 1/2 lemon
Bring 4 cups of water to a boil in a medium-sized saucepan.  Add the couscous and reduce the heat to very low.  Cover the pot and simmer for 12 to 15 minutes, until the couscous is just tender.  Drain in a colander.
Meanwhile, combine the tuna, lemon zest, lemon juice, olive oil, capers, olives, red peppers, garlic, 1 tablespoon salt, and 1 1/2 teaspoons black pepper in a large bowl.  Pour the hot couscous into the mixture and stir well.  Cover and set aside for 10 to 15 minutes, stirring occasionally.  Just before servine, stir in the scallions, basil, juice of the 1/2 lemon, and 1 more teaspoon of salt.  Taste for seasonings and serve warm or at room temperature.