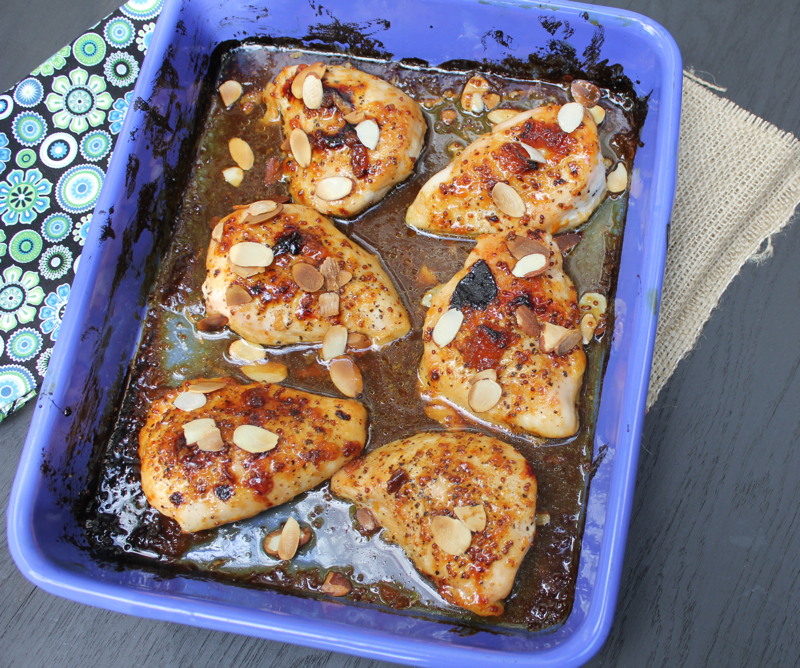 I am alone this week.  What a change from the full house that we had last week.  Let me explain the circumstances.  The family had to leave on Tuesday.  But David also left on Tuesday.  He is riding his motorcycle to Michigan and beyond.  Yes see, I have a 50th class reunion on September 14th in my hometown of Dowagiac, Michigan.  David decided that this would be a good opportunity for him to ride his bike around Lake Superior.  So David, one friend from here, and one of my classmates from Michigan are on a Lake Superior odyssey which will take them into Canada and the UP of Michigan as they round that majestic body or water.  He will get back to our hometown in time for the reunion.
The quiet time has been both good and disconcerting.  It is hard to bid farewell to a house full of loved ones with active kiddos.  When your spouse leaves too the silence can be deafening. But it hasn't been hard to fill the time.  The good part has been the time spent reading on the sleeping porch while listening to the lapping water, bird calls and scurrying squirrels gathering nuts for winter.  That has been very relaxing and a reminder of why I love the lake so much.  The rest of the time has been devoted to putting the house back in order, cleaning the refrigerator and actually doing some cooking.  Not only do I have to eat, but I also have to post recipes if I want to stay active on my blog.  Blogging has always been a relaxing creative outlet for me.  And it seems to be easier as a solitary pursuit.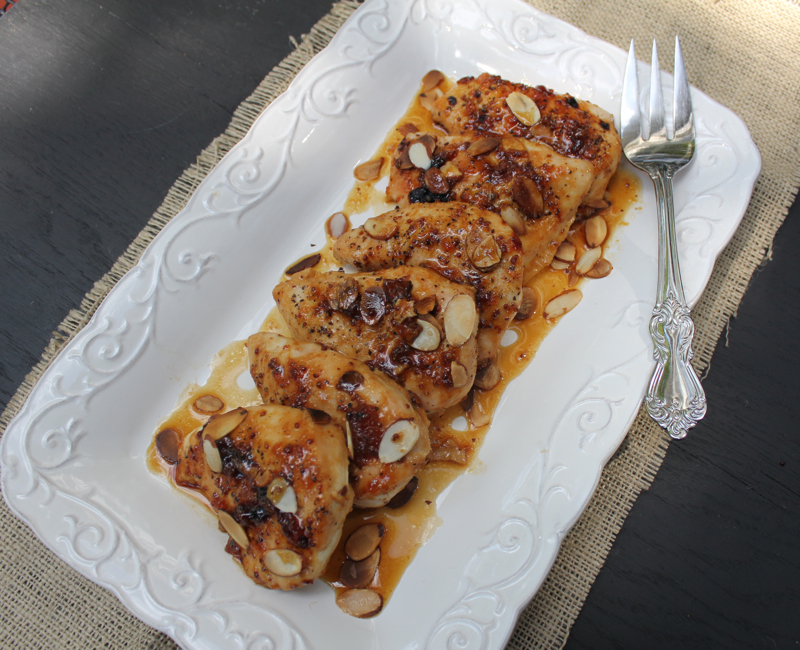 I normally would have made this easy chicken recipe in the late afternoon so that we could have it for dinner.  But with David away, I made it at 1:00 o'clock so that I could take advantage of the natural light for photography purposes.  I just reheated  one of the breast pieces for my dinner later.  The rest will be lunches and dinners to come.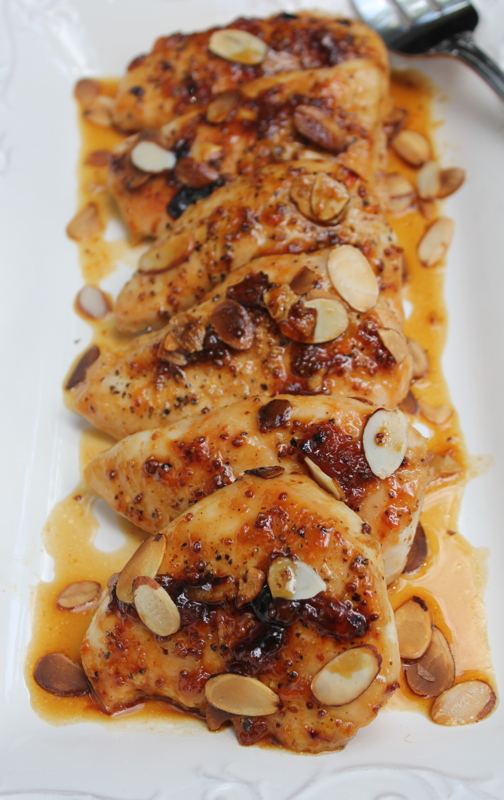 Who said cooking for one has to be a chore?  This recipe came from Gourmet Magazine.  It is hard to believe that something so quick and easy could be so good.  The combination of grainy mustard, apricot preserves, soy sauce and almonds makes simple chicken breasts dazzle.  Served with a simple wild rice blend and green beans, I ate well indeed.  With one week to go before the reunion do you think I have time to diet?  Probably not.
APRICOT CHICKEN WITH ALMONDS (Adapted from Gourmet Magazine)
4 (6-oz) skinless boneless chicken breast halves (I used 6 small breasts)
5/8 teaspoon salt
1/2 teaspoon black pepper
1/3 cup sliced almonds
1/2 cup apricot preserves
1 1/2 tablespoons soy sauce
1 tablespoon whole-grain mustard
1 tablespoon unsalted butter
Put oven rack in lower third of oven and preheat oven to 400 degrees F.  Lightly oil a baking dish large enough to hold the breasts without crowding.
Pat chicken dry and sprinkle all over with 1/2 teaspoon salt and 1/4 teaspoon pepper.  Arrange in baking dish and Bake for 10 minutes.
While chicken bakes, toast almonds in a small baking pan in oven stirring twice, until golden, 8 to 10 minutes.
Meanwhile, cook apricot preserves, soy sauce, mustard, butter, remaining 1/8 teaspoon salt and remaining 1/4 teaspoon pepper in a small saucepan over moderate heat, stirring, until preserves are melted.  Pour sauce over chicken and continue to bake until chicken is just cooked through, about 10 minutes more.
Turn on broiler and broil chicken 4 to 5 inches from heat, basting once, until chicken is glazed and browned in spots, about 3 minutes.  Serve sprinkled with almonds.