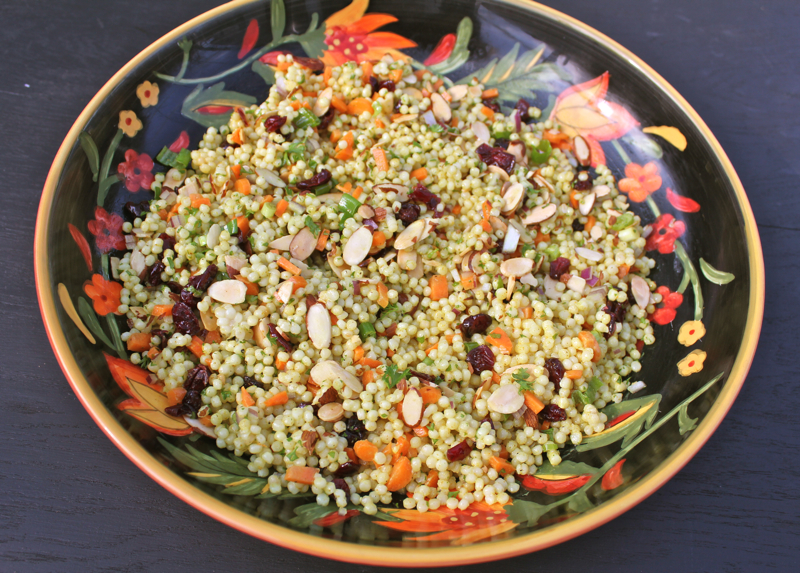 Okay.  Everyone says you should plate your food in a white bowl so that it shines on its own.  Today I did not do that because the only bowl I could get to was this one.  I think Ina's couscous looks just fine in a colorful bowl.  I am having some issues right now.  My kitchen is out of service due to a major leak under the sink.  David is working on it, but it has turned into a long, long …. process.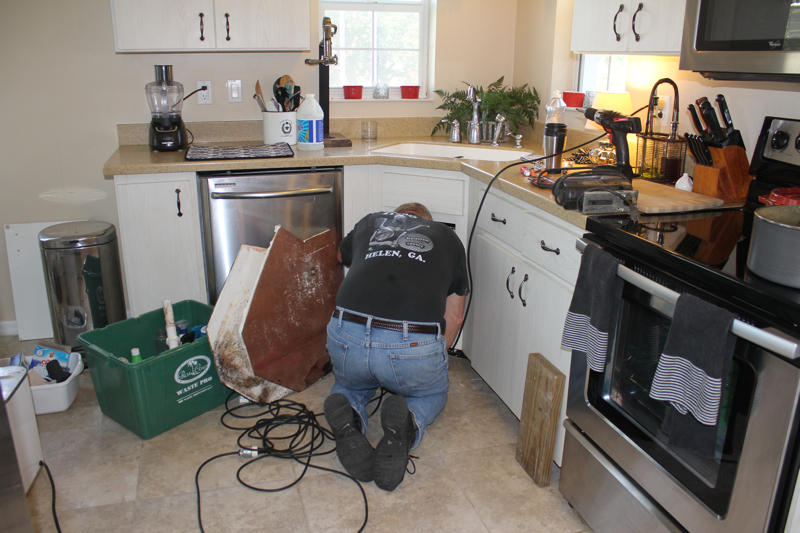 I have been washing dishes in the bathroom and trying to avoid his work area.  That is one of the reasons that Ina's couscous sounded like a good choice for dinner; minimal sink time and easy cooking.  What makes it different from the original recipe is the use of Israeli couscous. Israeli couscous is larger and alternately called pearled couscous. I have paired the couscous dish with my Apricot Chicken, which is another easy recipe.  Just put it in the oven on a foil lined baking pan and you are done.  I have broccoli ready to steam on the stove and dinner will be ready.  My kitchen is a mess, but at least we will eat well.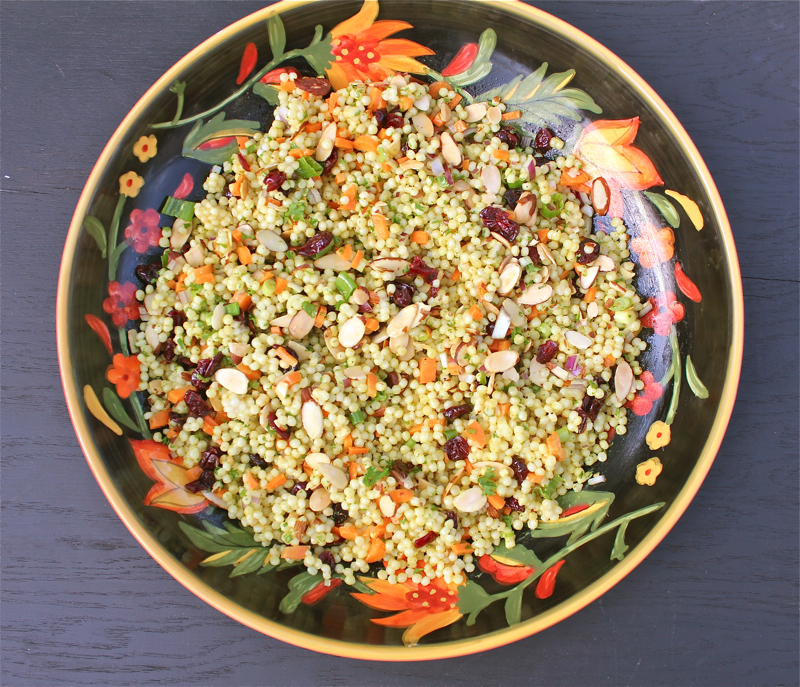 I kinda think this looks like a work of art, but then I am probably a little punchy from cooking on the fly.  Hopefully dinner will be good.  David is still under the sink.  I have done my best and so has he.  Unfortunately, the work will continue for a while.  Take-out tomorrow night sounds like a good idea.
INA GARTEN'S CURRIED COUSCOUS RE-INVENTED
1 1/2 cups Israeli couscous
1 tablespoon unsalted butter
1 1/2 cups boiling water
1/4 cup plain yogurt
1/4 cup good olive oil
1 teaspoon white wine vinegar
1 teaspoon curry powder
1/4 teaspoon ground turmeric
1 1/2 teaspoons kosher salt
1 teaspoon freshly ground black pepper
1/2 cup small-diced carrots
1/2 cup minced fresh flat-leaf parsley
1/2 cup dried currants or raisins
1/4 cup blanched, sliced almonds
2 scallions, thinly sliced (white and green parts)
1/4 cup small-diced red onion
Directions
Melt the butter in the boiling water and add the couscous. Cover tightly and cook the couscous on low for 8 to 10 minutes. Fluff with a fork. Place couscous in a large bowl.
Whisk together the yogurt, olive oil, vinegar, curry, turmeric, salt, and pepper. Pour over the fluffed couscous, and mix well with a fork. Add the carrots, parsley, currants, almonds, scallions, and red onions, mix well, and season to taste. Serve at room temperature.