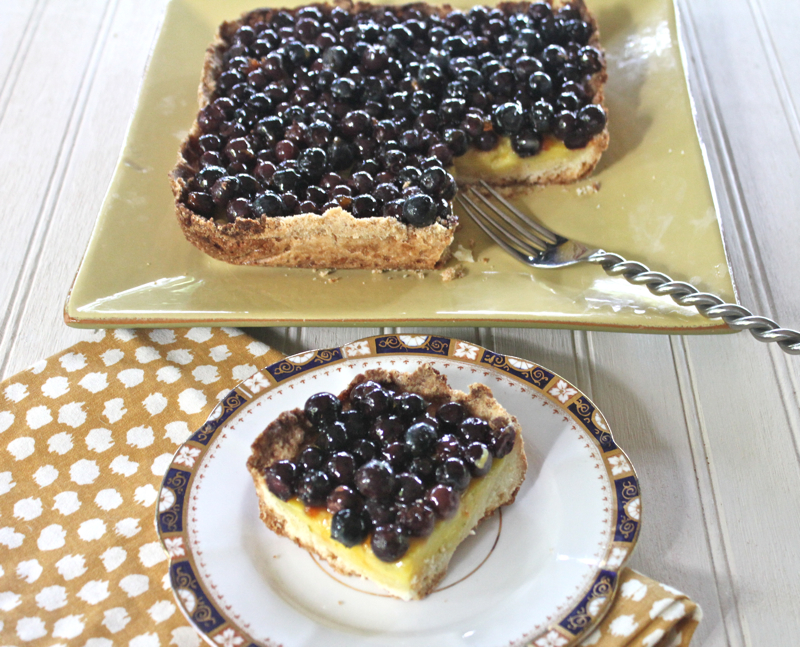 When was the last time you actually went on a picnic?  I'm sure many of you still find the time to do it.  But it just occurred to me that it has been years since we have loaded up a picnic basket and headed out for a day in the countryside.  We used to love to take David's TR 8 convertible for a ride along the Blue Ridge Parkway and stop at overlooks with a view of the mountains.  We would spread a blanket and pull out our picnic fare and just relax for a while.  But now that we live at the lake, it is just as easy to sit on the porch and eat at home.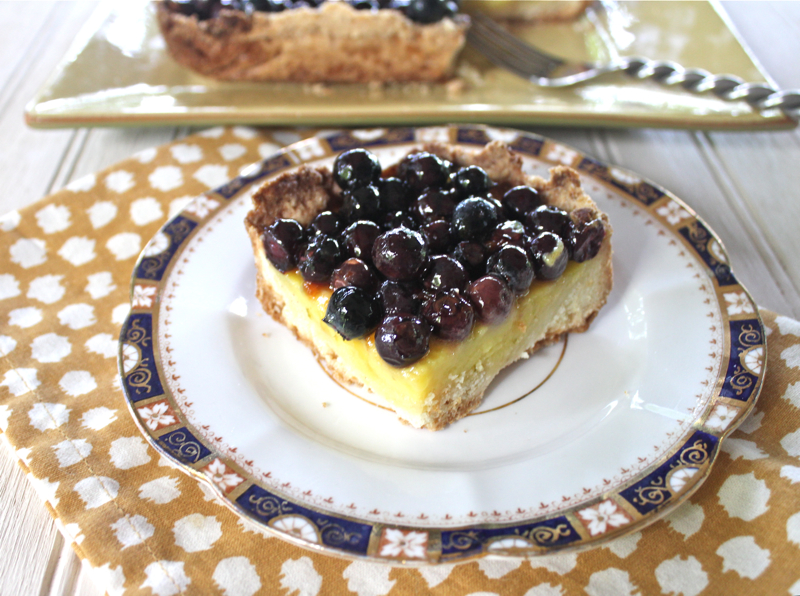 After making this dessert with a shortbread crust, a lemony filling and the blueberry topping, it came to mind that it would be perfect picnic fare.  Because it is baked in a foil package it would be easy to transport.  So now I am thinking of going on a picnic.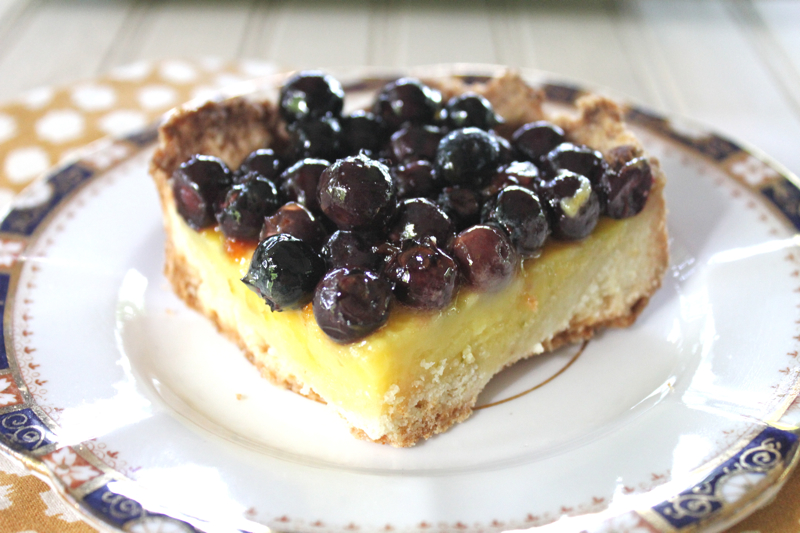 This dessert from Gourmet magazine would be the perfect ending to the meal.  It is refreshing and simple.  You can almost pick it up and eat it with your hands except for a few errant blueberries rolling free.  I came up with a picnic menu that I think everyone would enjoy.
SUMMERTIME PICNIC IN THE COUNTRYSIDE
Sweet-Ham and Havarti Sandwiches with Orange Pecan Mustard
Broccoli, Apples and Red Onion Salad
Hawaiian Macaroni Salad
Lemon-Lime Blueberry Squares
The highlighted recipes can be found by clicking on them.  Here is the dessert recipe.
LEMON-LIME BLUEBERRY SQUARES (Gourmet Magazine)
For Crust:
1/2 cup all-purpose flour
3/4 cup yellow cornmeal
6 tablespoons confectioners sugar
1/2 teaspoon salt
1 stick cold unsalted butter, cut into pieces
For filling:
3 large eggs
1/2 cup granulated sugar
1 1/2 tablespoons all-purpose flour
1/2 teaspoon finely grated lemon zest
1/2 teaspoon finely grated lime zest
1 tablespoon fresh lemon juice
1 tablespoon fresh lime juice
2 tablespoons whole milk
2 cups blueberries (10 oz.)
3 tablespoons apricot jam, heated and strained
Preheat oven to 375 degrees F.  Line a buttered 8-inch glass baking dish with 2 (18-by-6-inch) sheets of foil, overlapping them in opposigte directions so that there is overhang on all 4 sides.
Pulse together flour, cornmeal, confectioners sugar, salt and butter in a food processor until mixture resembles coarse meal.  Press onto bottom of baking dish and 1 inch up sides.  Bake in middle of oven until golden brown, about 20 minutes.
Whisk together eggs, sugar, flour, and zests.  Whisk in juices, milk, and a pinch of salt.  Toss blueberries with jam in another bowl.
Whisk egg mixture and immediately pour into hot crust, then bake until just set, about 17 minutes.  Gently spoon berries evenly over top and bake 2 more minutes more.  Transfer baking dish to a rack and cool.
Chill, covered, overnight (8 hours).  Use foil to lift dessert out of dish, then cut into squares.