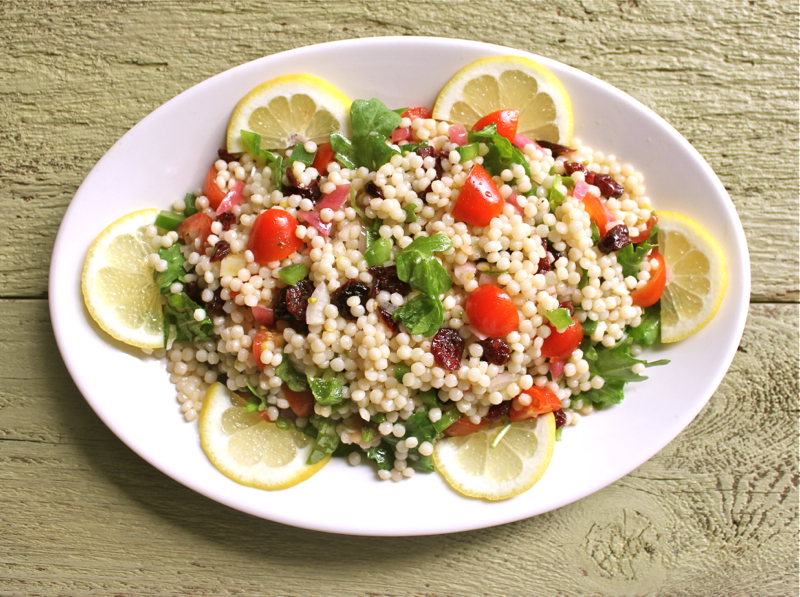 I am fighting deadlines right now.  As much as I love having company, I still have lots to do to get ready for everyone.  We have our dear high school friends coming for a visit this weekend; three guys and their wives who were David's classmates.  I have been baking, shopping and cleaning; the usual preparation for visitors.  Yesterday was a particularly long day.  I was trying to clean out the refrigerator to make room for my latest purchases and found a large plastic box of baby arugula that I bought last week and promptly forgot about.  Raiding the pantry and fridge, I came up with this delightful salad.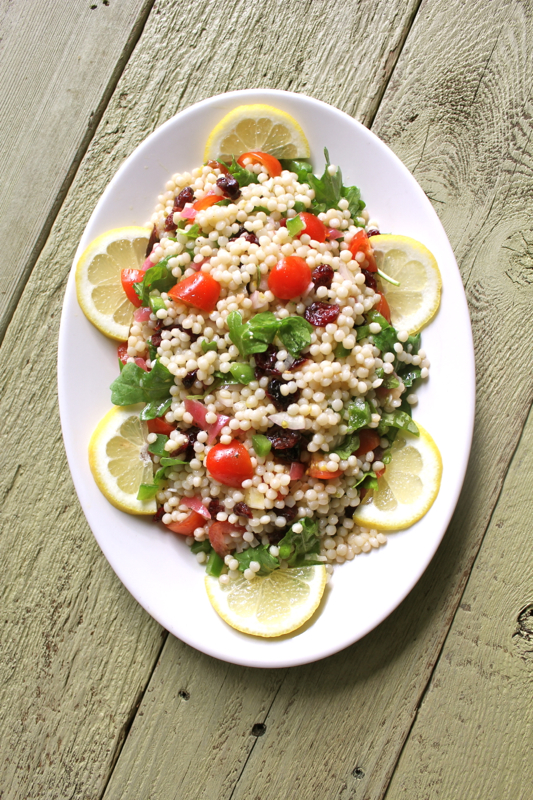 This salad was so easy to pull together and was a refreshing dish to have on a warm evening.  I served it with simple sauteed chicken cutlets.  It was one of those nights when I just needed to be alone in the kitchen to make some order out of the chaos that I had created from my cooking and shopping frenzy.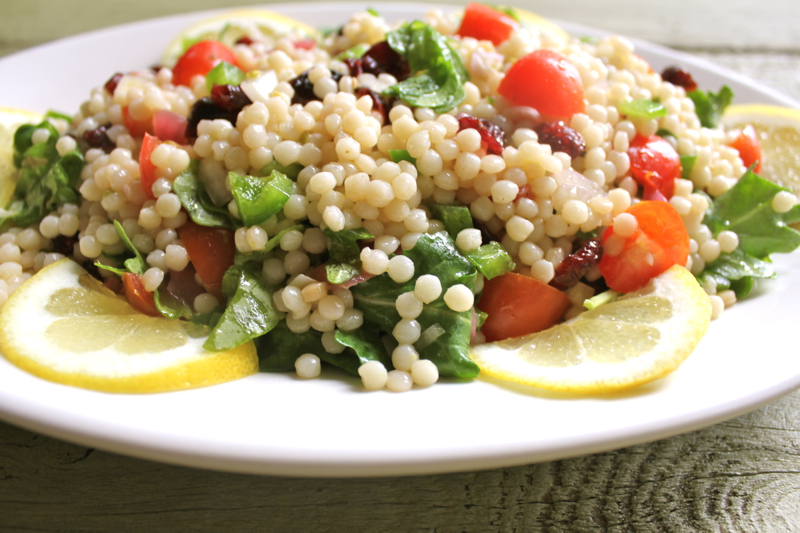 Having such a lovely dish helped to calm my jangled nerves.  Cooking really is therapy for me.  We are looking forward to seeing everyone again.  We were all together last in Nantucket which I blogged about here.  Moses and Maryanne took such good care of us that we are hoping to do the same for them in Lake Lure.
ISRAELI COUSCOUS AND ARUGULA SALAD (Adapted from Guy Fieri)
1 1/2 cups Israeli (pearl) couscous
2 tablespoons fresh lemon juice
1/2 teaspoon Dijon mustard
1/4 cup olive oil
1/4 teaspoon dried red pepper flakes
Kosher salt
Freshly cracked black pepper
1/2 pint cherry tomatoes, quartered
1/2 cup dried cranberries
1 red or green bell pepper, seeded and diced
1/2 red onion, diced
2 cups baby arugula

Bring a large pot of well-salted water to a boil. Add couscous and cook 8 to 10 minutes, until couscous has puffed up and is cooked through to the center. Drain and allow to cool. Transfer to a large bowl.

Prepare dressing by whisking together the lemon juice and mustard while drizzling in the olive oil. Once slightly emulsified, stir in pepper flakes and season with salt and cracked black pepper.

Toss the tomatoes, cranberries, red bell pepper, onion and arugula with the couscous. Pour the dressing over top. Season with salt and pepper to taste and toss to the combine.

Printable Recipe