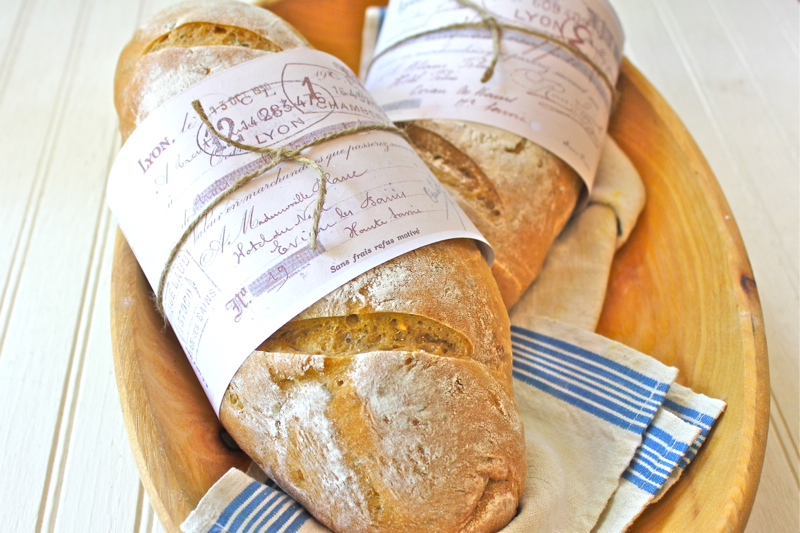 I can live without chocolate, but I can't live without bread.  It is one of the great joys of a meal as far as I'm concerned.  Now, because of changes in our food choices, I am trying to experiment with different types of flour in my bread baking.  These garlic and rosemary baguettes are excellent.  King Arthur has a white whole wheat flour that I wanted to try.  It is milled from hard white Spring wheat – a lighter colored grain than traditional red wheat which yields milder-tasting baked goods.  Because this bread recipe also has an abundance of garlic and rosemary in it, the lighter but healthy white whole wheat flour is a bonus.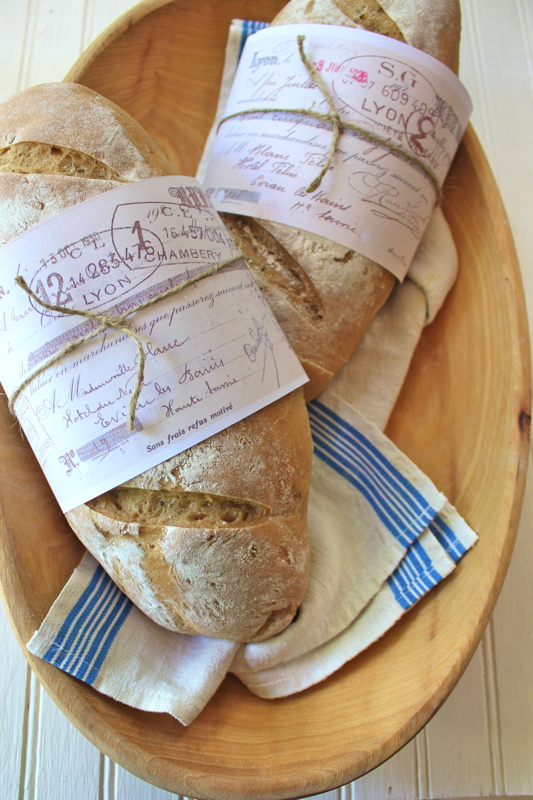 But what I was most excited about, and inspired me to make this bread, was the free printable French bread wrappers that I found on Heather Bullard/ Lifestyle blog.  She is a contributing editor to Country Living Magazine and found the script sheets while traveling in France.  A big thank you to her for making them available.  They make a pretty presentation if you bake  loaves to give to friends and family.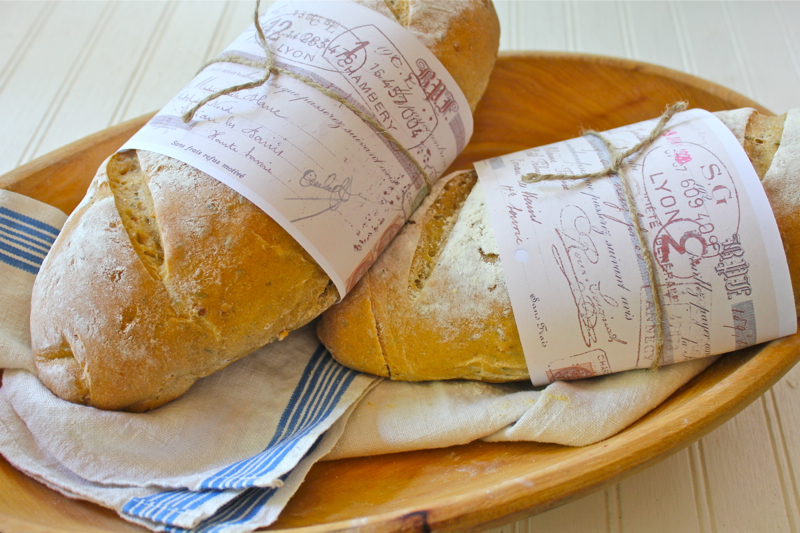 The original bread recipe came from a blog called Good Life Eats.  I changed the flours, but kept the garlic and rosemary.  This is a very garlic heavy bread, so if you are not a great fan, you can reduce the number of cloves.  It makes a convincing looking baguette but tastes more like a conventional homemade bread.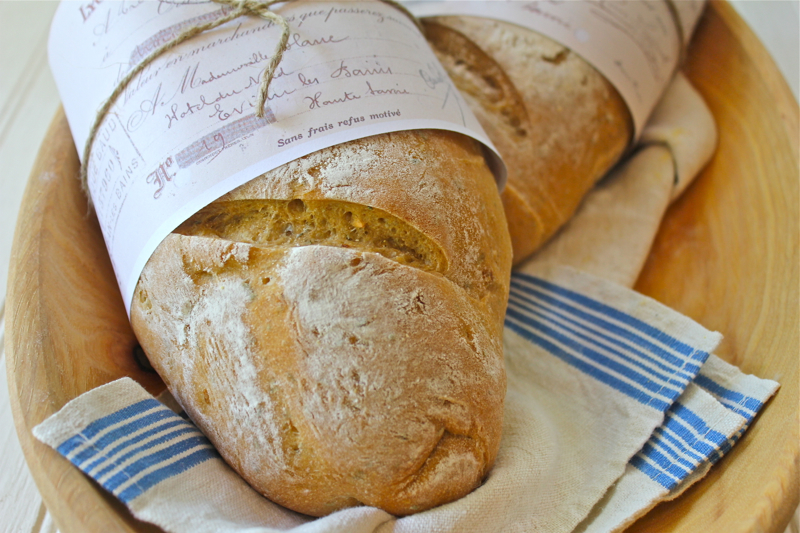 The rustic loaves make great sandwiches and are a great accompaniment to spaghetti.
GARLIC AND ROSEMARY BAGUETTES
2 cups warm tap water, about 110 degrees
1/4 cup olive oil
2 1/2 teaspoons (1 envelope) active dry yeast
2 3/4 – 3 cups all-purpose flour
2 1/2 cups white whole wheat flour
6 cloves garlic, minced
1/3 cup fresh rosemary, chopped
4 teaspoons salt
1/4 cup flour for dusting the loaves
Cornmeal for the pans
2 small cookie sheets or a large (at least 11×17-inch) jelly roll pan
In the bowl of a food mixer, mix the water with the yeast.  Allow to ferment for about 10 minutes.  Once the yeast is bubbly add the olive oil, 2 1/2 cups of the all-purpose flour, the white whole wheat flour, garlic, rosemary and salt.  With a dough hook gently mix until all of the ingredients are combined.  Mix on medium for about 5 minutes to knead the ingredients together.  If dough is too moist add a little more of the all-purpose flour.
Turn out onto a lightly floured board and knead gently.  Shape into a ball and place in a lightly greased bowl.  Leave to rise for 2 hours.
To shape loaves, scrape risen dough onto a lightly floured surface and press it to deflate it. Divide dough in half and shape one piece at a time. Press dough into a square, then roll it up tightly. Rotate cylinder of dough 90 degrees and roll up again from short end. Arrange dough seam side down, cover with plastic or a towel and let it rest of 5 minutes. Repeat with remaining piece of dough.
Dust pan with cornmeal. Roll each piece of dough under palms of your hands to elongate it. Work from middle of loaf outward, pointing the ends slightly. Place loaves seam side down on cookie sheets and dust each loaf heavily with flour, using about 1/4 cup in all. Cover with plastic or a towel and allow to rise until doubled.
About 30 minutes before you intend to bake the loaves, preheat oven to 500 degrees F and set racks at the middle and lowest levels. Set a pan on the lowest rack to absorb some of the excess bottom heat and keep the bottom of the loaves from burning.
Holding a razor blade or the point of a very sharp knife at a 30-degree angle to the top of each loaf, make 3 to 4 diagonal slashes in each loaf. Immediately place loaves in oven and lower temperature to 450 degrees F. After loaves have baked for 20 minutes and are completely risen, lower temperature to 350 degrees F and continue baking about 20 to 30 minutes longer, until bread reaches an internal temperature of about 210-220 degrees F. Remove loaves from oven and cool on a rack.