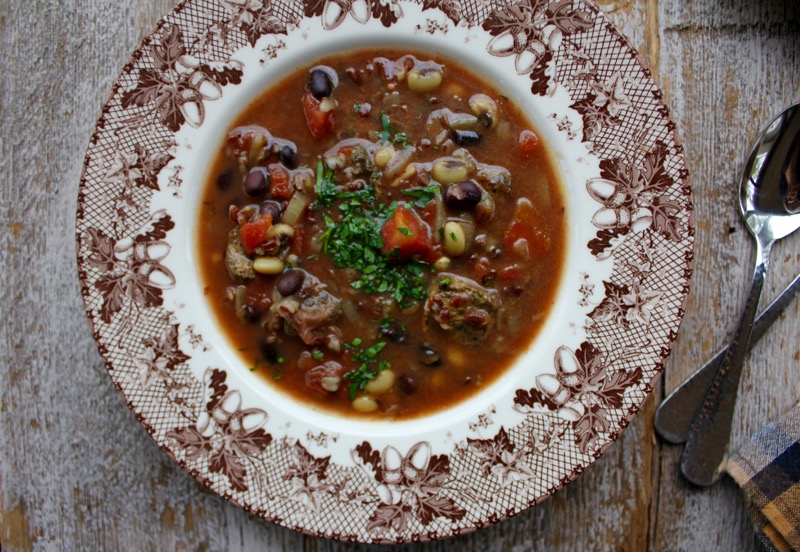 The weather is frightful.  The skies are grey.  But the light still burns in our homes and on our hearths. We have put away the trappings of the holidays and are hunkering down for the long dark days of Winter. Warming soups and bread fresh from the oven are my preferred ways to fight the winter doldrums. And a great soup to brighten your days is this Jamaican inspired recipe.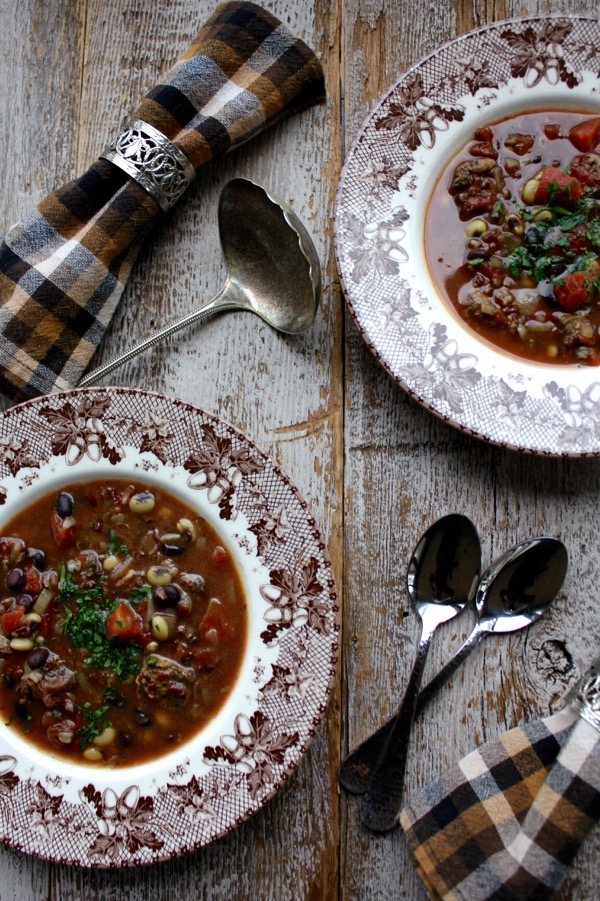 With the bright additions of curry and allspice, this chicken, black bean and black-eyed pea soup hits all the right notes.  I added Himalayan red rice to the mix because I had it in my pantry.  I found it while cleaning out dated foodstuff.  Sometimes impulse buys get shoved into corners.   Himalayan Red Rice is grown in Nepal and has a red hued bran.  It is colorful for pilafs.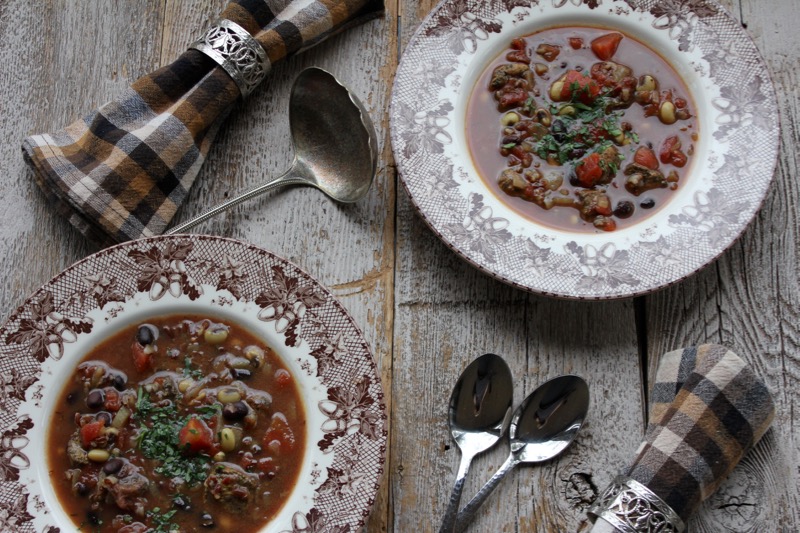 We have a snow storm predicted for the mountains this weekend so I am happy to have a pot of soup and homemade Rosemary Olive Oil Bread stashed away.  Cooking is a good way to survive anything nature throws at you.
JAMAICAN CHICKEN SOUP
1 lb. boneless chicken breast, cut into bite-size pieces
1 tablespoon olive oil
1 cup chopped onion
3 garlic cloves, minced
1 teaspoon curry powder
1 teaspoon dried thyme
1/2 teaspoon ground allspice
1/2 teaspoon crushed red pepper
1/4 cup red wine
1 (15-ounce) can black beans, rinsed and drained
1 cup frozen black-eyed peas, thawed
1 (28-ounce) can diced tomatoes
2 cups chicken broth
1 cup water
1 1/2 cups cooked rice (I used Himalayan Red Rice)
Heat oil in a dutch oven.  Add chicken pieces and saute until browned.  Remove chicken and set aside.  Add onion to casserole and cook until transparent.  Add garlic and saute for 30 seconds.  Add all of the spices and cook over low heat for about 1 minute.  Add wine and reduce slightly.  Return chicken to casserole and add the remaining ingredients.  Cover pot.  Bring to a boil and then reduce to low and cook for at least 30 minutes.  Garnish with parsley or cilantro if desired.