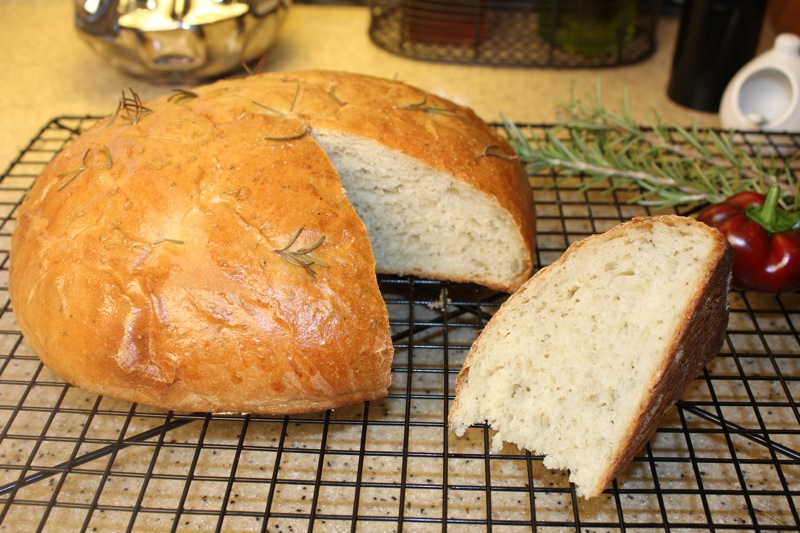 I have been appalled lately by the price of a loaf of bread.  Bread is one the big three of the things people run out for when a blizzard is forecast;  bread, milk and toilet paper.  It is so basic to our needs (unless we are on a carb free diet) that it seems criminal to charge so much.  Granted you can still find loaves of spongy white bread at a good price, but if you prefer a more wholesome bread you can pay up to $5.00 a loaf.  One of my favorite breads, and one that I don't mind paying a premium for, is La Brea's Rosemary Olive Oil Bread.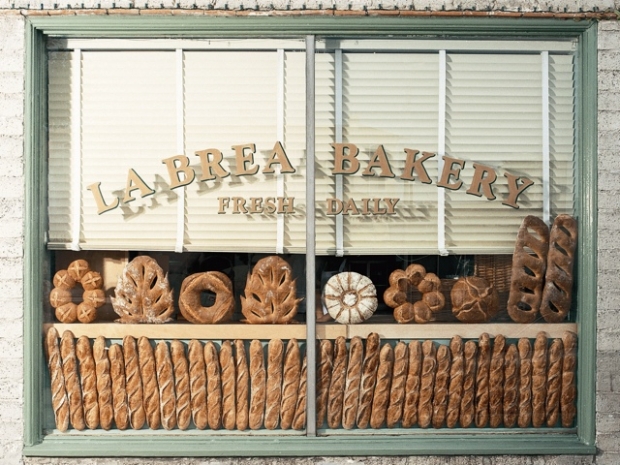 The La Brea Bakery opened in Los Angeles in 1989.  Chef Nancy Silverton developed her bread starter in 1988 and when she opened La Brea the following year the starter was well established.  Chef Silverton was one of the pioneers of the artisan bread movement in the United States.  Now La Brea Bread is sold all over the United States and internationally.  I buy it at Harris Teeter stores when I am in North Carolina.  But we are in Florida for the winter.  After lamenting the price of breads available in the supermarkets here, I decided to try my hand at making my own rosemary olive oil bread.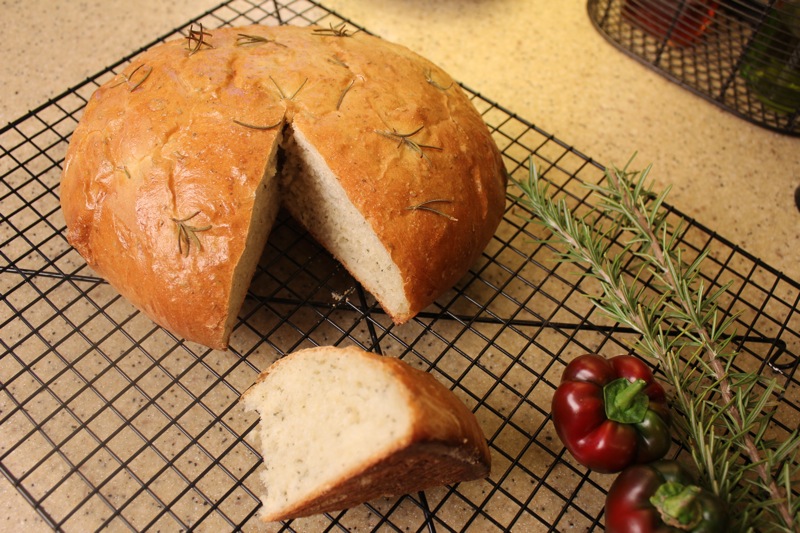 I found a very easy recipe on the internet and adapted it to suit my taste.  I have plenty of rosemary on my 6 foot bush next to the house and had picked up a fruity olive oil when I was at Trader Joe's.  Making bread is a simple and rewarding process.  It takes very little hands on time and even that time is relaxing with the gentle kneading of the dough.  What is even better is that the bread tastes so good; almost as good as La Brea.  I have already made my second loaf.  I have a feeling bread making will be on my agenda all winter.  I'm also saving money, which is a good thing after the holiday frenzy.
Now to the winner of the What Katie Ate Cookbook.  Thanks to everyone for the nice comments.  I used the random number generator website to pick a winner.  I couldn't figure out how to display the winning number here, so you will just to have to take my word for it.  The winning number was 33.  My comments appear from the bottom (number 1), up.  Number 33 is Lea Ann.  Congratulations Lea Ann.  You are going to love this book.  Please email me with your address.
ROSEMARY OLIVE OIL BREAD
1 cup very warm water
1 packet of rapid rise yeast
1 tablespoon sugar
2 tablespoons fruity olive oil
2 tablespoons finely chopped rosemary leaves
1/4 teaspoon Italian herbs
1 teaspoon salt
Freshly ground pepper to taste
2 cups King Arthur all-purpose flour (plus more for kneading)
1 egg, beaten
Additional rosemary, either fresh or dry for sprinkling to top of dough
1. In a large bowl, combine the warm water, sugar, and yeast. Let sit 10 minutes to proof.
2. Meanwhile steep the chopped rosemary in the olive oil.  Add the salt, rosemary olive oil mixture, and other seasonings to the bowl.  Add one cup of the flour and stir to incorporate all of the ingredients. Add the second cup of flour and mix to combine.  It will be sticky.  Dump the dough onto a heavily flour board and knead for about 5 minutes, adding more flour as necessary to prevent sticking, until smooth.  I added about 1/2 cup more flour in increments.
3. Place the dough in a lightly greased bowl; cover; and let rise until doubled in size, about1 hour.
4. Punch down the dough and form it into a round loaf. Place it on a cornmeal dusted pan, cover and let rise until doubled in size, about 45 minutes.
5. Meanwhile, preheat oven to 400 F. Once the dough has risen, gently brush the top with egg wash and sprinkle with dried rosemary.
6. Bake in preheated oven for 20-25 minutes until the top is golden brown and sounds hollow when tapped.
Makes 1 round loaf.