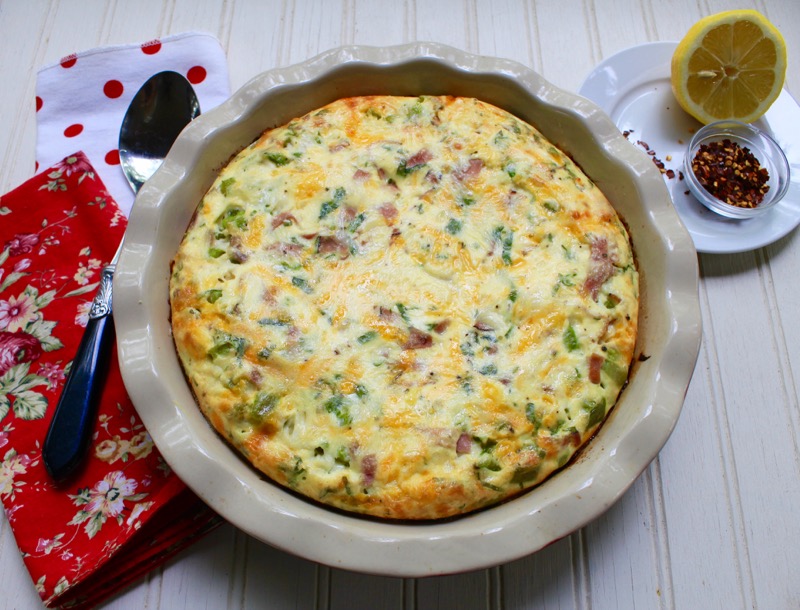 A clafouti is a French egg dish. It is usually a sweet batter with cherries or other fruit. Melissa Clark, of the New York Times, recently came out with a new cookbook called Dinner in French; My Recipes by Way of France. In it, she shared this recipe for a savory clafouti with peppers, ham and cheese It is perfect for a Sunday brunch. We have made it twice so far; two Sundays in a row. Adjusting to quiet solitary living has mixed results. We miss meeting with friends, dining in restaurants, shopping and traveling to visit family. But the slow pace of being home has allowed us to relax, read, enjoy the lake and plan, cook and eat interesting meals.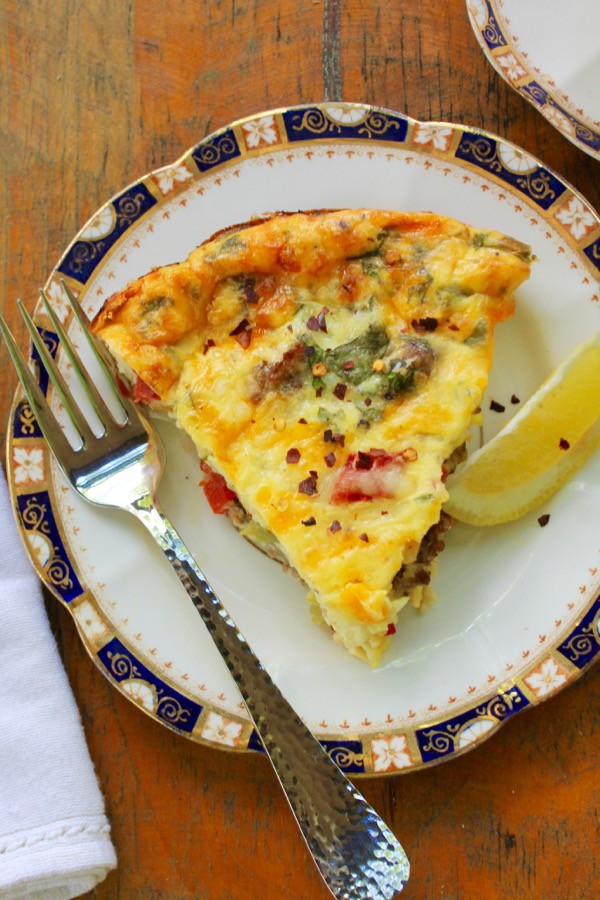 The second time that we made this clafouti we used cooked sausage instead of the ham and roasted red peppers from a jar in addition to the sweet green peppers. But both times we used lots of fresh basil since I have a pot of basil sitting on my kitchen windowsill. You can use anything you have on hand for good results.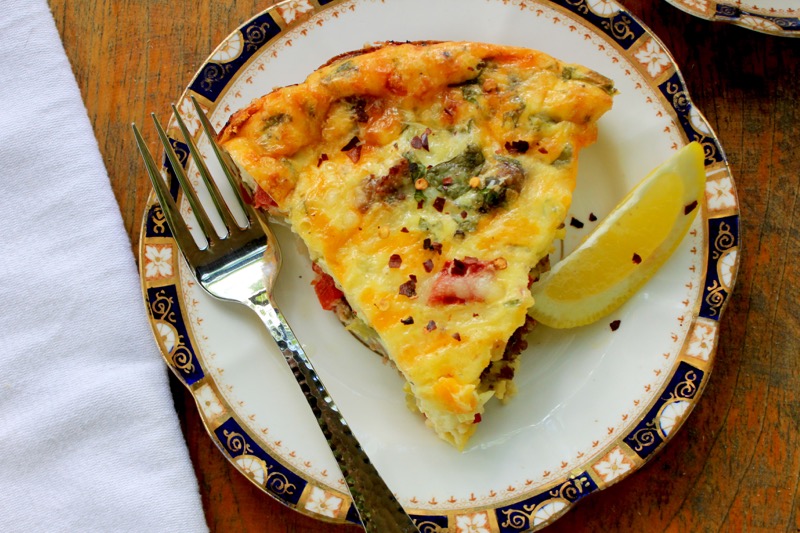 I almost skipped the suggestion to garnish the finished dish with crushed red pepper flakes and a squeeze of lemon. Do not ignore this suggestion. The heat of the pepper flakes and freshness of the lemon juice just made it all better. Whatever we can do to "make it all better" is important right now. From my isolated home to yours.
SWEET PEPPER AND CHEDDAR CLAFOUTI
3/4 cup whole milk
1/2 cup Crème fraîche or Sour Cream
4 large eggs
2 1/2 Tbls. flour
1/4 cup chopped fresh basil
3/4 tsp. fine sea salt
1/2 tsp. freshly ground black pepper
1 cup coarsely grated sharp white cheddar cheese, divided
2 oz. sliced ham, chopped
2 Tbls. olive oil
3 sweet peppers, preferabley different colors, seeded and sliced into 1/4 inch strips
2 garlic cloves, thinly sliced
1/4 cup grated Parmesan cheese
Fresh lemon juice, for serving
Crushed red pepper flakes, for serving

Heat oven to 375 degrees F.
In a large bowl, whisk together the milk, crème fraîche or sour cream, eggs, flour, basil, 1/2 tsp. salt and pepper. Stir in 3/4 cup of the cheddar and ham.
In a 9″ ovenproof skillet, heat the oil over medium heat. Stir in the peppers and cook until they are softened and golden at the edges, 10 to 15 minutes. Stir in the garlic and remaining 1/4 tsp salt and cook until fragrant, about 2 minutes.
Scrape the egg mixture into the skillet, and top it with the 1/4 cup remaining cheddar and the Parmesan. (Or, for a more elegant presentation, scrape the vegetables into a gratin or casserole dish and add the egg mixture and cheese to that). Bake until the eggs are set 35 to 40 minutes. (Mine took 45 minutes). Cool slightly then top with the lemon juice and red pepper flakes.