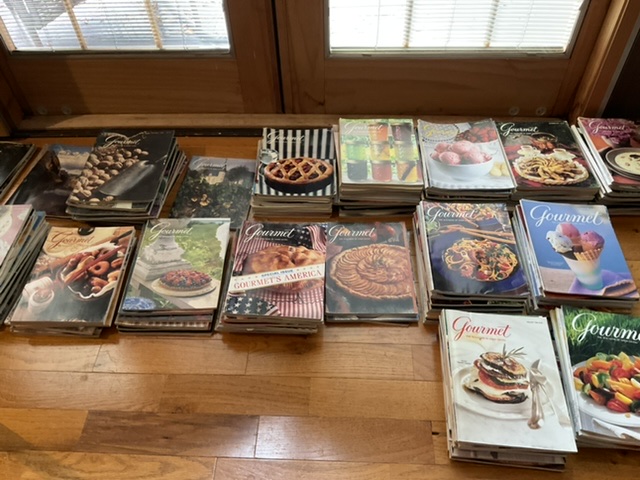 I have been away from my blog for a long time now. I still love the blogging community and all of the virtual friends I have made over my 10+ years of blogging. But other pursuits have filled my time and photographing my meals got to be too time consuming. When I have to tell my husband that we have to eat at 4:00 in order to get the best light for the meal, he just shakes his head.
We are also cleaning out accumulated stuff of a lifetime. One of the cabinets in my bookcase has housed my collection of Gourmet Magazines dating back to the late 60's and 70's. I have been an avid cook from the time we married in 1966. I have been reading some of these back issues and am amazed at how much information is available in each of them.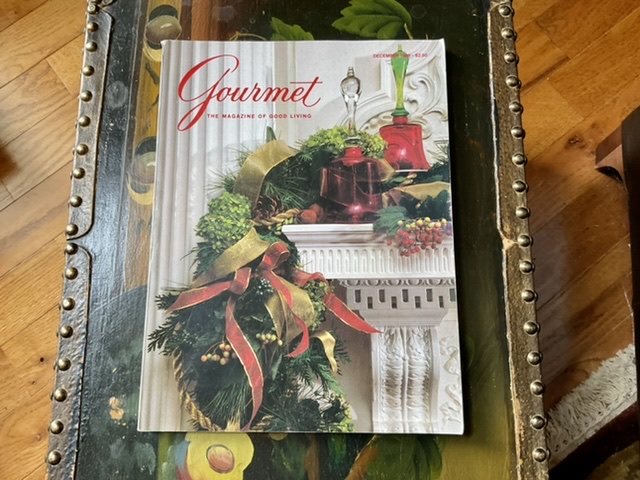 The 1989 December issue is a good example. There are tasty recipes for Winter stews for entertaining, 6 different fudge recipes, 3 recipes for Hanukkah latkes, and a yummy praline butter cookie recipe. There is a detailed travel article on Santa Fe, New Mexico and a Christmas in Provence article. But the best article was about the way Dolley Madison entertained in the White House. She was quite a character. Each article was so well written, intelligent, and detailed.
I checked EBay and Amazon for old issues of Gourmet and have decided a fair price to charge is $3.00 each for them with the following breakdown.
The issues will be sold by year. This is what I have.
1966-1, 1967-1, 1968-4, 1969-5, 1970-4, 1971-3, 1972-3, 1973-5, 1974-10, 1978-10, 1979-1. The issues are in pretty good shape for their age, but a few have loose pages. Nothing is missing.
1980-4, 1981-3, 1982-12, 1983-12, 1984-8, 1985-12, 1986-9, 1987-10, 1988 -12, 1989-12 (one issue has loose pages), 1990-12, 1991-6, 1992-6, 1993-11, 1994-3, 1995-12, 1996-11, 1997-12, 1998-9, 1999-12, 2000-7, 2001-5, 2002-1, 2003-5, 2004-4, 2005-8, 2006-12, 2007-4, 2008-6, 2009-6.
Shipping charges will be calculated by the number of magazines you purchase.
E-mail me with any questions, pennyklett@gmail.com.
My best to all. I may be blogging something occasionally.