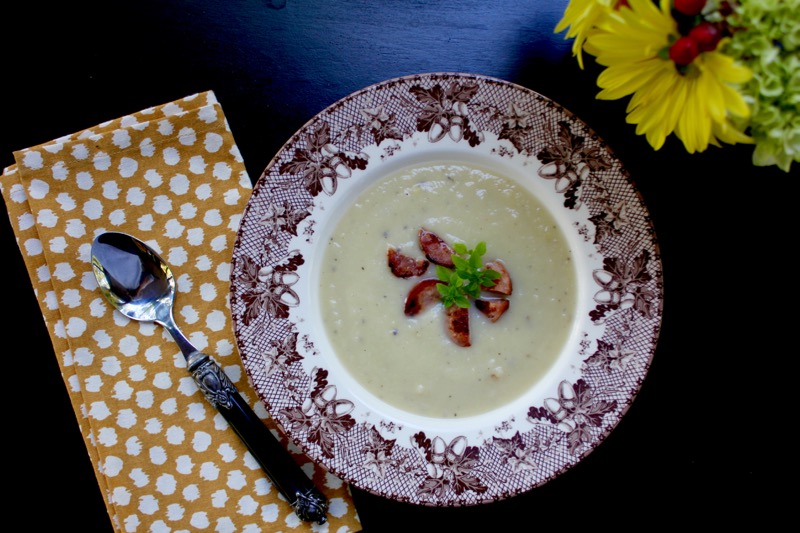 Although the weather is still quite hot, Fall is in the air.  The leaves are starting to drop even though the colors have not changed much.  This time of year I start thinking about soup.  I was in the village of Saluda last week with a friend.  Saluda is a quaint town with an excellent bakery, unique eateries and two old fashioned grocery and hardware stores.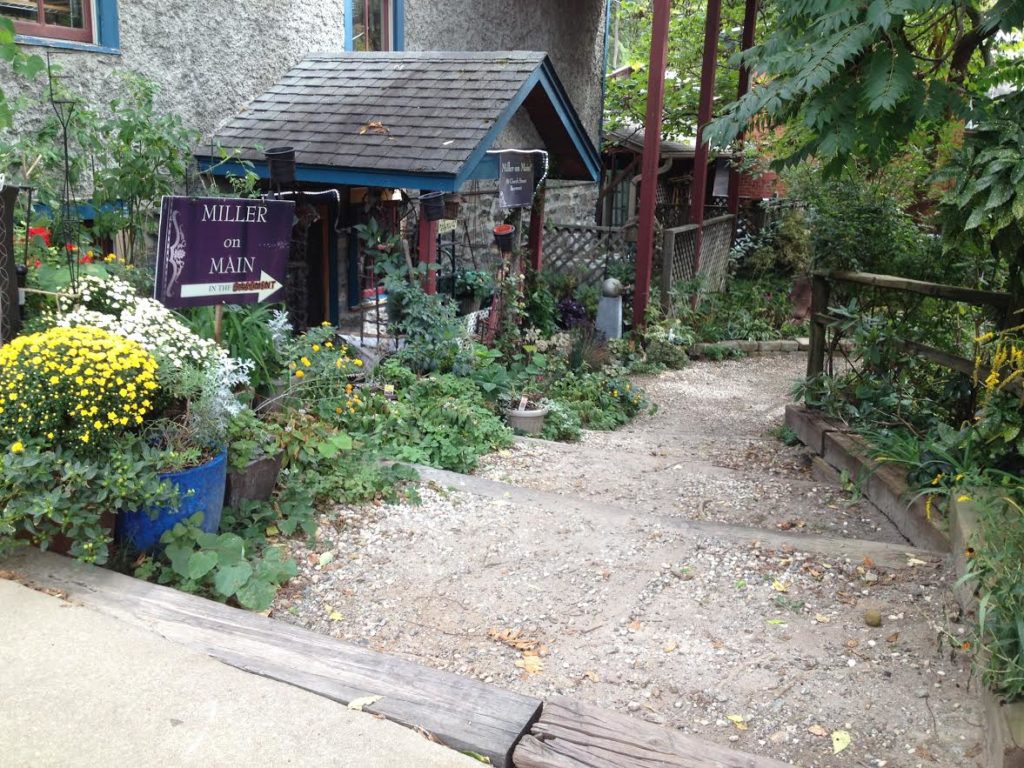 On one of the side streets we found this garden maintained by the local garden club with an antique shop at the bottom of the steps.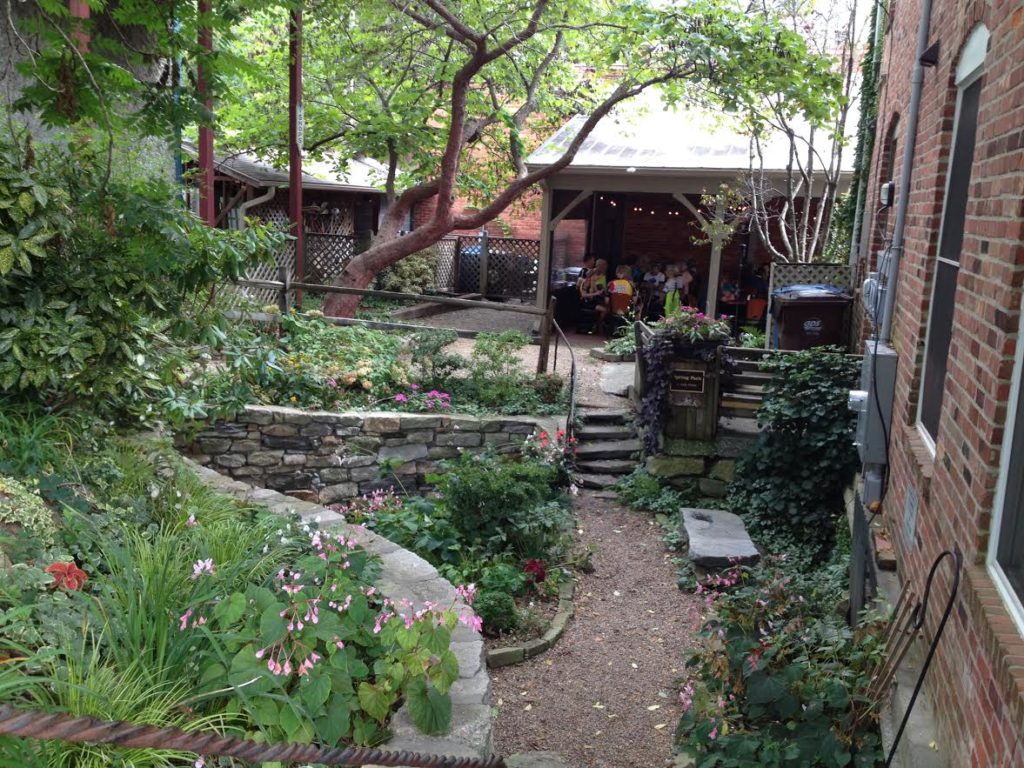 Beyond the garden is the outdoor eating area of The Purple Onion where we had lunch.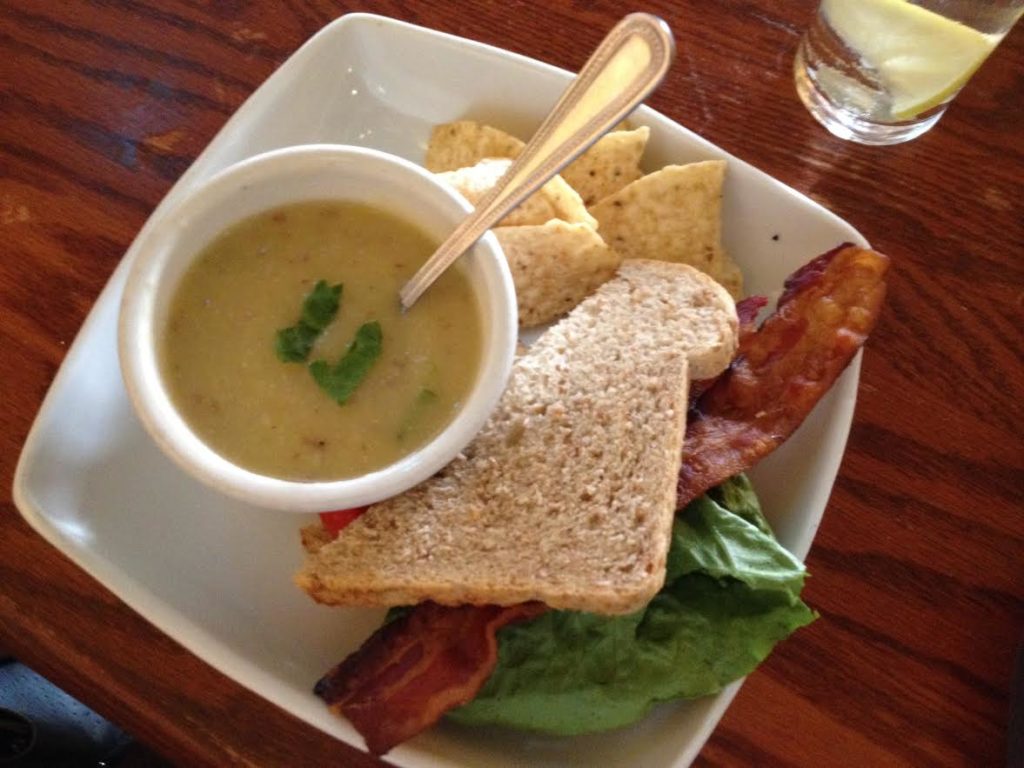 I had their cauliflower soup with a half of BLT sandwich on whole wheat bread from Wildflower Bakery.  Both were delicious and I decided I needed to make some cauliflower soup at home.  My only regret is that I did not come home with a loaf of that delicious bread.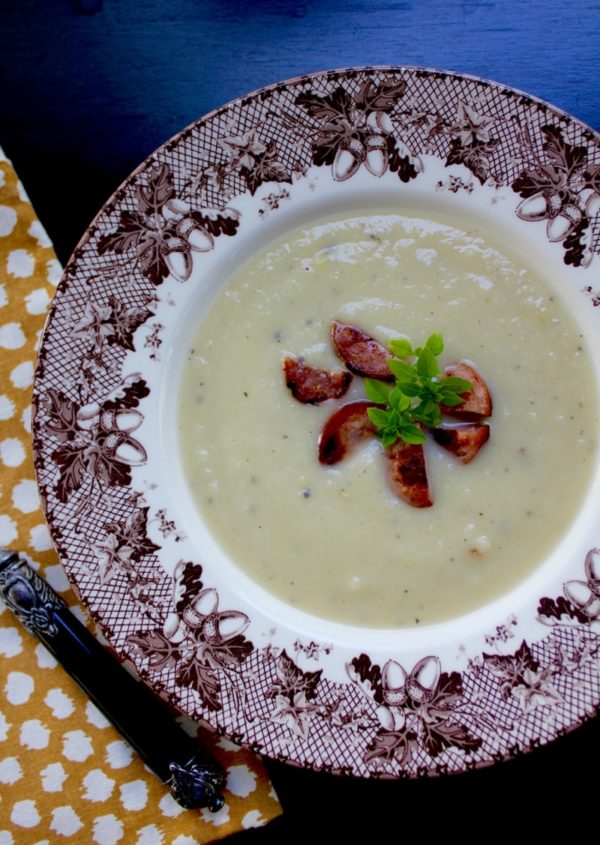 I was very happy with the soup recipe that I came up with.  It is a combination of leeks sauteed in butter, cooked cauliflower, chicken broth or vegetable broth, and potatoes.  It is similar to the classic potato leek soup but is heavier on the cauliflower.  It has only two potatoes in it.  I used my emulsion blender to emulsify it and flavored it with herbs and lots of cracked black pepper.  If you prefer you can add some sauteed sausages or bacon to make it heartier.  We enjoyed it on a rainy evening this week.  Welcome Fall!
CAULIFLOWER, POTATO AND LEEK SOUP
2 leeks, trimmed, sliced and washed
2 tablespoons butter
2 cloves of garlic, minced
1 32 ounce box of chicken or vegetable broth
2 medium size potatoes, peeled and diced
1 Bouquet Garni of thyme, basil, bay leaves and peppercorns
1 head of cauliflower, cut into florets.  Stems removed
Freshly grated black pepper to taste
Salt to taste
Cooked bacon or sausage (Optional)
Melt 2 tablespoons butter in large stock pot.  Dry washed leek slices and add to butter.  Saute over medium heat until soft.  Add garlic and cook for 1 minute.  Pour the stock into the pot.  Wrap the herbs and pepper in a piece of cheesecloth and tie with twine.  Place in pot. Bring the liquid to a boil and add the diced potatoes and cook until the potatoes are tender.
Meanwhile, chop the cauliflower and add to a large saucepan with water to cover.  Cook over medium heat until tender.  Save water and scoop the cauliflower into the stock pot with potatoes and leeks.  Cook for an additional 15 minutes.  Emulsify the soup either with an emulsion blender or in a blender.  If using blender, divide soup into several batches.  Return to stock pot.  If soup is too thick add some of the cauliflower water until you reach the desired consistency.  Season to taste with lots of pepper and salt as needed.  Add optional bacon or sausage.