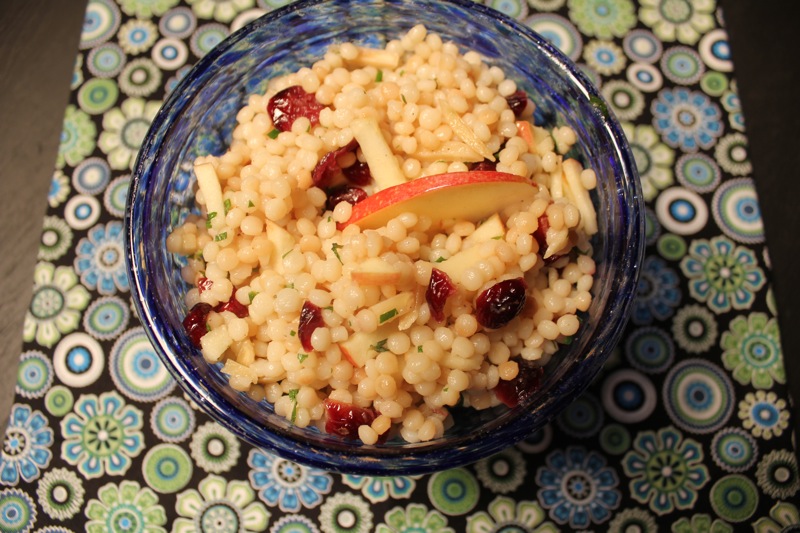 I had some Israeli couscous in my pantry and decided to make a salad with it.  Searching the web, I found this recipe from Giada De Laurentiis.  I'm so glad that I did.  It has a complex but refreshing taste.  The vinaigrette has maple syrup in it which pairs well with the apples and cranberries in the salad.  Couscous is such a blank canvas when it comes to taste.  Anything that you add to it will become the star.  But Israeli couscous with its large pearly grain makes its presence known.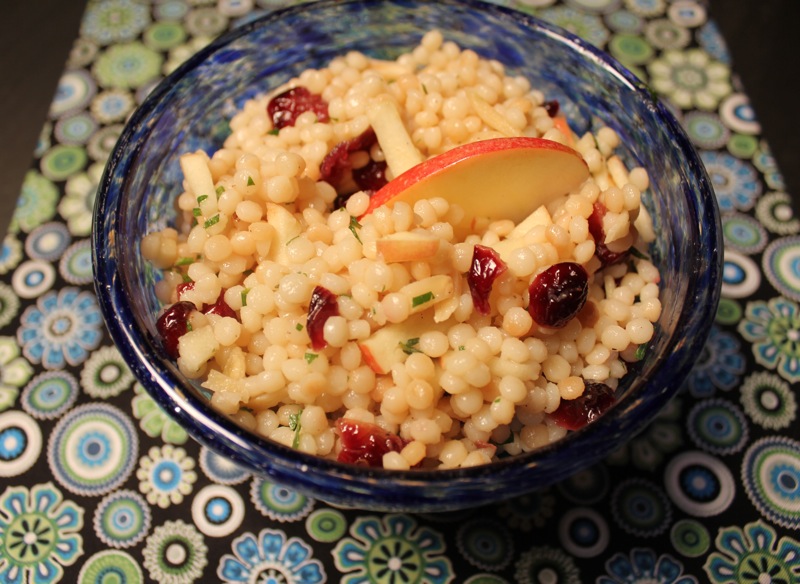 This is the perfect salad to bring to any Labor Day cook out.  I know that I will be making it again this weekend while the family is here.  It is easy and flavorful.  Enjoy your Labor Day weekend and summer's last hurrah.
COUSCOUS WITH APPLES, CRANBERRIES AND HERBS  (Adapted from Giada De Lauentiis)
Couscous:
2 tablespoons olive oil
2 cups Israeli couscous
4 cups low-sodium chicken broth
1/4 cup chopped fresh flat-leaf parsley
1 1/2 tablespoons chopped fresh rosemary leaves ( I used chopped chives)
1 teaspoon chopped fresh thyme leaves
1 medium apple, diced
1 cup dried cranberries
1/2 cup slivered almonds, toasted
Vinaigrette:
1/4 cup apple cider vinegar
3 tablespoons maple syrup
1/2 teaspoon kosher salt
1/2 teaspoon freshly ground black pepper
1/4 cup olive oil
For the couscous;  In a medium saucepan, heat the olive oil on medium-high heat.  Add the couscous and cook, stirring occasionally until slightly browned and aromatic, about 3 to 5 minutes.  Add the chicken broth and bring to a boil.  Simmer for 10 to 12 minutes or until the liquid has evaporated.  Transfer the cooked couscous to a large bowl and set aside to cool.  Add the parsley, rosemary, thyme, apple, dried cranberries and almonds.
For the vinaigrette;  In a small bowl, combine the vinegar, maple syrup, salt, and pepper.  Whisk in the olive oil until smooth.  Pour the vinaigrette over the couscous and toss to coat evenly.