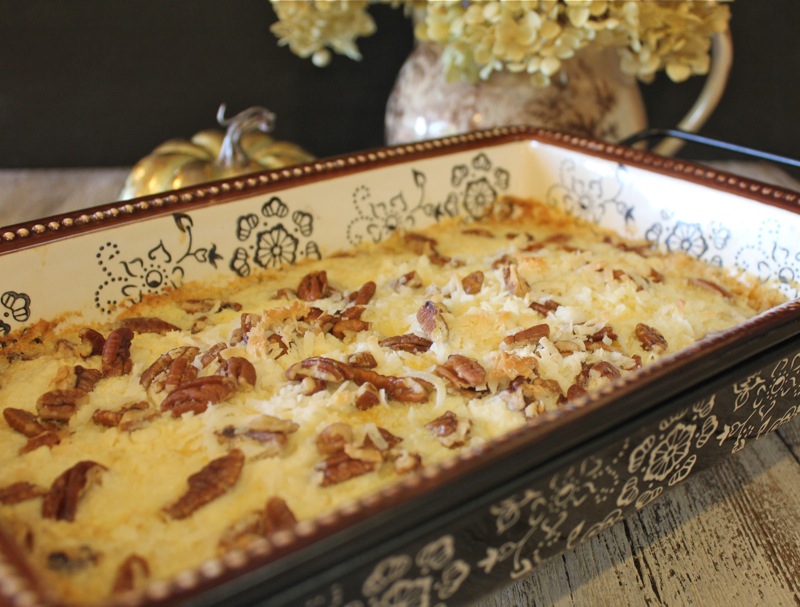 I refuse to call this a pumpkin dump cake, but that is really what it is;  a pumpkin mixture, topped with a yellow cake mix, topped with pecans and coconut and then melted butter.  Plain pumpkin cake sounds so much better.  But whatever you call it, it is easy and delicious.  This is one of those desserts that you can throw together at the last minute with pantry ingredients.  This time of year a pumpkin dessert is always welcomed.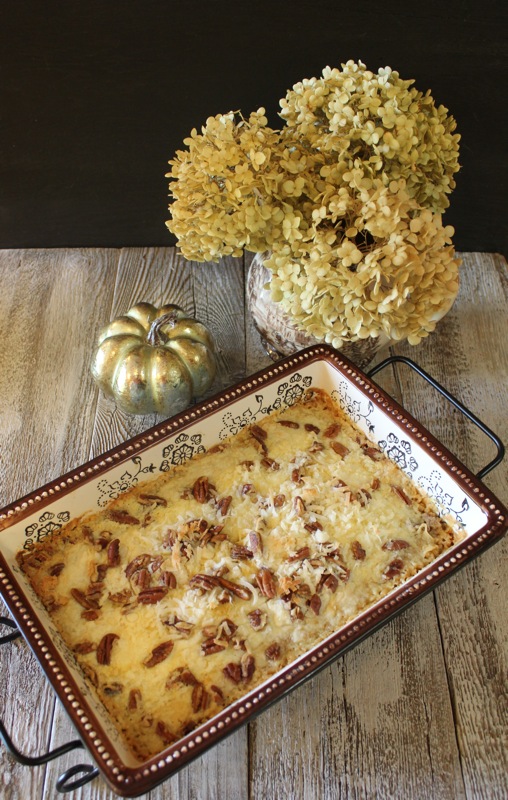 This cake first got my notice when it was given to me by one of my friends for a cookbook that we were putting together.  Our self-published cookbook has a pride of place on my cookbook shelf.  It contains the favorite recipes of all of my high school friends and was compiled twenty years after we graduated.  We had fun doing it and I find myself referring to it quite often.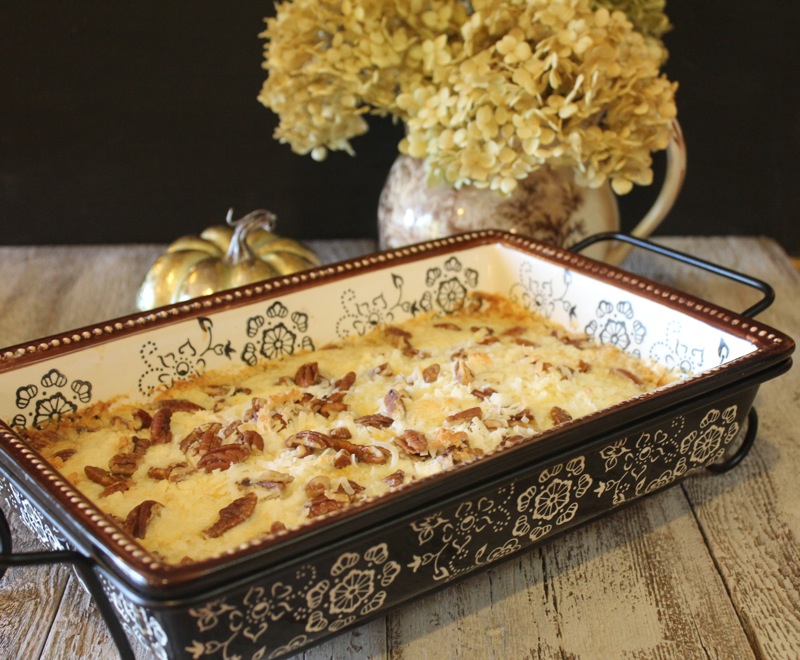 I made this cake for my Son's new girlfriend years ago.  It was her birthday and the ingredients were what I had on hand.  She loved it.  That girlfriend turned into my daughter-in-law, Kristen.  Kristen even shared the recipe with her family and it became a Thanksgiving tradition in their homes.  It is heartwarming when a recipe can make good memories.  So thank you to Carolyn for sharing her recipe in our cookbook.  Each time I make something from the cookbook, I am reminded of my good friends from years past.
CAROLYN'S EASY PUMPKIN CAKE
29 ounce can pumpkin puree (Not pumpkin pie filling)
12 ounce can evaporated milk
1 cup sugar
2 teaspoons cinnamon
1 teaspoon nutmeg
3 eggs, beaten
1/2 teaspoon salt
1 box yellow cake mix, about 3 cups (You can make your own cake mix if you prefer.  Here is the recipe.
1/2 cup chopped pecans
1/2 cup coconut
1 cup butter, melted
1 carton Cool Whip or Whipped cream
Mix pumpkin, evaporated milk, sugar, cinnamon, nutmeg, eggs, and salt together.  Pour into 9X13 greased pan.  Sprinkle 1 box of yellow cake mix over pumpkin.  Sprinkle on chopped nuts and coconut.  Pour melted butter over top and bake at 350 degrees F. for 50 minutes.  Serve topped with cool whip or whipped cream.