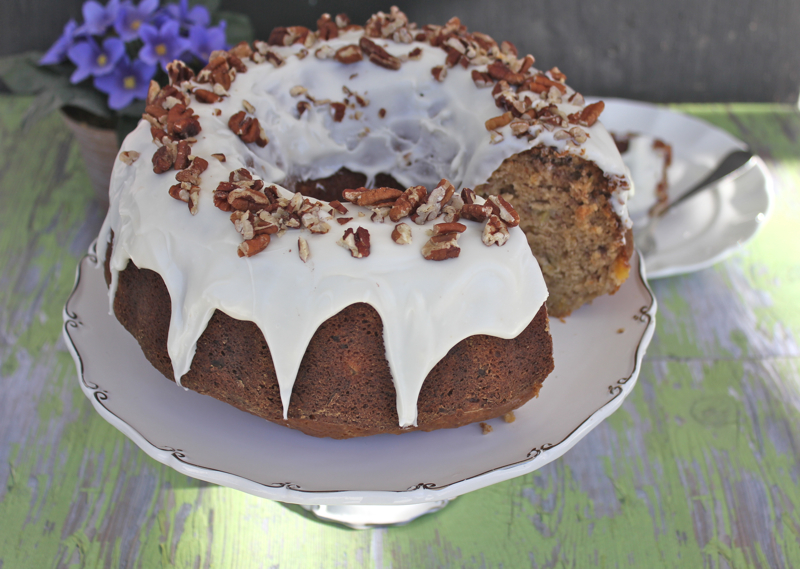 There is a new angle to the Sun these days.  Even though spring is not quite here, I can feel the promise of an end to winter.  We will be returning to Lake Lure at the end of the month.  Normally we would find the dogwood trees and the forsythia getting ready to bloom.  I am not so sure this year.  It has been such a brutally cold winter.  One of the things I look forward to at Lake Lure is my hummingbird feeder outside my kitchen window.  I like to believe that the same hummingbird couple come back every year.  In honor of spring and the return of my sweet hummingbirds, I made this hummingbird bundt cake.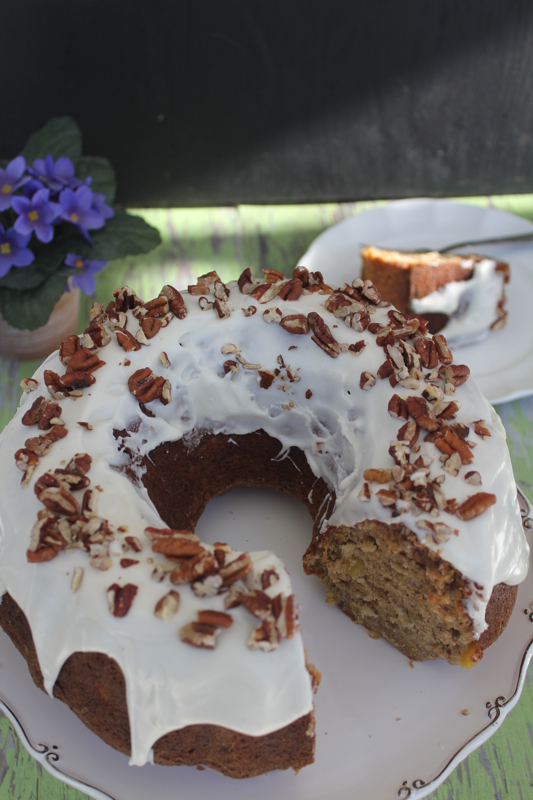 The cake recipe first appeared in Southern Living Magazine in 1978.  It is a banana, pineapple and spice cake with a luscious cream cheese frosting.  It is usually presented as a layer cake, but this is a much easier version.  This recipe for a hummingbird bundt cake was in a recent Southern Living magazine.  I found it in a magazine at my hair dresser's and got her permission to tear it out.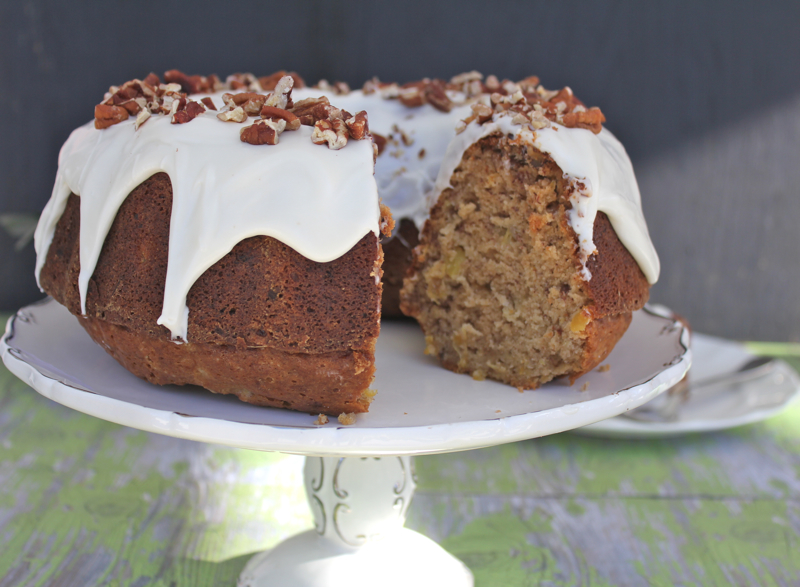 I love this cake.  Since we have company coming, it was a good excuse to make it.  Now if spring would just get the message that winter is over, we would all be happy.  Bring on the robins, blue jays and hummingbirds.  I am linking this to Tasty Tuesday at the Comforts of Home.
HUMMINGBIRD BUNDT CAKE
1 1/2 cups chopped pecans
3 cups all-purpose flour
2 cups sugar
1 teaspoon baking soda
1 teaspoon cinnamon
1/2 teaspoon salt
3 large eggs, lightly beaten
1 3/4 cups mashed ripe bananas (about 4 large)
1 (8 oz.) can crushed pineapple (do not drain)
3/4 cup canola oil
1 1/2 teaspoon vanilla extract
Glaze:
4 oz. cream cheese, cubed and softened
2 cups sifted powdered sugar
1 teaspoon vanilla extract
1 to 2 tablespoon milk ( You may need more.  My glaze was too stiff )
Preheat oven to 350 degrees F.  Bake pecans in a single layer in a shallow pan 8 to 10 minutes or until toasted and fragrant, stirring halfway through.
Stir together flour and next 4 ingredients in a large bowl; stir in eggs and next 4 ingredients, stirring just until dry ingredients are moistened.  Sprinkle 1 cup toasted pecans into a greased and floured 14-cup Bundt pan.  Spoon batter over pecans.
Bake for 1 hour to 1 hour and 10 minutes or until a long wooden pick inserted in the center comes out clean.  Cool cake in pan on a wire rack 15 minutes; remove from pan to wire rack, and cool completely (about 2 hours).
Process cream cheese, powdered sugar, vanilla, and 1 Tbsp. milk in a food processor until well blended.  Add remaining 1 Tbsp. milk, 1 tsp. at a time, processing until smooth.  Immediately pour glaze over cooled cake, and sprinkle with remaining 1/2 cup toasted pecans.