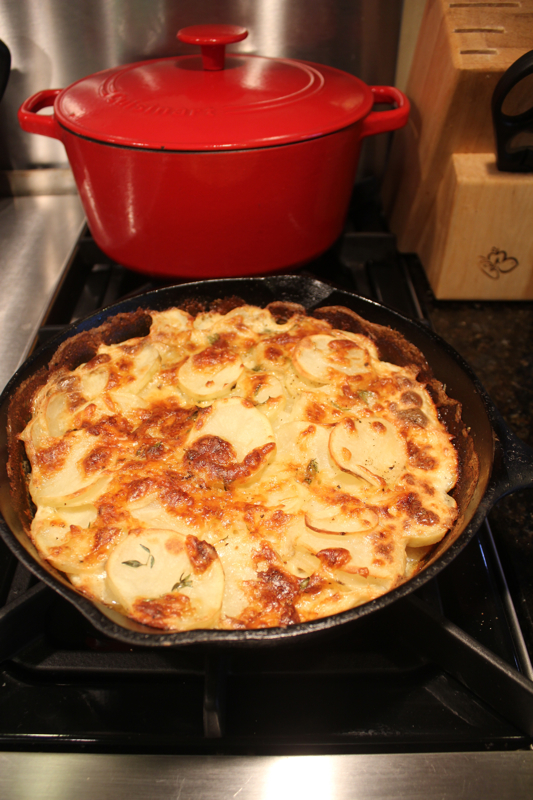 This is familiar territory for me;  a cast iron skillet, warm lighting for the shoot (forget that natural light when it is late evening), decadent potatoes with a history from Julia Child and a heady scent in the air.  I made this as a side dish for the steak that David was cooking on the grill.  Each time that he returned to the house from the deck, he said "Man, it smells good in here".  Sometimes tried and true recipes are all you need. And I was tired of baked potatoes with my steak.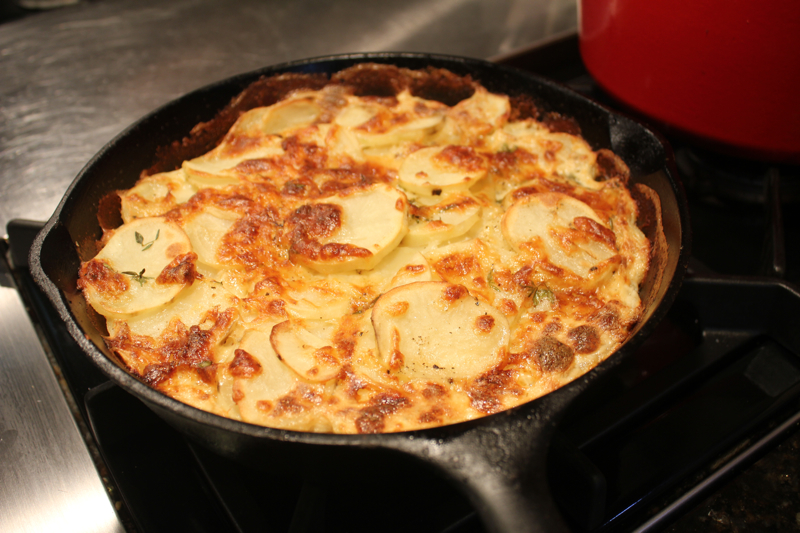 Cooking the potatoes in an iron skillet seemed rustic and smart.  Cast iron holds the heat so well.  Julia Child's Gratin Dauphinois, or scalloped potatoes to us, has stood the test of time and is still one of my favorite scalloped potatoes recipes.  I did make some changes to the recipe.  I used russet potatoes instead of boiling potatoes and I used Gruyere cheese instead of Swiss.  I also added fresh thyme to the casserole.  My thyme plant is thriving this year.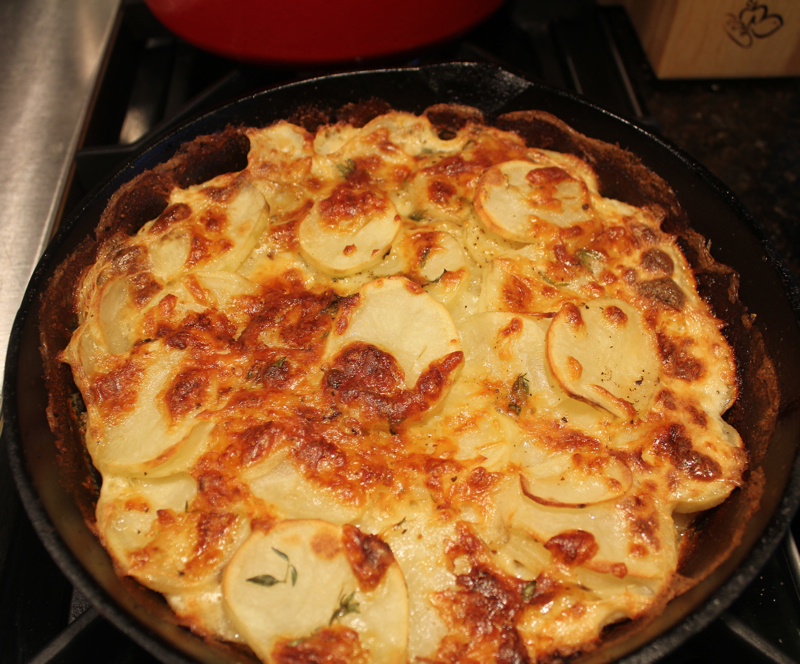 Steak, decadent potatoes and a cool crisp salad.  What a wonderful dinner.
JULIA CHILD'S SCALLOPED POTATOES (GRATIN DAUPHINOIS)
2 pounds russet potatoes
A fireproof baking dish about
10-inches in diameter and
2-inches deep
1/2 clove garlic
4 tablespoons butter
1 teaspoon salt
1/8 teaspoon pepper
1 teaspoon fresh thyme
1 cup grated Gruyere cheese, grated
1 cup boiling milk
Preheat oven to 425 degrees F.
Peel the potatoes and slice them 1/8 inch thick.  Place in a basin of cold water.  Drain when ready to use.
Rub the baking dish with the cut garlic.  Smear the inside of the dish with 1 tablespoon of the butter.  Drain the potatoes and dry them in a towel.  Spread half of them  in the bottom of the dish.  Divide over them half the salt, pepper, thyme, cheese, and butter.  Arrange the remaining potatoes over the first layer, and season them with salt, pepper and thyme.  Spread on the rest of the cheese and divide the butter over it.  Pour on the boiling milk.  Set baking dish over heat and when simmering, set in upper third of preheated oven.  Bake for 20 to 30 minutes or until potatoes are tender, milk has been absorbed, and the top is nicely browned.