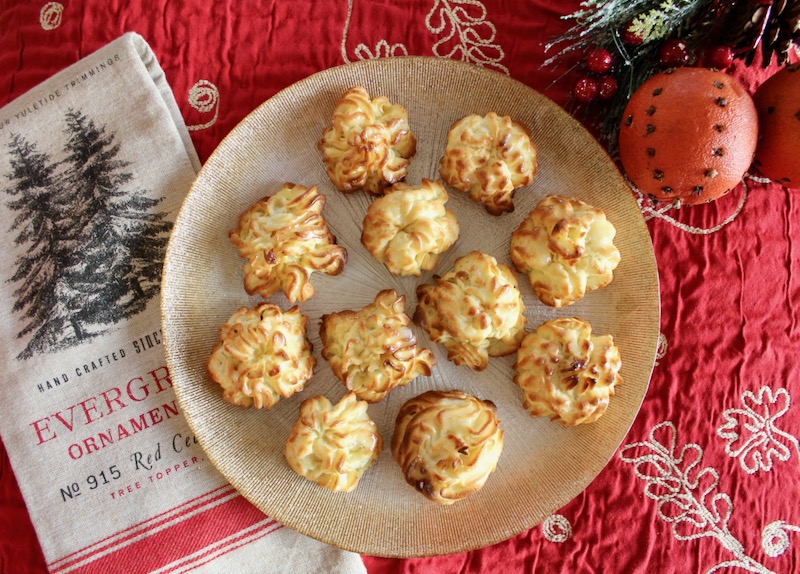 These beautiful piped Duchess Potatoes make the perfect accompaniment to any holiday dinner. The added advantage is that you can pipe them ahead of time onto the baking sheets and bake them right before dinner.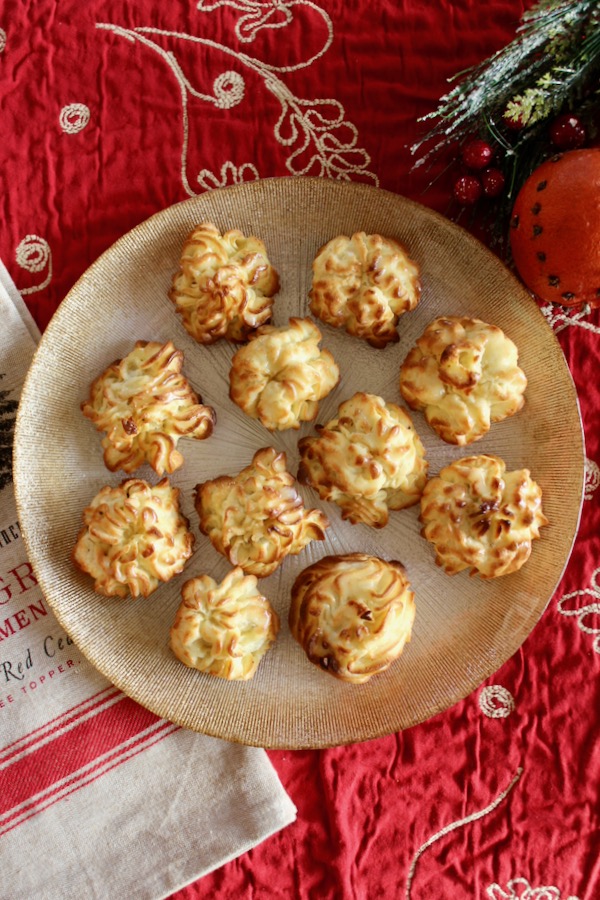 Duchess Potatoes are mashed potatoes that are flavored with butter, cream, nutmeg and egg yolks. The potato mixture is put in a pastry bag using a star tip. My Daughter-In-Law made these over the Thanksgiving holiday and our 9 year old Grandson loved them. He said the crispy edges made the mashed potatoes delicious.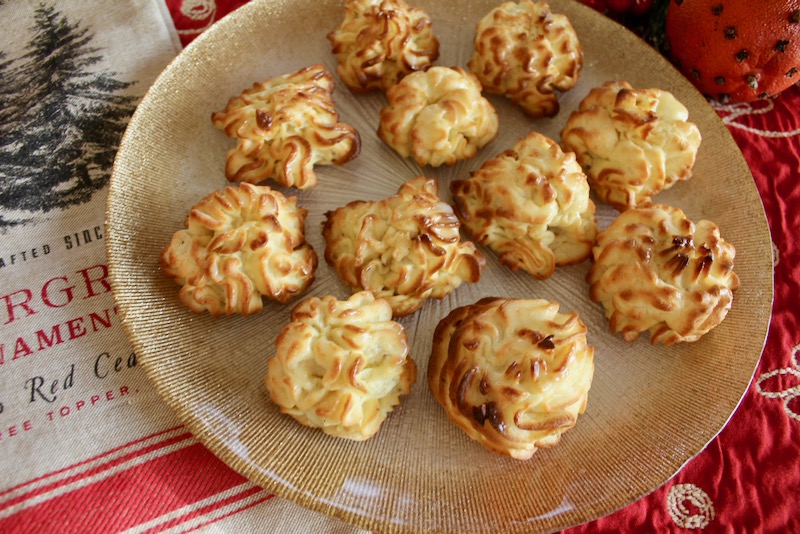 All of us are scaling back this Christmas. But we can still enjoy good food and the love our families, even if it is at a distance.
Duchess Potatoes
2 pounds potatoes, peeled and cut into chunks
Salt
1/4 cup heavy cream
5 tablespoons unsalted butter, divided
1/4 teaspoon nutmeg
1/2 teaspoon black pepper
3 egg yolks
1 Boil the potatoes: Place potatoes in a medium to large pot (3 qt) and cover with a couple inches of cold water. Add a couple teaspoons of salt to the water. Bring to a simmer and cook until the potatoes are tender (the tines of a fork easily pierce), about 20-25 minutes.
2 Melt butter, preheat oven: While the potatoes are boiling, melt 2 tablespoons of butter and set aside. You will use this butter to coat the potatoes right before they go in the oven. Preheat the oven to 425°.
3 Drain potatoes and let them release steam: When the potatoes are cooked, drain in a colander and put the potatoes back in the pot set over low heat. Allow them to release steam for a minute or so.
4 Using a ricer, run the potatoes in batches through the device into a large bowl. Add 3 tablespoons of butter and mash the potatoes until the butter has been incorporated. Add the nutmeg, black pepper, heavy cream and continue gently stirring the potatoes.
Once everything is incorporated, add salt to taste and the egg yolks.
Continue to mix until the mixture is smooth. Do not over-mix or your potatoes will end up with a gluey consistency.
5 Pipe onto a baking sheet, brush with melted butter: Using a piping bag with a large star point, pipe the potatoes onto a cookie sheet. Alternatively, you can just fill a casserole dish with the mashed potatoes, and use a fork to create lots of peaks on the surface.
The swirled edges from the star-point piping bag forms or the peaks of mashed potatoes in a casserole dish will brown nicely in the oven. The browned parts taste great, so you want to maximize them.
Whether you make piped portions or a casserole, paint the potatoes with the melted butter.
6 Bake: Bake in the 425°F oven until nicely browned, about 20 minutes.