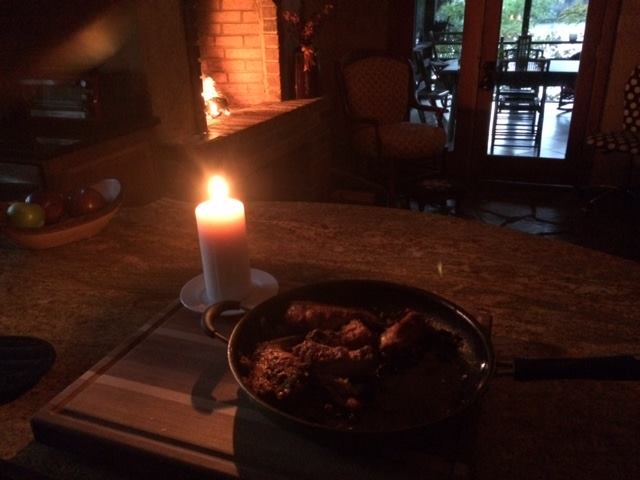 The above picture was taken in our kitchen last night.  It was an evening of dining by candlelight with a wood fire crackling.  It was not an intentional romantic meal, but a necessity because of loss of power from rain and a wind storm.  David made braised rabbit. It is an old recipe from Marcella Hazan that he has made before. The meal put us in mind of the food of France even though it was an old recipe from Italy. Europeans eat meat that some of us in the USA ignore.  While in France we ate Lapin (rabbit), Snails, Pig Snout, and Beef Cheeks.  I should say, one of us ate the Pig Snout and it wasn't me.  But it is always interesting to eat in France.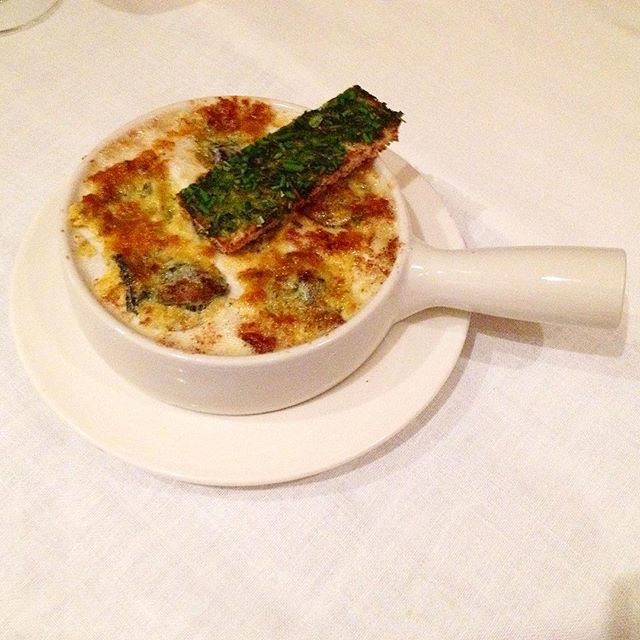 While onboard our Viking Ship that sailed from Avignon to Lyon on the Rhone River, we dined very well.  Here is a sample menu:
Escargots a la Bourguignone: baked escargots with shallots, garlic, parsley and butter, pictured above.
Kir Royal: cassis sorbet with sparkling wine
Beef Tenderloin with four warm spices, Vitelotte potatoes mousseline, oyster mushrooms
Tarte Croustillante au Chocolat Noir de Valrhona: Crisp dark Valrhona chocolate tart with mango salad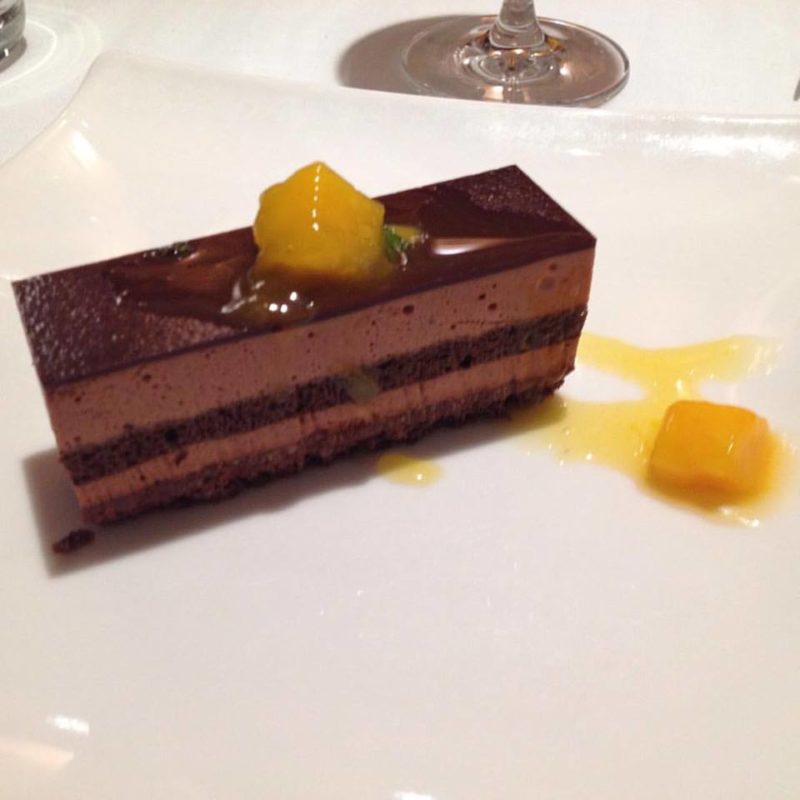 The beautiful dishes went on for a week and we enjoyed every one of them. My compliments to our chef Daniel for outstanding service.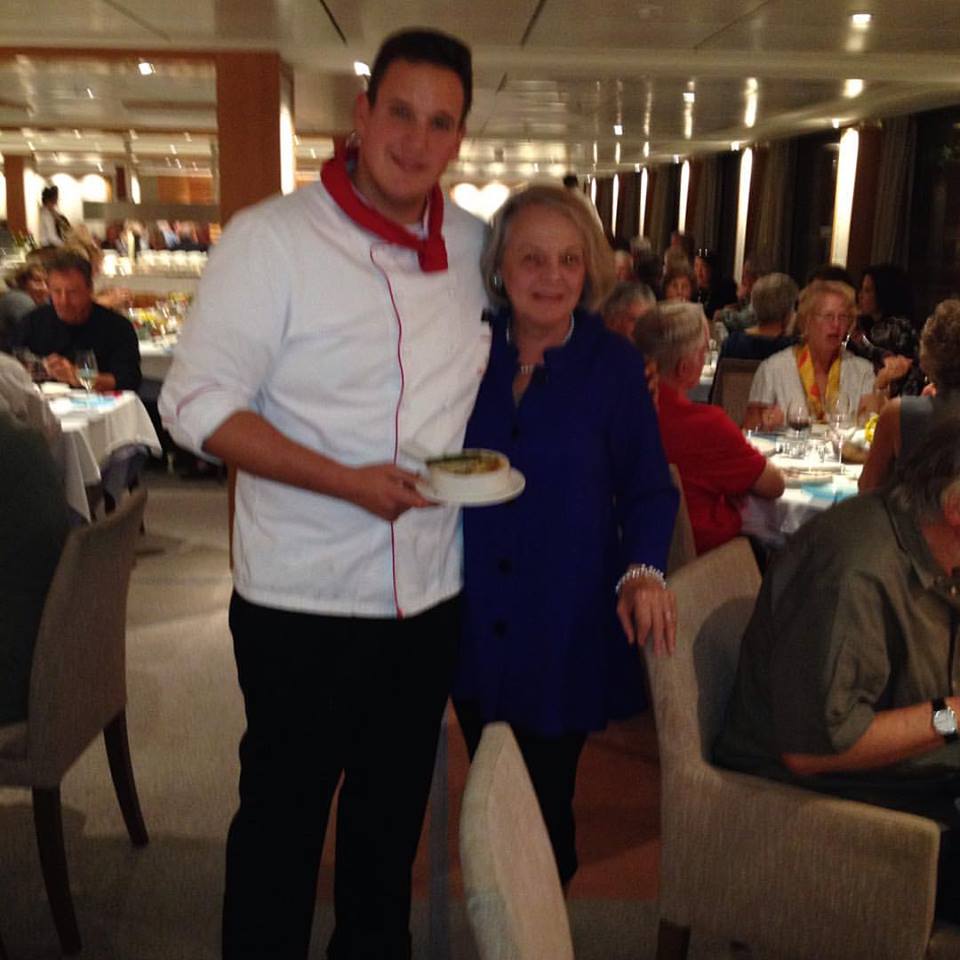 Sorry for the blurry picture.  The staff was very open to satisfying our every need.  Chef Daniel was kind enough to make a special escargot dish for me to photograph.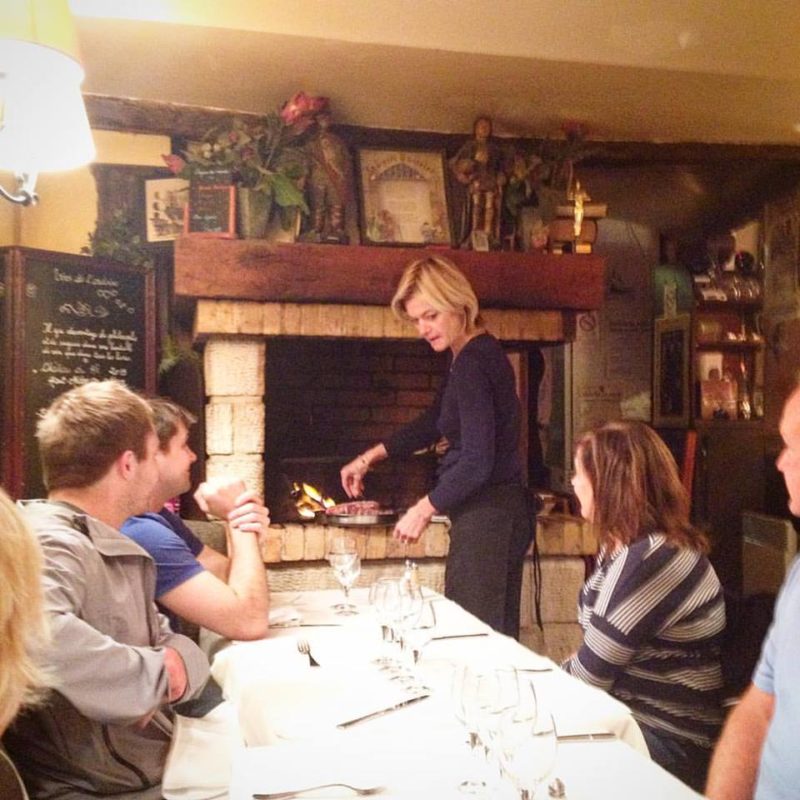 We arrived in Paris on Oct. 4th, my birthday.  We chose to eat at a small restaurant across the Seine from Notre Dame Cathedral called Le Petit Châtelet.  Steaks were cooked over an open fire by our friendly hostess.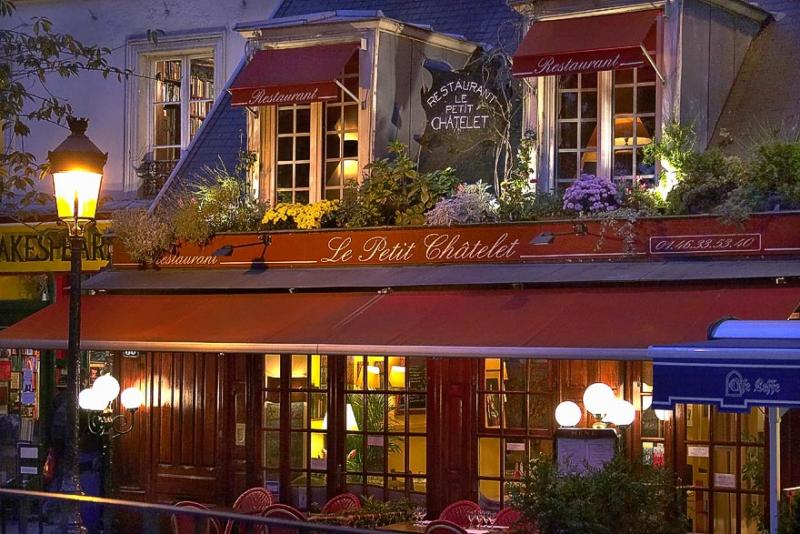 If you get a chance to visit, try to get a table in either of the second floor windows with a beautiful view of Notre Dame.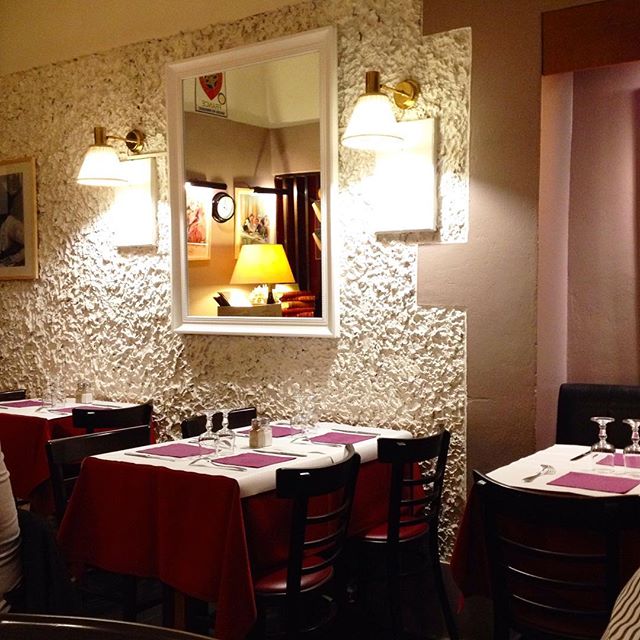 Another evening, we discovered a small 16 seat bistro called Le Coup de Torchon.  It was very close to our apartment in the Latin Quarter.  I learned something on this trip.  After walking all day, it is smart to have good dinner options close to where you are staying.  We no longer have the stamina for evening jaunts and navigating the Metro system.  Le Coup de Torchon was a quiet oasis in the busy Latin Quarter.  Coup de Torchon translates loosely to " Clean Slate".  I have to admit that I was curious about the one quiet, but helpful, waiter and the one chef in the kitchen.  By the way, I just checked out the restaurant on Trip Advisor.  Someone snapped our picture while we there and posted it along with his dinner pictures.  Check it out.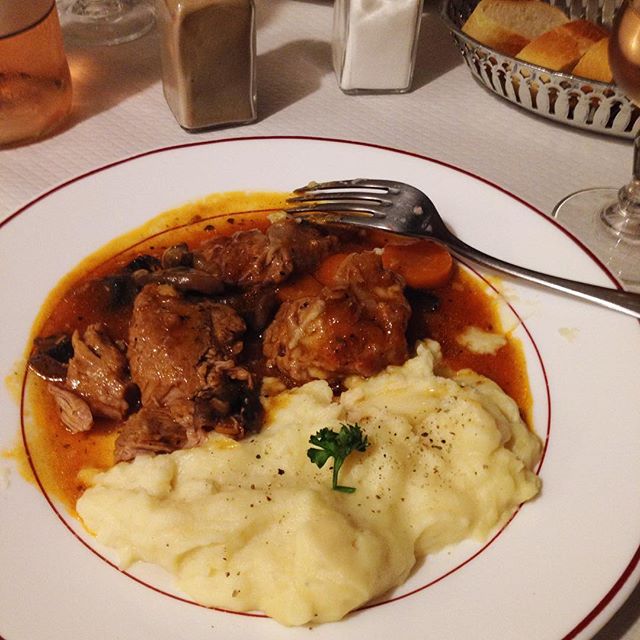 The Veal Stew was delicious and the prices were very reasonable.  We actually ate there twice and ended our second visit with a hug and handshake to our sweet waiter.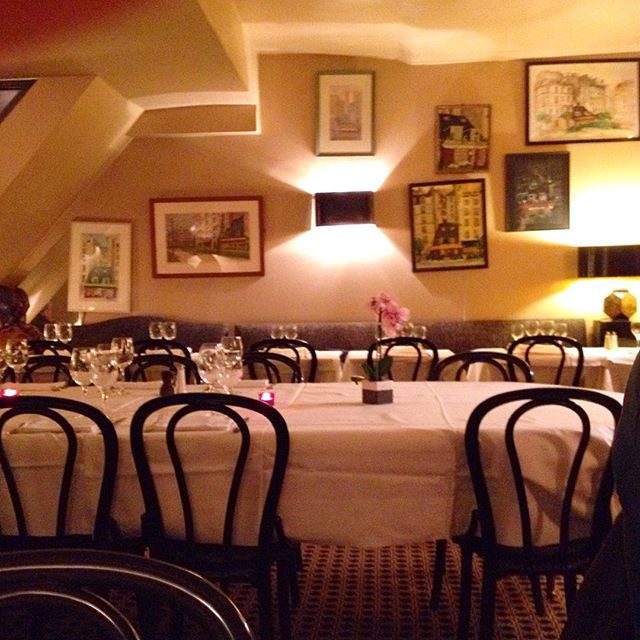 No trip to Paris would be complete without a visit to Cafe Varenne, one of Ina Garten's favorite hangouts in the St. Germain des Pres region.  We met a couple from our cruise ship there.  They also followed up the cruise with time in Paris. Jen and Renon were so much fun to be with and we are hoping that they will come to visit us in Lake Lure from their home in Houston.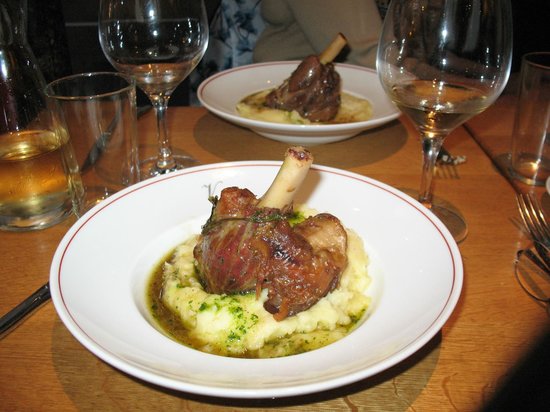 Slow roasted lamb shank is one of the entrees on the menu.  Also we saw several people sharing Cafe Varenne's famous 7-hour leg of lamb.  It is presented whole and then sliced into serving pieces in the kitchen.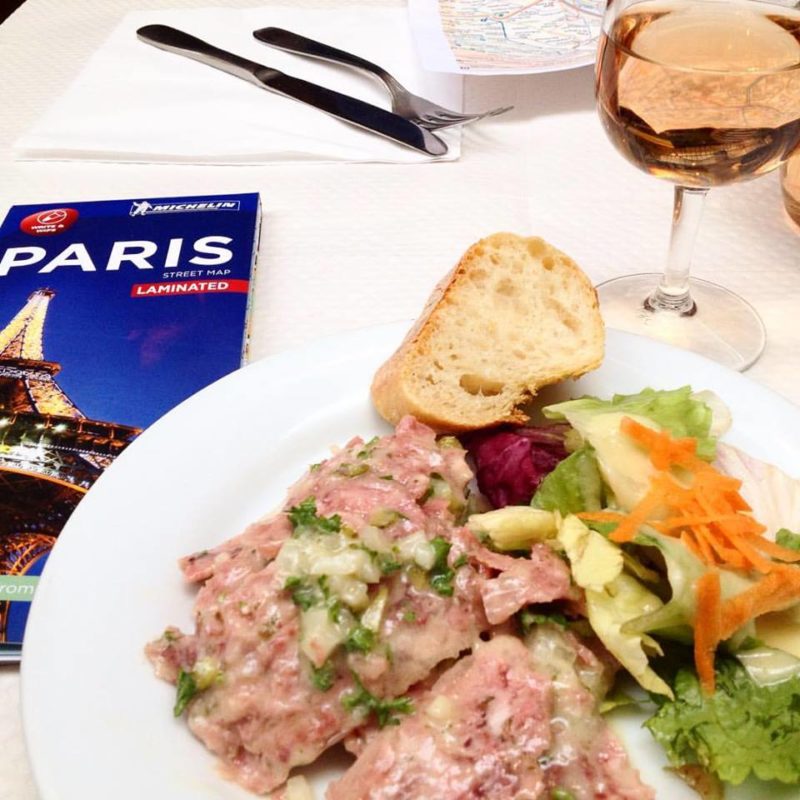 I will end this with David's dish of Pig Snout.  He said it was good.  But I prefer to leave you with the rabbit recipe.
RABBIT WITH ROSEMARY AND WHITE WINE (Marcella Hazan)
3 to 3 1/2 pound rabbit, cut into 8 pieces
1/3 cup extra virgin olive oil
1/4 cup celery diced fine
1 garlic clove, peeled
2/3 cup dry white wine
2 sprigs of fresh rosemary
Salt and Pepper
1 bouillon cube and 2 tablespoons tomato paste (or mustard) dissolved in 1/3 cup warm water
Soak the rabbit in abundant cold water overnight, in an unheated room in cold weather or in the refrigerator.  Rinse in several changes of cold water, then pat thoroughly dry with cloth or paper towels.
Choose a sauté pan that can contain all the rabbit pieces without overlapping.  Put in the oil, celery, garlic, and the rabbit, cover tightly, and turn the heat on to low.  Turn the meat occasionally, but do not leave it uncovered.
You will find that at the end of 2 hours, the rabbit has shed a considerable amount of liquid.  Uncover the pan, turn the heat up to medium, and cook until all the liquid has simmered away, turning the rabbit from time to time.  Add the wine, rosemary, salt, and pepper.  Allow the wine to simmer briskly until it has evaporated, then pour the dissolved bouillon cube and tomato paste or mustard mixture over the meat.  Cook at a steady, gentle simmer for another 15 minutes, or more, until the juices in the pan have formed a dense little sauce, turning the rabbit pieces over from time to time.  Transfer the entire contents of the pan to a warm platter and serve promptly.