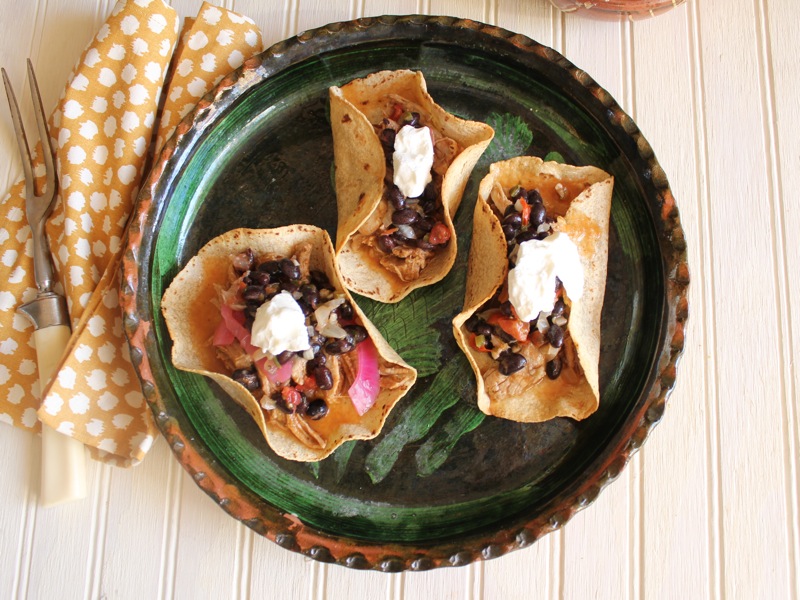 While our family was visiting over the holidays my DIL Kristen made tacos for us one night.  She is a natural when it comes to flavorings and is especially fond of Mexican inspired dishes.  One of the condiments she made for us for her meal was pickled onions.  She marinated red onions in a combination of red wine vinegar, a little sugar and black peppercorns.  They make such a pretty addition to any number of dishes and look vibrant on tacos.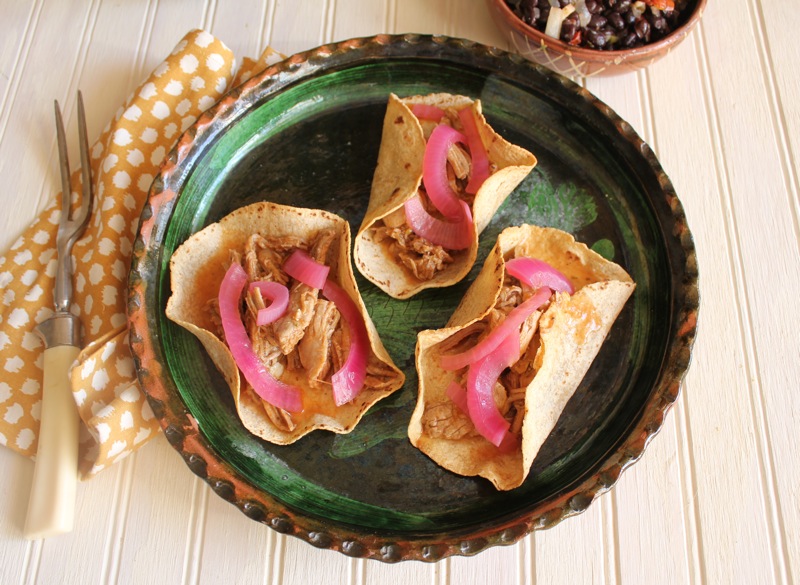 But the taco recipe I am using here is an adaptation of one that I saw in Food and Wine a long time ago.  It uses pork tenderloin which shreds nicely after only a short time in the oven.  It is flavored with lots of garlic, cumin, barbecue sauce and chicken broth.  The black beans make a flavorful topping and the red onions contribute their sweet and sour bite.  I wanted the tacos to look pretty and easy to pick up from a platter; perfect for those Super Bowl parties.  So I decided to form them into shapes by placing them in pieces of greased or sprayed foil.  About 10 minutes in the oven will ensure that they hold their shape, but will still be soft enough to eat.  Be sure you use a good quality corn tortilla.  I used Mission Artisan style Tortillas with Corn and Whole Wheat Blend.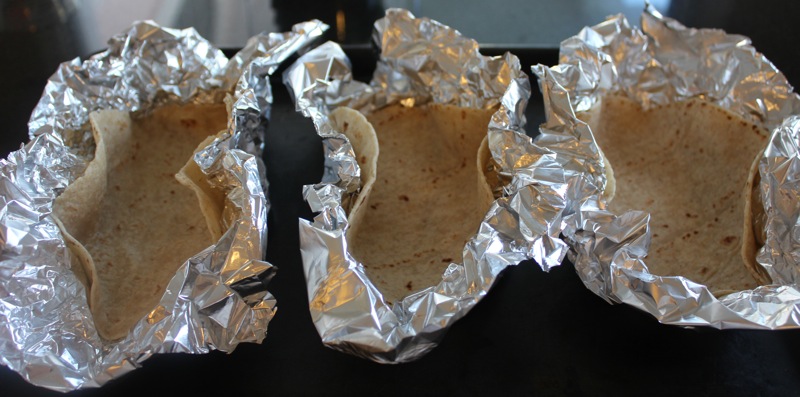 When the taco shells are ready, you can either place just the meat in them and let everyone choose their own toppings, or go ahead and load them up with the onions, black beans, sour cream or any other condiment you wish.  We loved the flavor of these.  The barbecued pork makes them a little different.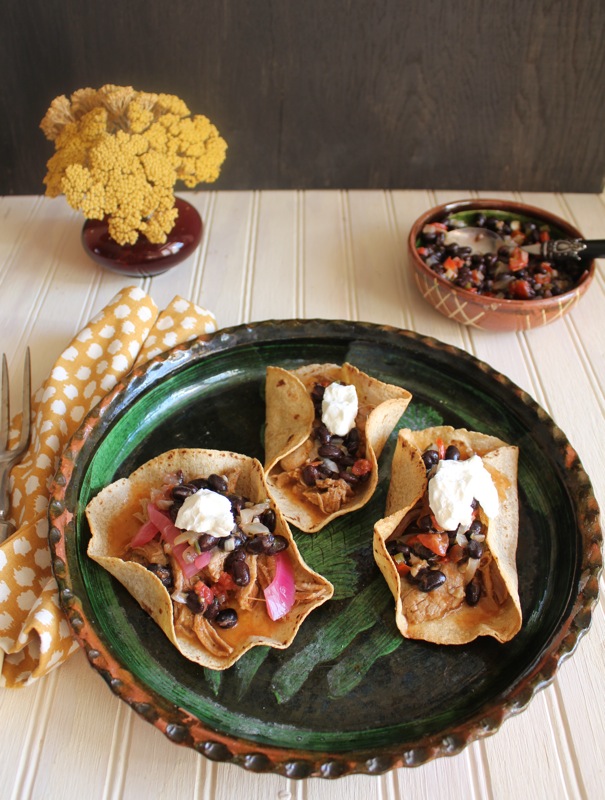 I just remembered that I have some leftover pulled pork in the freezer from the holidays.  It would make a good alternative, although not as lean.  We are all about lean these days. Enjoy!  I am linking this to Tailgating Time-Super Bowl 2013 over at Seaside Simplicity.  Go on over and get some great ideas for the Super Bowl.
PORK TACOS WITH SPICY BLACK BEANS AND RED ONIONS
For the Pickled Red Onions:
1 large red onion
1/2 cup Red Wine vinegar
1/4 cup water
1 tablespoon sugar
10 black peppercorns
In a small saucepan combine vinegar, water, sugar and peppercorns. Slice a peel red onion in half and then into strips.  Add to pan and bring mixture to boil.  Turn off burner and let onion sit in mixture for at least an hour.  Can be stored in a ball jar in the refrigerator until needed.
For the Black Beans:
2 cans of black beans, drained and rinsed
1 tablespoon vegetable oil
1 medium onion, finely chopped
4 cloves of garlic , minced
1 large jalapeno pepper, seeded and minced
1 tomato, coarsely chopped
1 teaspoon dried oregano
Salt and pepper to taste
In a medium skillet, heat the oil.  Add the onion, garlic and jalapeno and cook over moderate heat until softened, about 7 minutes.  Add the beans and the tomato, oregano and a little water to keep it moist.  Season with salt and pepper and simmer briefly until the ingredients are warmed through.
For the Pork:
1 pork tenderloin, trimmed of silver skin and fat. Cut in half
3/4 cup low-sodium chicken broth
1/2 cup raspberry chipotle barbecue sauce or barbecue sauce of choice
6 cloves of garlic, peeled and sliced thinly
1 jalapeno pepper, seeded and chopped
1 habanero chile, seeded and minced (optional)
1 bay leaf
1/2 teaspoon cumin
Salt and pepper to taste
Corn tortillas and condiments of choice
Preheat the oven to 300 degrees F.  In a small enameled cast-iron casserole, combine the broth with the barbecue sauce, garlic, peppers, bay leaf, cumin and salt and pepper.  Bring to a simmer.  Add the pork tenderloin.  Cover and bake for about 1 hour, turning the pork once, until tender.  Transfer the pok to a plate and cover with plastic wrap until cool enough to handle.
Remove the bay leaf.  Shred the pork into strips and stir into the sauce.  Season with salt if needed.  Fill the tortillas with pork and serve with the black beans and red onions.