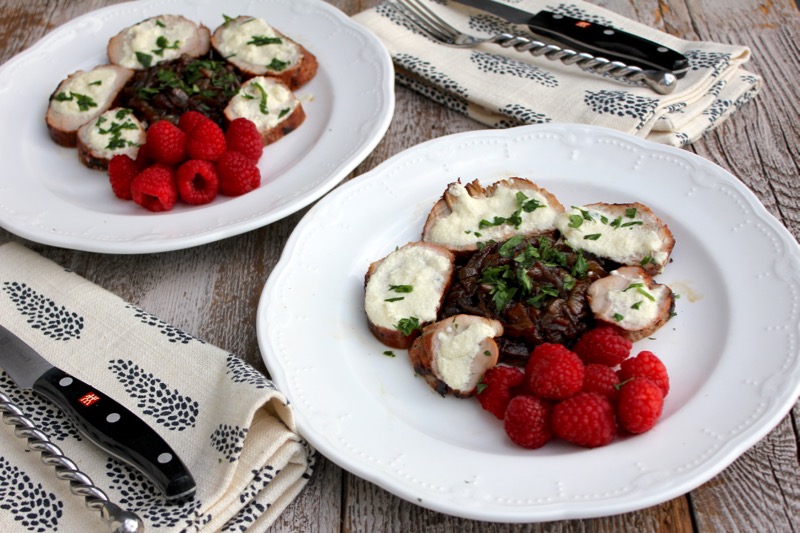 The winner of the Mary-James Lawrence cookbook is Ruth Swanto. Thank you everyone for participating.  I will be in touch Ruth.
Back before 2000, we lived in Greensboro, NC. for many years.  We were fortunate to have a Gourmet cooking school and shop called Roosters.  Mary James Lawrence, the owner and instructor was an inspiration to many Greensboro residents.  I took many cooking classes there, not only from Mary James, but from several other professionals in the food industry.  Ben and Karen Barker, James Beard Award winning chefs, were two of them. Their Durham restaurant, Magnolias, since closed, was one of our favorite destinations and their cookbook, Not Afraid of Flavor, holds a special place on my cookbook shelf.   Shirley Corriher, author of the biochemist's take on food, Cookwise, was another.  There was a time when everyone in Greensboro was making her Spicy Firecrackers; a seasoned saltine cracker. Mary James brought in many people from the cooking scene.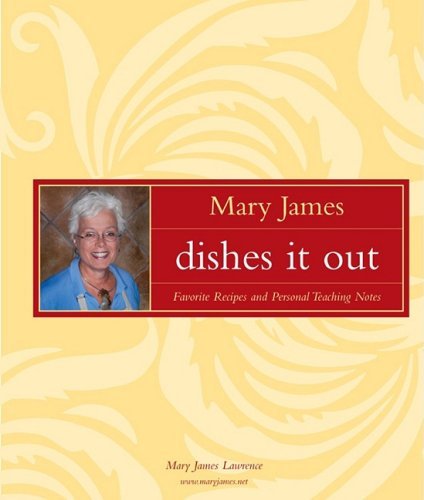 In 2007 Mary James published a cookbook.  It is now out of print, but I was fortunate to get several of them from Mary James.  I would like to share this wonderful cookbook with one lucky winner.  All you have to do is leave a comment  I will number the comments and draw a winning number.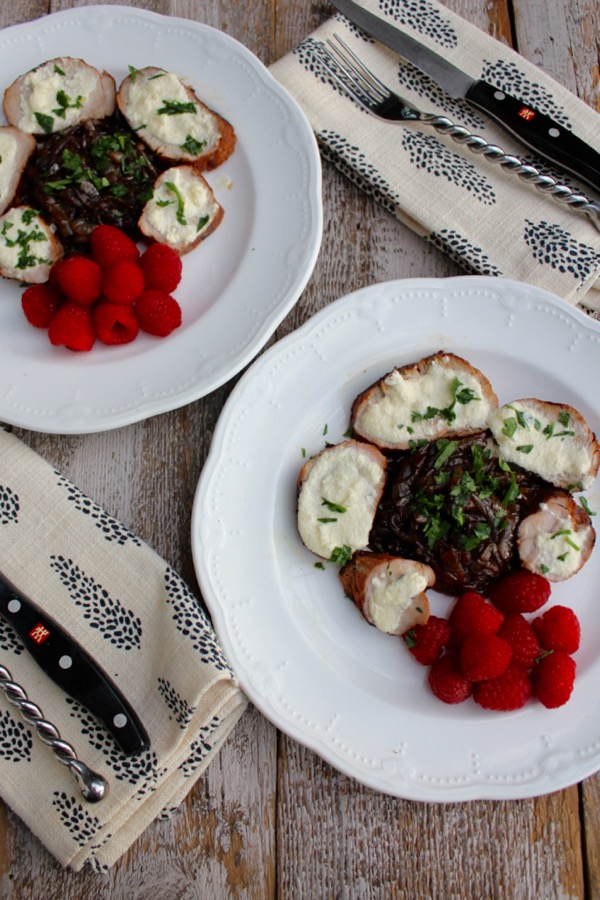 There are so many wonderful recipes in this cookbook.  Many of them come from the popular deli that Roosters had.  It was called Roosters on the Run and was a great place to grab a ready made meal.  Everything from meatloaf to chicken salad to the famous Roosters chocolate cookies.  But this recipe for Pork Tenders with Onion Marmalade, Mustard Cream Sauce and Raspberries really appealed to me.  I am always looking for attractive and tasty dishes to serve to company and this fills the bill.  The onion marmalade made with raspberry vinegar centers the plate.  The pork tenderloin medallions napped with mustard cream sauce surround it and the fresh raspberries add fresh vibrancy to the presentation.
Mary James now leads groups on tours to Southern France.  You can find her on her blog.  Roosters is now closed, but I and many residents of Greensboro are thankful for all of the memories and cooking advice that we received.  Thank you Mary James Lawrence.
PORK TENDERS WITH ONION MARMALADE, MUSTARD CREAM SAUCE AND RASPBERRIES
2 Pork Tenderloins
1/4  cup Dr. Pete's Burgundy Marinade or your favorite marinade
2 (3-inch) pieces rosemary
ONION MARMALADE
1/4 cup olive oil
2 large onions (10 cups), slice thin
1/2 cup raspberry vinegar
1/3 cup honey
1 teaspoon paprika
salt and freshly ground black pepper
MUSTARD CREAM SAUCE
3 tablespoons minced shallot
1 tablespoon olive oil
1/2 cup white wine
2 cups cream
2 1/2 tablespoons Dijon mustard
1 teaspoon dried thyme
Fresh raspberries (garnish)
Trim tenderloins of fat and silver skin.  Place in Ziploc bag.  Add marinade and rosemary branches.  Marinate for 6 to 8 hours in the refrigerator.
Prepare charcoal grill or preheat gas grill.  Add tenderloins and grill to internal temperature of 165 degrees.
ONION MARMALADE
In a large saute pan, heat olive oil.  Add onions and saute until beginning to caramelize.  Add the raspberry vinegar, honey, and paprika.  Reduce until thickened and glazed.  Season to taste.  Ten cups of onions yields about 3 1/2 to 4 cups marmalade.
MUSTARD CREAM SAUCE
In a 2-quart sauce pan or saucier, sate shallots in olive oil until beginning to brown.  Deglaze with white wine.  Whisk in cream and mustard.  Add thyme.  Reduce to coating consistency.  Can do ahead.  Store in refrigerator.
TO SERVE
Slice pork into 1/2 medallions.  Place small mound of Onion Marmalade in center of plate.  Surround with several pork medallions.  Puddle Mustard Cream Sauce on or just in front of meat.  Sprinkle with fresh raspberries.