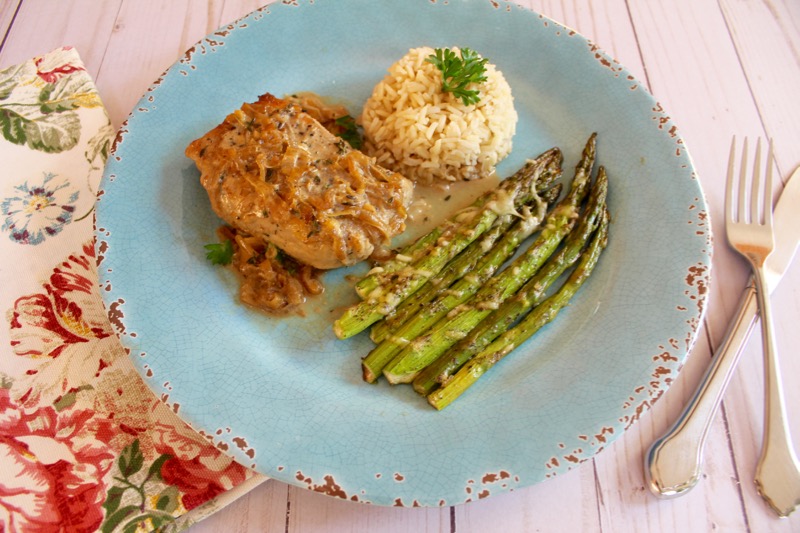 If you want a simple and juicy pork chop, this is your recipe.  I am enjoying cooking in my smaller Florida kitchen. Because counter space is limited, I have been concentrating on doing all of the individual steps in meal prep (Mise en place) and then assembling all of the pieces into the finished meal.  I also feel more organized and relaxed cooking this way.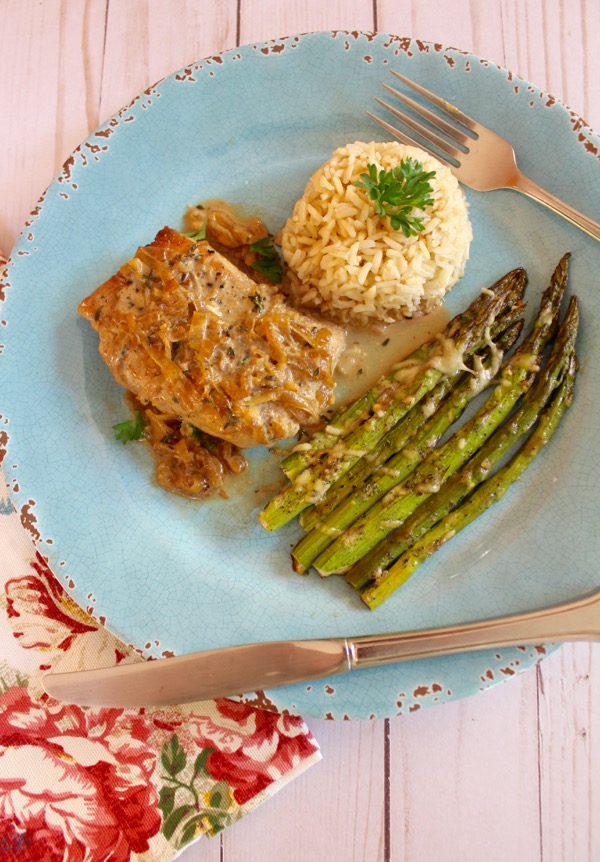 We were very pleased with this recipe.  Sometimes pork chops are dry, but I have to say that these were very juicy and flavorful with the caramelized onion gravy.  It was a great meal for a Sunday evening.  I have to thank my husband for finding the recipe and shopping for the ingredients.  I assumed he was going to cook them also, but he got busy on his computer and deferred to me.  In my quiet kitchen I rinsed, chopped and cooked; the best therapy I know.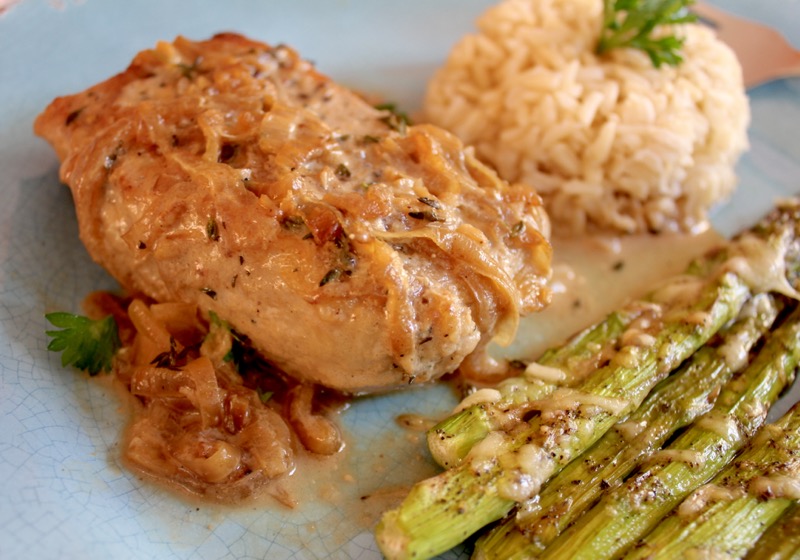 Enjoy!
BAKED SMOTHERED PORK CHOPS WITH ONION GRAVY (Adapted from Wholesome Yum)
4 6-oz. Boneless pork chops
1 tsp Seal salt
1/4 tsp Black pepper
Garlic powder and onion powder to taste
2 Tbsp Olive oil
1 large Onions, sliced into then half moons
2 cloves of Garlic, minced
1 Tbsp Fresh thyme
1 cup Chicken broth
1.5 oz Cream cheese, cut into small chunks
Season the pork chops on both sides with seal salt, garlic powder, onion powder, and pepper.
Heat the olive oil in a dutch oven or iron skillet over medium-high heat.  Add the pork chops and sear on both sides, about 3 minutes per side without moving, until browned.  Transfer the pork chops to a plate and set aside.
Reduce the heat to medium-low or medium.  Using the same pan, saute the slice onions for 15-20 minutes, until caramelized.
Once the onions are caramelized, preheat the oven to 375 degrees F.
Add the minced garlic and thyme leaves to the dutch oven or pan.  Saute for about a minute, until fragrant.
Add the chicken broth to the pan.  Scrape any browned bits from the bottom of the pan.  Bring to a gentle boil, then simmer for about 2-3 minutes, until it gets thicker and the volume is reduced by a least 1/4.
Remove from heat.  Add the cream cheese.  Stir in the cream cheese until it melts into the sauce.
Return the pork chops to the pan and spoon the sauce and onions over them.  Cover with a lid and bake for 20-25 minutes,until cooked through. (Time will vary depending on the thickness of your pork chops- use a thermometer to check and cook to 145 degrees F.