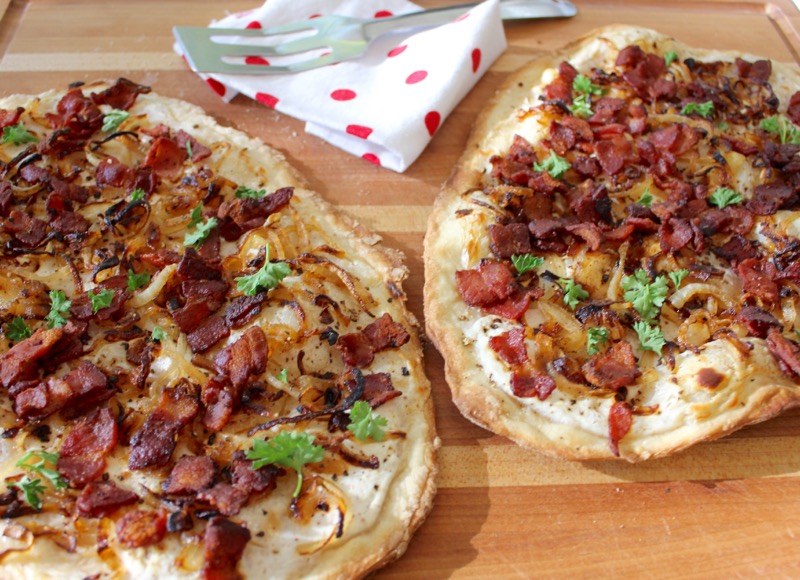 Tallinn, Estonia is just 50 miles across the Gulf of Finland from Helsinki.  It shares a history with Finland, but as a Baltic country, it has many influences from Western and Eastern Europe. Its capital, Tallinn, has an intact medieval village that was not destroyed by the wars in Europe.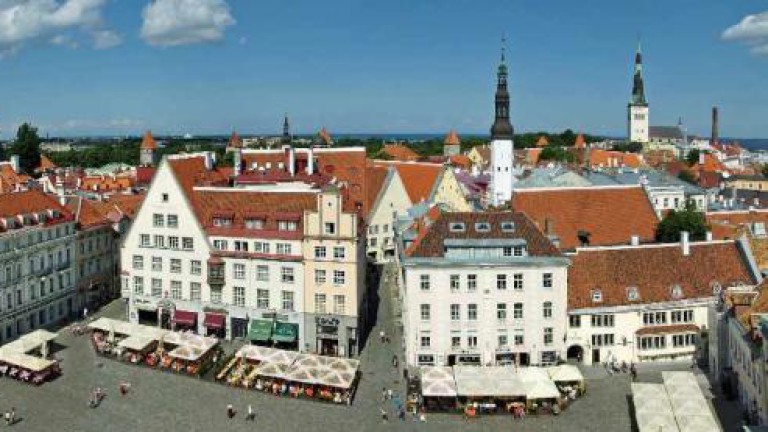 We took a ferry from Helsinki and spent two days exploring the Old Town and enjoying the diverse restaurants. Tallinn was a medieval stronghold of the Baltic trading world and was influenced by the Germanic Hanseatic League who ruled the seas.  Flammkuchen is a German (or Alsatian) pizza.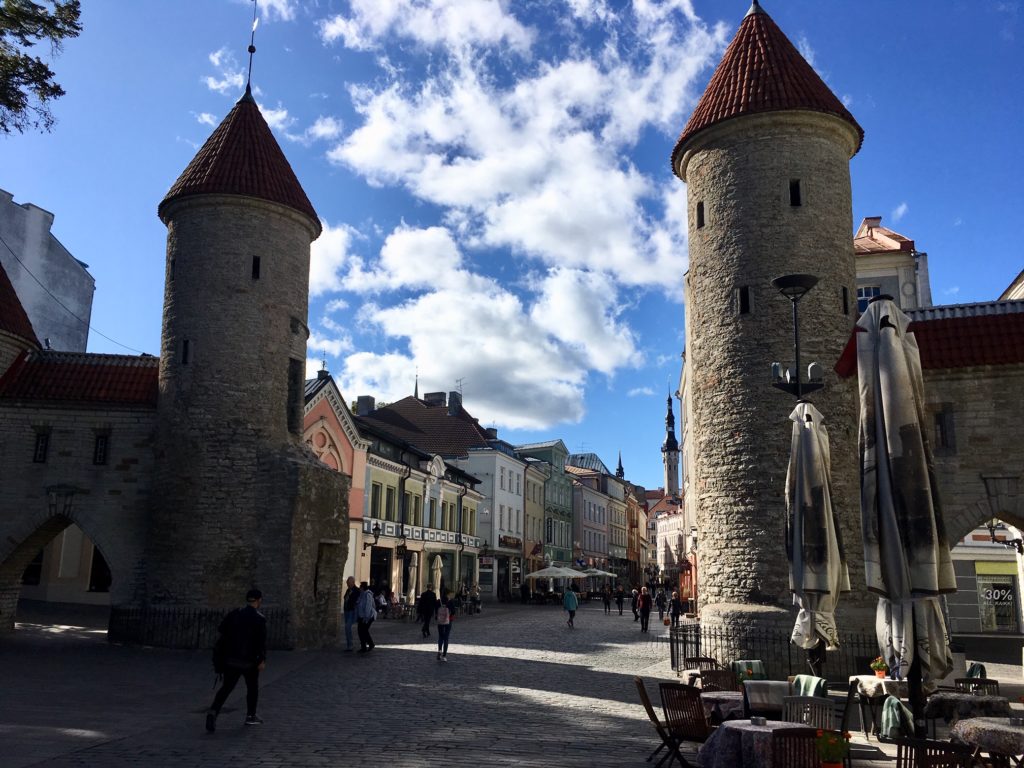 We enjoyed strolling its cobbled streets and getting lost among the many turreted watch towers.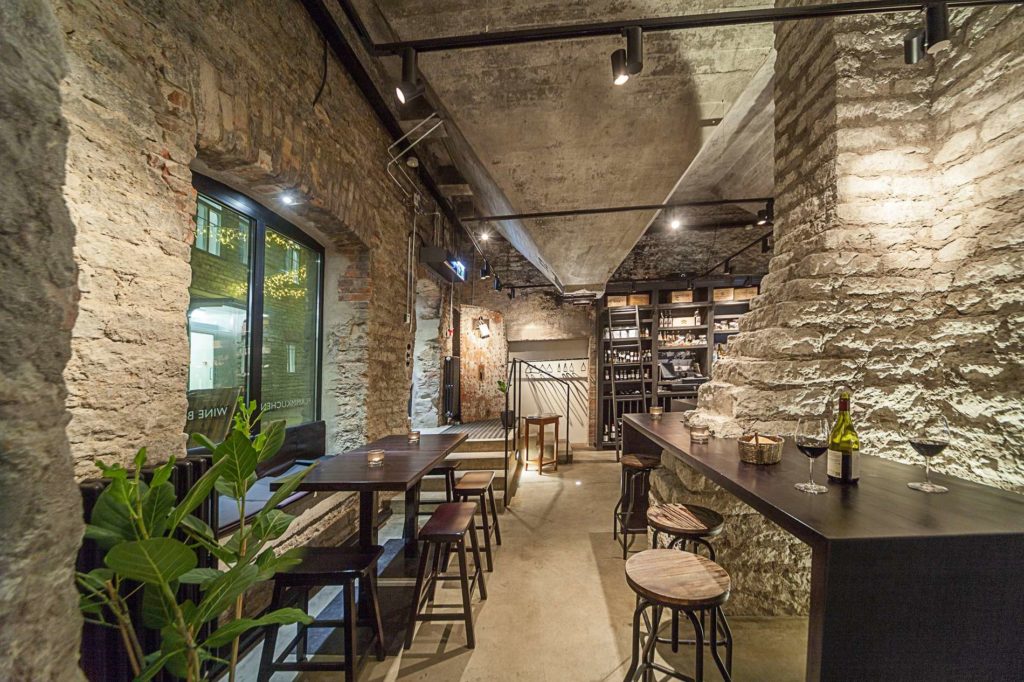 Flammkuchen Wine Bar is situated in the Old Town's Rotermann Quarter in a former old grain elevator.  The limestone walls and grain hoppers give the interior an extraordinary atmosphere.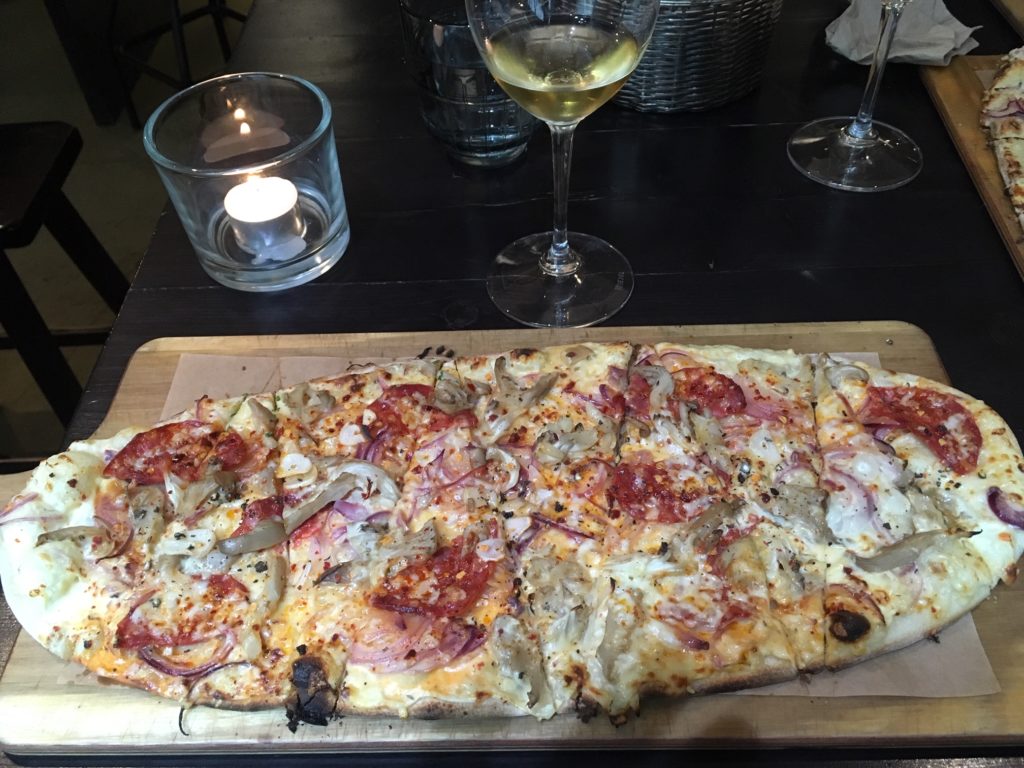 Flammkuchen pizza differs from other pizzas because the crust does not include yeast.  This yields a very thin and crisp crust.  The traditional version includes creme fraiche, nutmeg, bacon and onions.  It was so delicious I had to make one at home.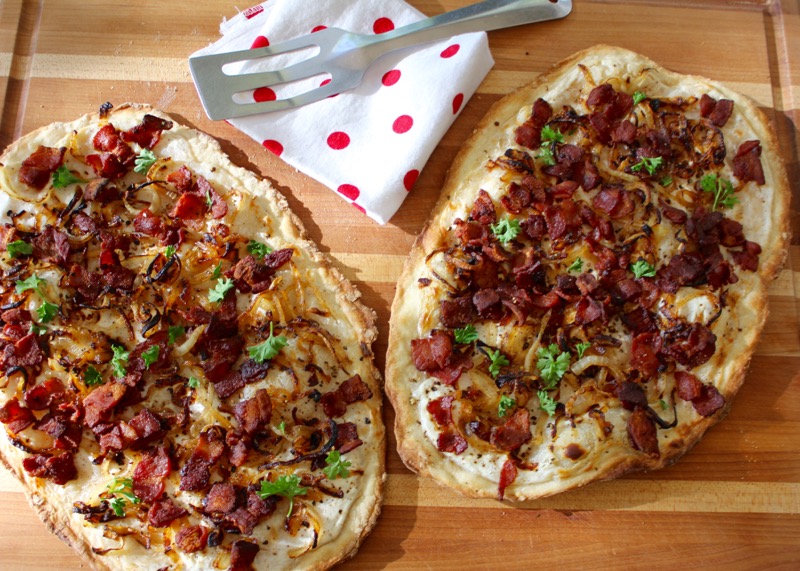 I was very pleased with the results.
FLAMMKUCHEN (Adapted from Curious Cuisiniere)
2 Cups all-purpose flour
1/2 tsp. salt
1/2 cup water – you may need a little more
2 Tbls. olive oil
1 Cup Crème Fraîche or Sour Cream
Freshly grated nutmeg or 1/4 tsp. ground nutmeg
8 slices Bacon
2 red onions, halved and sliced
Corn meal for baking sheet
INSTRUCTIONS
Preheat your oven to 500F.
In a large bowl, mix together flour, salt, water, and oil. Mix until a dough begins to form.  Place the dough onto a lightly floured board and knead until it is soft and smooth, You may need to add a little more water. Let the dough rest under a towel.
Mix together crème fraîche and nutmeg in a small bowl and set aside.  In a large sauté pan, sauté bacon until it is crisp. Remove the bacon to a paper towel lined plate.
Save 2 Tablespoons of bacon grease in pan.  Place the sliced onions into the hot bacon grease and sauté over medium heat, stirring occasionally, until caramelized, about 10 minutes.
Divide the dough into two balls and stretch the two out into rectangles, roughly 10×16 inches each. Place the two onto a large baking sheet that has been generously dusted with cornmeal. Spread the crème fraîche mixture over the crusts, leaving just a little bare crust border. Distribute the caramelized onions over the crème fraîche, and sprinkle the bacon over the onions.  Place the baking sheet with the pizzas into the oven and bake for 15-20 minutes, until the pizzas are crisp and the edges are starting to darken.  Slice and serve.