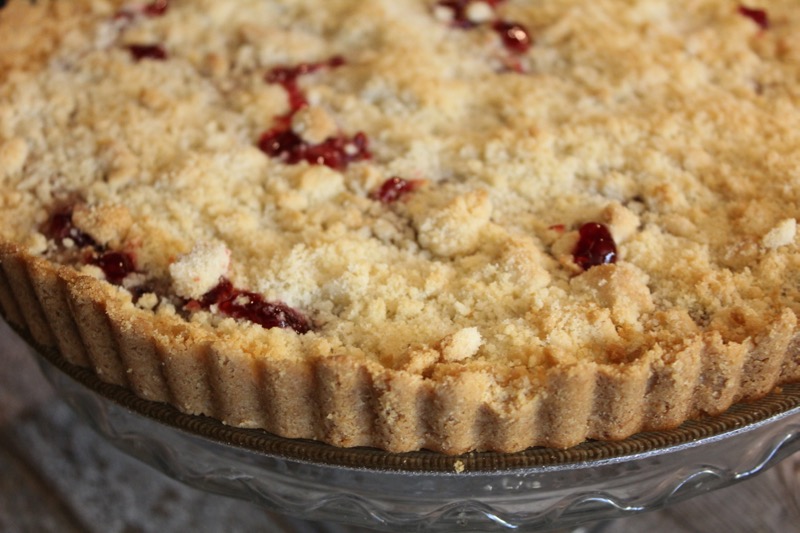 Following other bloggers brings rewards.  This Raspberry Jam Shortbread Tart is a delicious reward.  Originally posted by The Café Sucre Farina, I saw it on Pinterest and knew I had to try it.  It was just as satisfying as I expected.  The crumbly shortbread crust is enhanced with almond flour.  Almond flour adds such a wonderful flavor profile to a shortbread tart.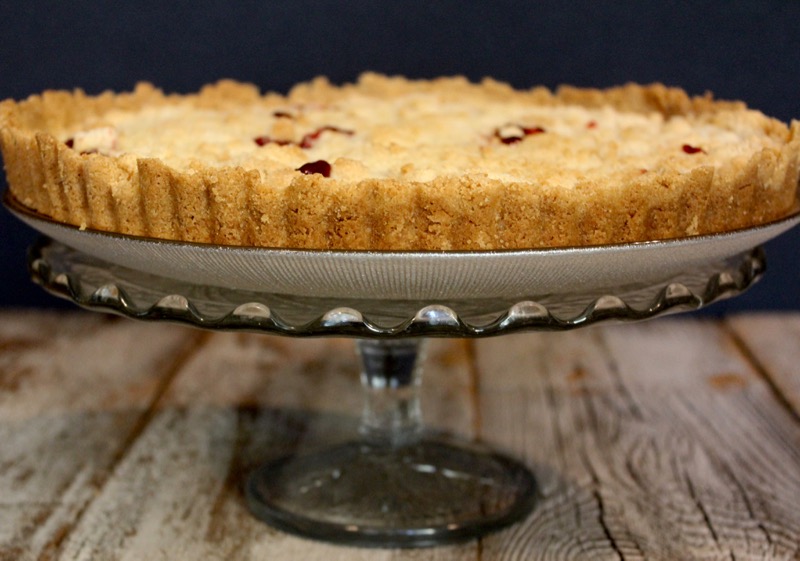 It is also important to use a good quality raspberry jam for the filling.  I used this one.  Thank you Chris for this great recipe.  Now, with the leftover bag of almond flour I am going to make some Financiers.
RASPBERRY JAM SHORTBREAD TART
8

 

ounces

 

butter

 

softened

1

 

cup

 

granulated sugar

1

 

teaspoon

 

pure vanilla extract

½

 

teaspoon

 

salt

1 ¾

 

cups

 

all-purpose flour

¾

 

cup

 

almond flour

¾

 

cup

 

raspberry jam 
Position a rack in the middle of the oven and preheat to 325 degrees.

Combine the butter and sugar in a large bowl. Using an electric mixer set at medium speed, beat until creamy. Add vanilla and salt and beat until combined. Add the all-purpose and almond flours and mix on low speed, just until flour is incorporated and large crumbles start to form.

Spray a 10-inch tart pan with baking spray or grease well and press one half of the dough evenly into the pan to form a bottom crust. Wrap the remaining dough in plastic wrap and freeze while bottom crust is baking, (no longer than 15 minutes).

Place the tart pan on a baking sheet and bake for 10-12 minutes, until the crust is just beginning to firm and turn pale golden brown at the edges.

Remove the pan from the oven and allow the tart to cool for 10 minutes, then spread the raspberry jam/preserves evenly over the crust, leaving a 1/4 inch border around the edge without jam. (see notes above for a pretty presentation tip)

Remove the remaining dough from freezer, and with your fingers, sprinkle it in big crumbles over the jam to form a topping.

Return the pan to the oven and continue baking until topping is firm, crisp and lightly golden in color, about 25-30 minutes. Transfer to a wire rack and let cool to room temperature, then dust lightly with powdered sugar, if desired.

Use a sharp knife to cut into small wedges. Serve warm with a scoop of vanilla ice cream or frozen custard, if desired.