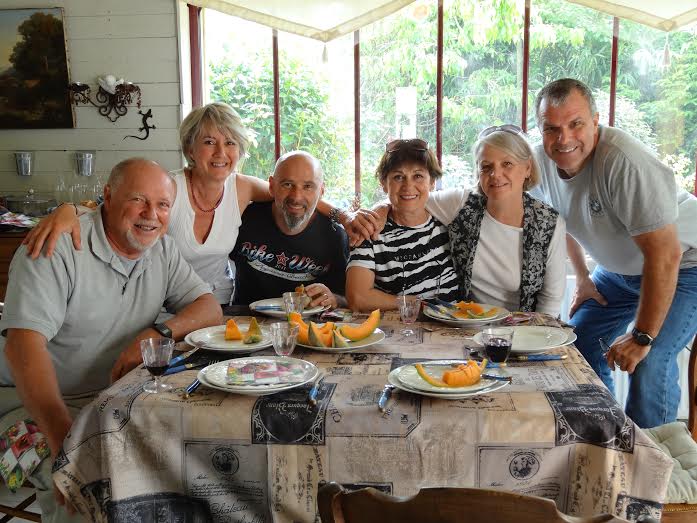 In the throes of winter, in my mind, I am enjoying a nostalgic trip back to our summer in France last year.  Our French friends Carole and Laurent (2nd and 3rd from left) graciously welcomed David, me, and our friends Tulin (center)and Dave (on right), into their home in Tours.  We had many fine meals with them.  Carole is a wonderful cook.  Her magret of duck cooked in peaches is sublime, as is her fois gras and ratatouille.  But I have been thinking most about her stuffed vegetables.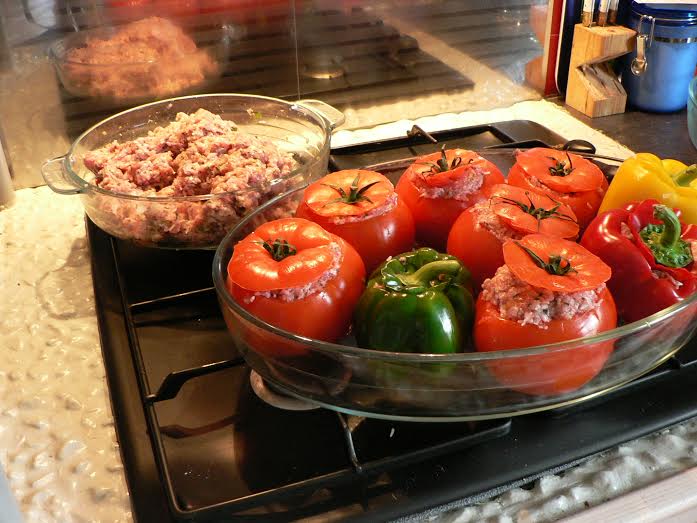 The stuffed tomatoes and peppers turned out to be a collaboration between Carole and Tulin; a little bit French from Carole and a little bit Turkish from Tulin, who is originally from Istanbul.  I wish that I had paid more attention to the ingredients that they used.  I was a bit jet-lagged at the time. All I know is that every bite of the casserole was eaten with relish.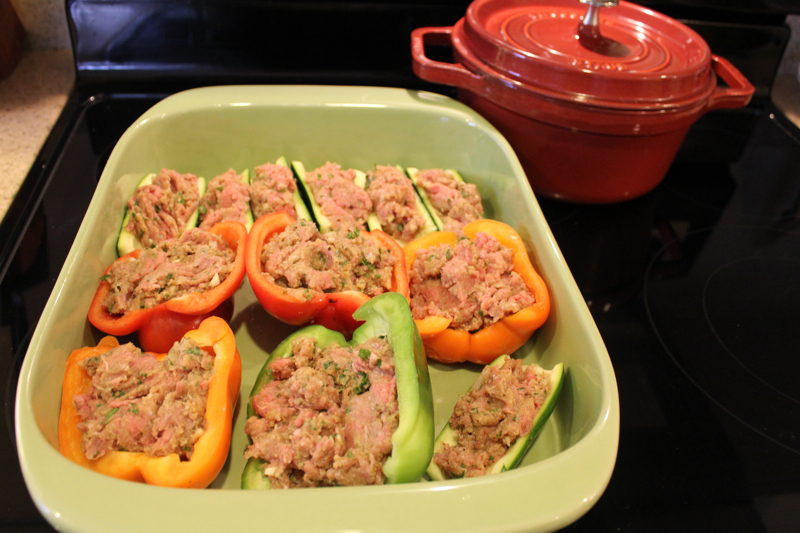 When I attempted to duplicate this dish, I used peppers and zucchini because they are readily available this time of year.  I avoid tomatoes in winter.  My inspiration was a recipe from Giada De Laurentiis.  Now we have an Italian spin.  But I guess the point is that many cultures have recipes for stuffed vegetables.  Whatever the cuisine, there is great flavor in stuffed vegetables.  And I was able to taste again, the wonderful food that we shared last summer.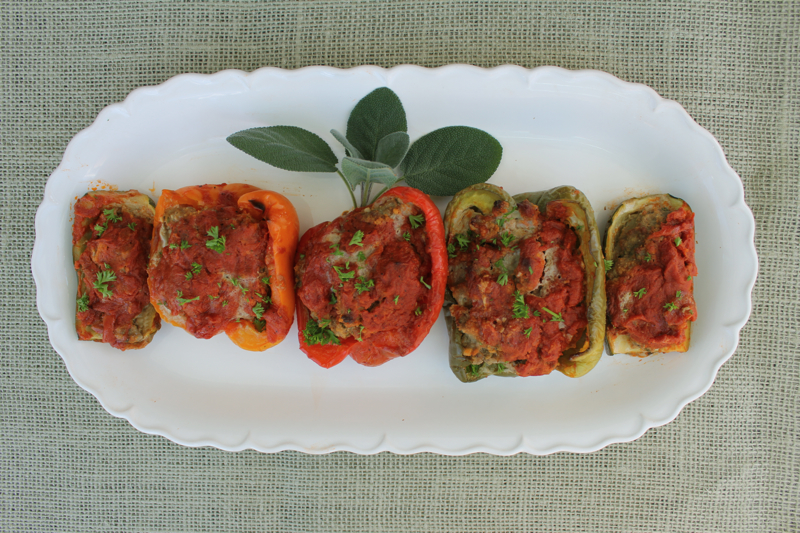 I am calling these stuffed vegetables "Provencal" because of the bright colors, the use of olive oil, garlic and herbs, and because visiting sunny Provence was one of the highlights of our trip. Bring a little Provencal sunshine to your table as well.
STUFFED VEGETABLES PROVENCAL
2 tablespoons olive oil
1 small onion, grated
1 large egg
3 tablespoons ketchup
3 garlic cloves, minced
1 teaspoon salt
1/4 teaspoon freshly ground black pepper
1 pound ground turkey, preferably dark meat
2 zucchini, ends removed, halved lengthwise and crosswise
1 orange bell pepper, halved and seeded
1 red bell pepper, halved and seeded
1 green bell pepper, halved and seeded
1 1/2 cups marinara sauce
Preheat the oven to 400 degrees F. 

Lightly drizzle the olive oil into a 13 by 9 by 2-inch baking dish.Whisk the onion, parsley, egg, ketchup, garlic, salt, and pepper in a large bowl to blend. Stir in the cheese and bread crumbs. Mix in the turkey. Cover and refrigerate the turkey mixture. 

Using a melon baller or spoon, carefully scrape out the seeds and inner flesh from the zucchini, leaving 1/8-inch-thick shells. Be careful not to pierce through the skin. Fill the zucchini and pepper halves with the turkey mixture, dividing equally and mounding slightly. Arrange the stuffed vegetables in the baking dish. Pour the marinara sauce over the stuffed vegetables. 

Bake uncovered until the vegetables are tender and beginning to brown and a thermometer inserted into the filling registers 165 degrees F, about 45 minutes. Transfer the stuffed vegetables to a platter and serve.Printable recipe