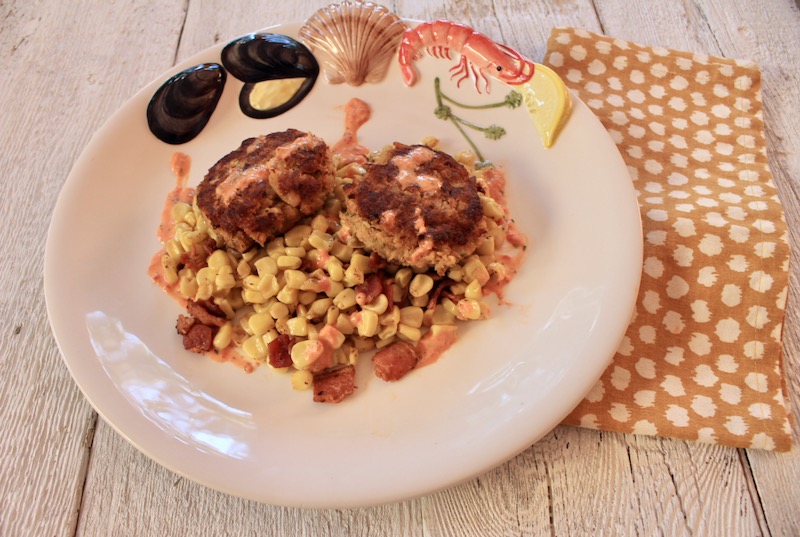 It has been a quiet Winter in our Florida rental home. In the past we have enjoyed so many activities available in New Smyrna Beach. There are weekly weekend events along the main thoroughfares of Flagler Avenue and Canal Street. We have attended antique car shows, art exhibits, wine tastings and Fat Tuesday parades. But this year we have avoided the crowds. But, when Valentine's Day came around, we traveled back to NC for our Grandson's birthday and then stopped in Charleston on the way back to Florida. We had a glorious warm and sunny day to explore this quaint town. One of the perennial favorite restaurants is called 82 Queen. They are repudiated to have the best crab cakes in Charleston. We had lunch in the courtyard.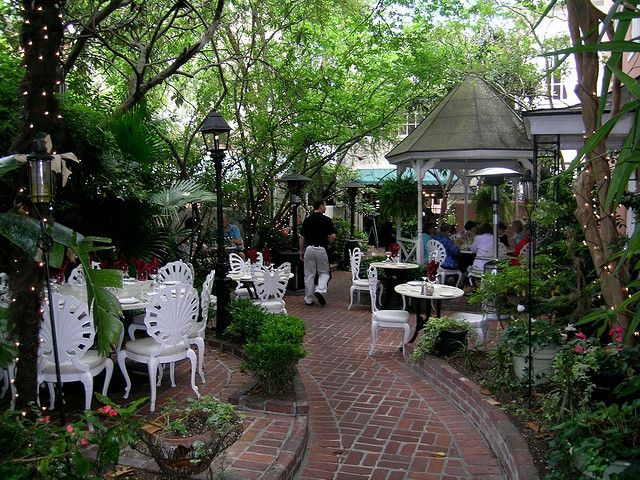 I ordered the appetizer of Crab Cake with Bacon Sautéed Corn and Red Pepper Aioli.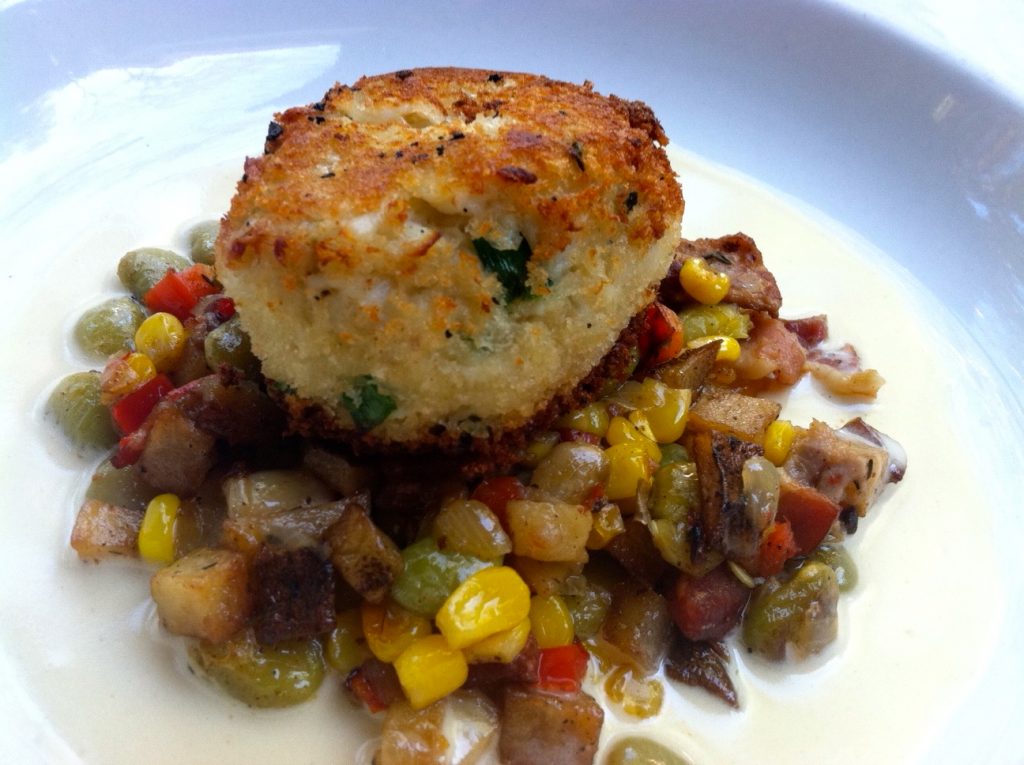 It was delicious and it was fun trying to duplicate this at home. I think I came up with a good recipe combination using recipes found on line and adapting them to our tastes. The below recipe makes a lot. For the two of us I cut it in less than half. It is easy to adjust it to your needs.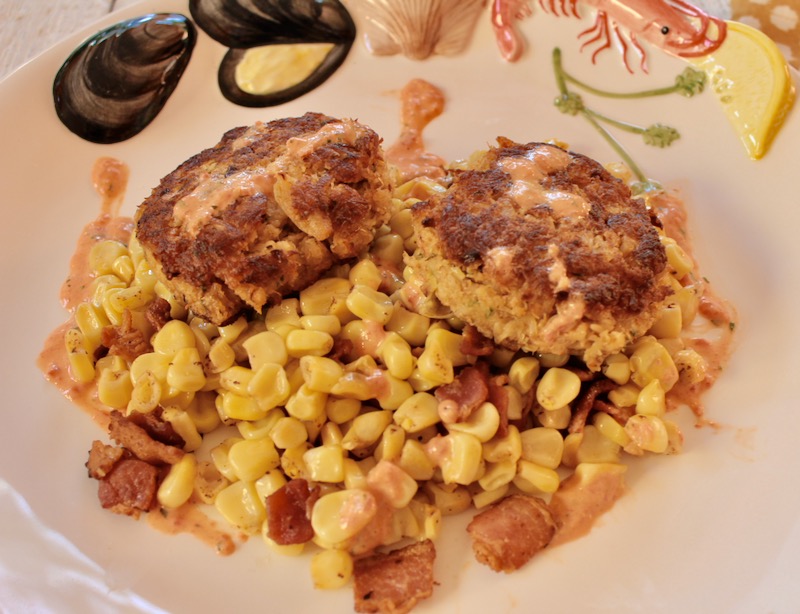 Crab Cakes with Bacon Sautéed Corn and Red Pepper Aioli
Crab Cakes:

2 pounds fresh jumbo lump crabmeat, picked over for shells and cartilage
1 1/2 cups panko
1/2 cup mayonnaise
1/4 cup chopped chives
1 tablespoon Dijon mustard
2 teaspoons seafood seasoning, such as Old Bay
Kosher salt and freshly ground black pepper
Juice and zest of 1 lemon, plus more lemon wedges for serving
3 tablespoons unsalted butter
3 tablespoons olive oil
Preheat the oven to 400 degrees F.
For the crab cakes: Gently fold together the crabmeat, breadcrumbs, mayonnaise, chives, Dijon mustard, seafood seasoning, 1 teaspoon kosher salt, 1 teaspoon freshly ground pepper and the juice and zest of one lemon in a large bowl. Refrigerate the crab mixture for 15 minutes to firm up; this allows the breadcrumbs to absorb some of the liquid, helping the crab cakes bind together.
Meanwhile, make the tartar sauce: Combine the mayonnaise, dill pickles, capers, chives, zest and juice of 1 lemon in a medium bowl and mix until combined. Season to taste with salt and pepper. Cover and refrigerate until ready to use.
Scoop heaping half cups of the crab mixture and pat into 2 1/2-inch wide patties. Lightly press them together so they do not fall apart while cooking. You should have 8 patties.
Heat 3 tablespoons unsalted butter and 3 tablespoons olive oil in a large nonstick skillet over medium-high heat. Add the crab cakes to the pan and cook until golden, about 2 minutes, then flip using a flat metal spatula. Continue to cook until lightly golden, about 1 1/2 minutes then transfer the pan to the oven. Cook until the crab cakes are completely heated through, about 10 minutes.
Bacon Sautéed Corn:
5 slices of bacon , diced
1 16 oz. bag of frozen white shoe peg corn, thawed
Cook bacon until crisp. Drain on paper towels. Sauté corn in bacon dripping until soft, about 10 minutes.
Roasted Red Pepper Aioli
2 whole roasted red peppers ( I used Jarred roasted red peppers)
⅔ cup fresh basil leaves
2 tablespoons lemon juice
3 cloves garlic, peeled and halved, or more to taste
1 ½ cups light mayonnaise (such as Hellmann's® Light)
2 teaspoons white sugar
1 teaspoon salt, or to taste
1 teaspoon ground black pepper, or to taste
Place roasted red peppers and basil in a food processor; pulse until coarsely chopped and combined. Add lemon juice; pulse 3 times. Scatter garlic halves over mixture; pulse to chop, 4 to 5 times. Add mayonnaise and sugar; pulse until smooth, 5 to 7 times. Season with salt and pepper.