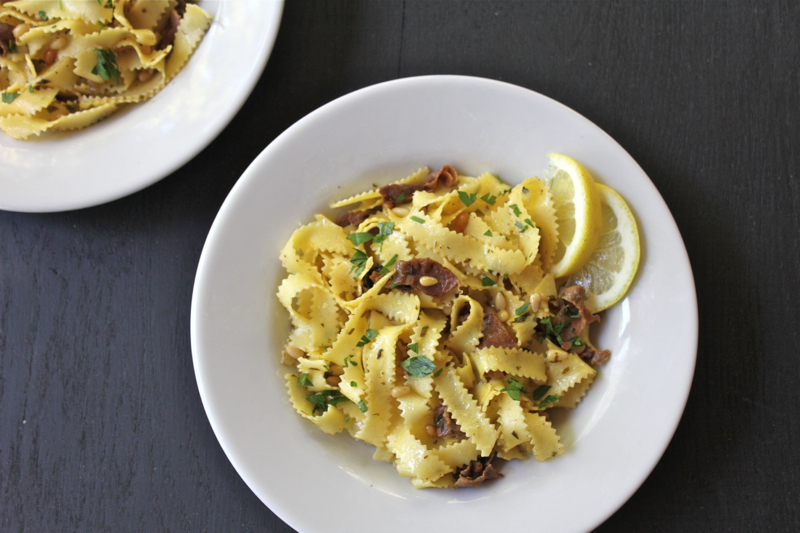 Although pricey, pine nuts are one of my favorite nuts to add to dishes.  This nut, known as pignolo in Italy, pinhao in Portugal and Pinon in Spain is mild tasting in its raw form, but when it is toasted it takes on a very pleasant nutty taste.  Even though they are expensive, a little goes a long way.  I decided to pair the nuts with one of my favorite pastas.  Pappardelle is sometimes hard to find and the price jumps all over the place.  A one pound bag at the Fresh Market costs over $5.00.  But at Trader Joe's you can find it for $1.99.  I have also found pappardelle at T.J. Max, believe it or not.  My favorite kind of Pappardelle is one with ridged edges.  It just looks so pretty on the plate.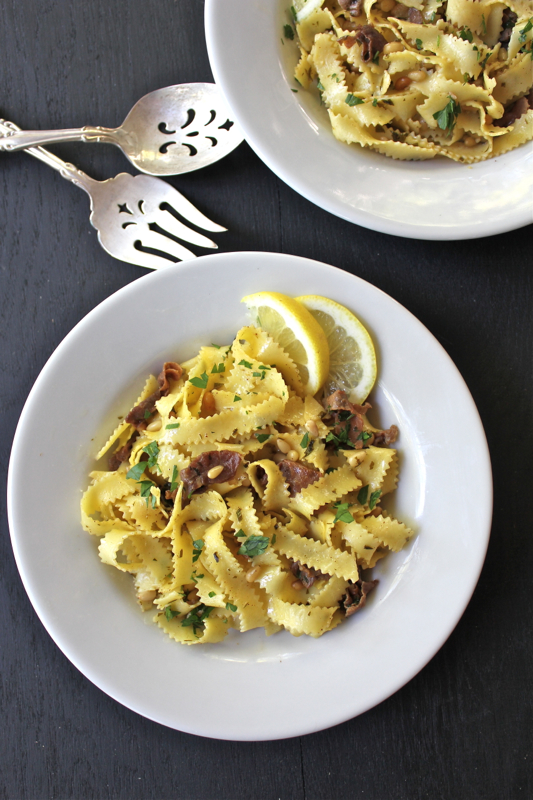 I have been experimenting with lots of pasta dishes lately because we have tentative plans for a trip to Italy next year.  It is always fun to set the stage, so to speak. I love this simple combination.  You can't get more Italian than pappardelle, prosciutto and pine nuts.  The brown butter and lemons just bring it all together in a palate pleasing way.  Oh, the alliteration!
This is a very easy dish to pull together.  You can have it on the table in no time.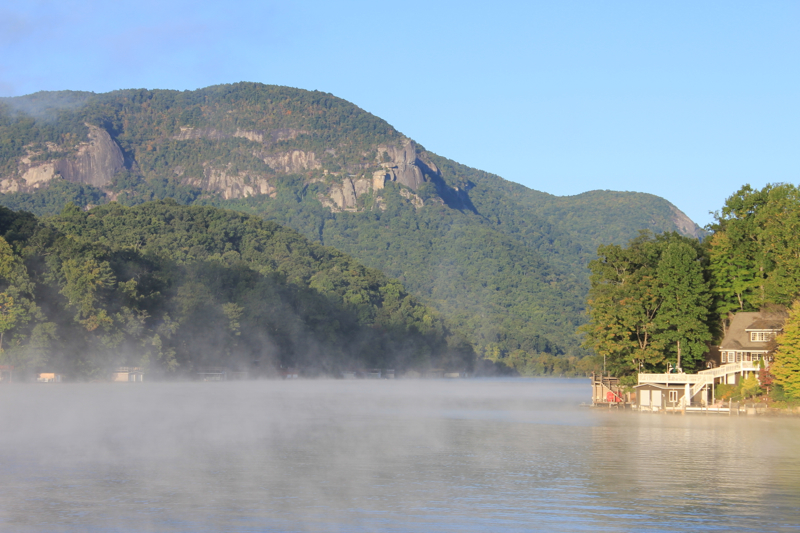 Earlier in the week, the temperatures in Lake Lure got down to the low 40's overnight.  The lake looked like this in the morning.  The lake temperature and the air temperature created a smoke-like effect on the surface of the lake.  I never tire of our view and the wonders of nature.
PAPPARDELLE WITH PINE NUTS, PROSCIUTTO AND BROWN BUTTER (Adapted from Gourmet)
3/4 pound pappardelle pasta
1 sticke (1/2 cup) unsalted butter
2 teaspoons fresh lemon juice
2 to 3 ounces thinly sliced prosciutto, torn into small pieces
1 cup finely chopped fresh parsley leaves
1/3 cup pine nuts, toasted lightly
thin lemon wedges as an accompaniment
Cook the pappardelle according to package directions in a pot of salted boiling water.  While the pasta is cooking, in a skillet heat the butter over moderately high heat, swirling it, until it is golden brown, remove the skillet from the heat, and stir in the lemon juice, the prosciutto, the parsley and the pine nuts.  In a bowl toss the pappardelle with the butter sauce and salt and pepper to taste and serve it with the lemon wedges.  Serves 6 as a first course and 3 to 4 as an entree.